10 Best Family Holiday Ideas in Nepal
10 Best Family Holiday Ideas in Nepal
Swiss Family Treks Blog Posting
Nepal is famous for its immense natural beauty and is a breathtaking travel destination for people of various travel interests, age, or physical abilities. With rich culture, history, and natural beauty along with its welcoming and warm people, Nepal is perfect for families to go on incredible adventures. Here, you will find a wide array of activities to accomplish with your family. You will not only get the opportunity to explore the raw, untouched nature but also a unique and exclusive cultural phenomenon. Traveling around Nepal allows you and your family to explore the unique blend of nature and culture well preserved in the authentic state.
Devising the perfect plan for your family trekking might not be an easy job. You will have to invest a lot of time and make sure it's worth it. You want to make memories that will last for a lifetime and get the best out of your trip. As such, Nepal will give you what you are looking for. Amidst numerous factors proving that Nepal is the best option for a family trips, one of the major factors is that you can find various adventure and ideas to keep everyone in your family entertained. From delving into the world heritage sites, flying to Everest, trekking to the Himalayas, or exploring the wildlife, there are plenty of things you can do here. From such an amazing array of choices, you can choose the activities (our 10 best family holiday ideas in Nepal) which are favorable for your family holidays tour in Nepal.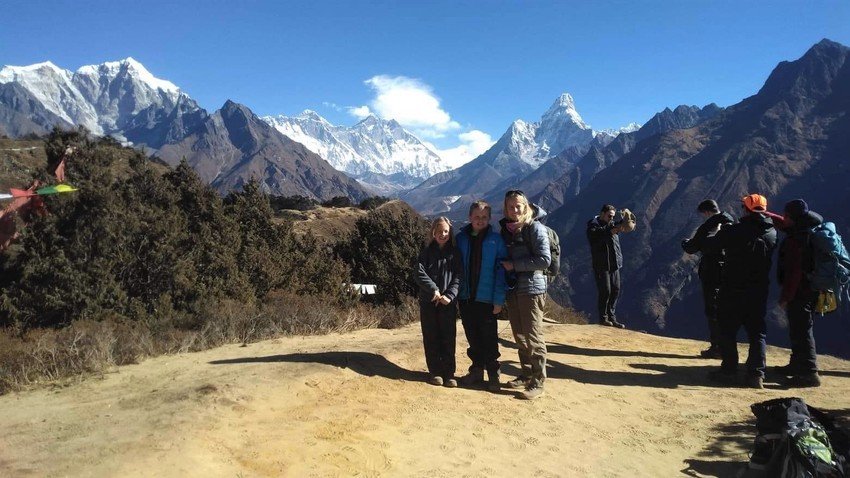 Photo: Mount Everest Himalayan Range from Syangboche village
Guided sightseeing tours in World Heritage sites of Kathmandu valley
Kathmandu valley is a mixture of ancient palaces, buildings, temples, and modern high-rise buildings. The valley is filled with world heritage sites where you will experience the history of the country. Your guided sightseeing tour in Kathmandu valley will take you through Bhaktapur Durbar square, Patan Durbar Square, Kathmandu Durbar square, Pashupatinath, Boudhanath, Changunarayan, and Swayambhunath. The sightseeing tours in Kathmandu valley will let you explore the famous cities like Patan and Bhaktapur as well. Patan is popular for its fine arts and historical architectures and Bhaktapur is an ancient city known for pottery and old palaces.
Everest Mountain Flight for a lifetime experience
Trekking along the long and strenuous trails to enjoy the Everest ranges is not possible for everyone, but that should not restrict you from enjoying the marvel of nature. With Everest Mountain Flight, you and your family will be able to relish the mesmerizing majestic mountains luxuriously. Taking a flight from Kathmandu, you will fly with the great snow-clad Himalayas. The exciting and thrilling flight will offer you the bird's eye view of the world's tallest mountain, the Mt. Everest (8848m). Along with it, you will also get close to peaks like Langtang Lirung (7227m), Gaurishankar (7134m), Cho Oyu (8201m), Ama Dablam (6856m), Lhotse (8516m), Nuptse (7861m) and many more. You neither have to be physically fit nor worry about acute sickness. All you have to do is buckle up the seat belt and enjoy the panoramic view of the Himalayas.
Popular Trekking and Hiking (5-7 days)
Nepal is known as a trekking paradise and it attracts thousands of trekkers every year. Trekking to the Himalayas may sound a little intimidating but its hands down the best choice when it comes to family treks. Many popular trekking and hiking destinations will be suitable for your family. Some of the most preferred family treks in Nepal are Ghorepani Poonhill Trek for families, Everest Panorama Trek for families, Langtang Valley Trek for families, Annapurna Base Camp Trek with children, Ghandruk Loop Trek for families, Dhampus-Australian Camp Easy Trek for families and Helambu Circuit Trek for families. These family treks allow you to enjoy the majesty of the serene Himalayas along with the authentic culture of various ethnic communities.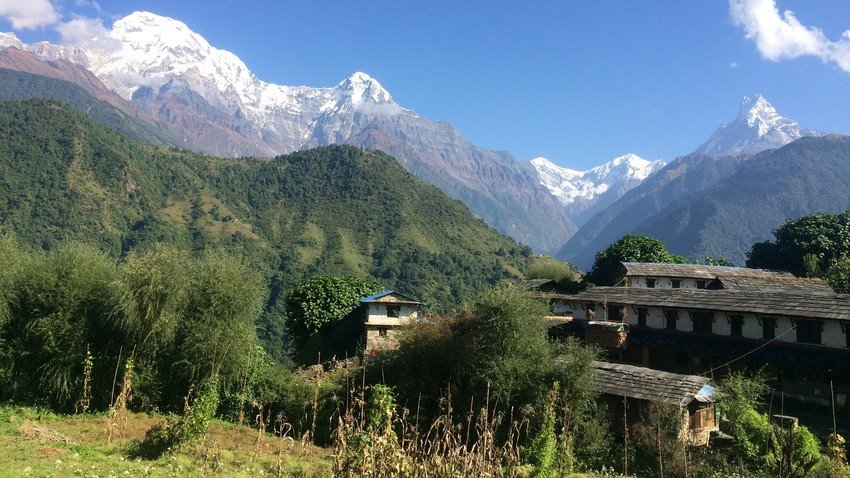 Photo: Annapurna Himalayan range seen from Ghandruk village
Off the Beaten Trekking Trails (7-12 days)
Off the beaten trails are the best way to explore the untouched, raw, and undisturbed nature in its wild attire. These trekking trails are suitable for families as they provide a surreal blend of local ethnic culture and pristine natural beauty. While popular treks take you to famous destinations, off-beat trails head to remote regions and truly reveal the harmony of nature and culture in Nepal. Off beaten destinations such as Mardi Himal Trekking with children, Everest View Trek for families, Khopra Danda Trek for families, Gosaikunda Lake Trek for families are perfect for family treks. While the popular treks offer well-made trails, these off-beat treks introduce unique travel experience in Nepal.
Cultural and Heritage Trail Trekking
You will never find another country as rich in culture, history, adventure, and natural beauty, like Nepal. Likewise, it is known as a multi-ethnic nation where cultural diversity is colossal. Cultural and Heritage trail trekking is a way to cover the cultural aspects of the different ethnic groups which provides you a fusion of cultural traditions and natural beauty. Tamang Heritage Trail Trek for families and Gurung Heritage Trail (Annapurna Foothills) for families, and Helambu Valley Cultural Trail Trek for families are the most famous treks in Nepal. Likewise, Lower Solukhumbu Cultural Trail Trek for families, Mohare Danda Trek (Community Eco Trail) for families are also other ideal choices. Cultural trekking is a brilliant way to travel and it also lets you experience a unique perspective of traveling and trekking in Nepal.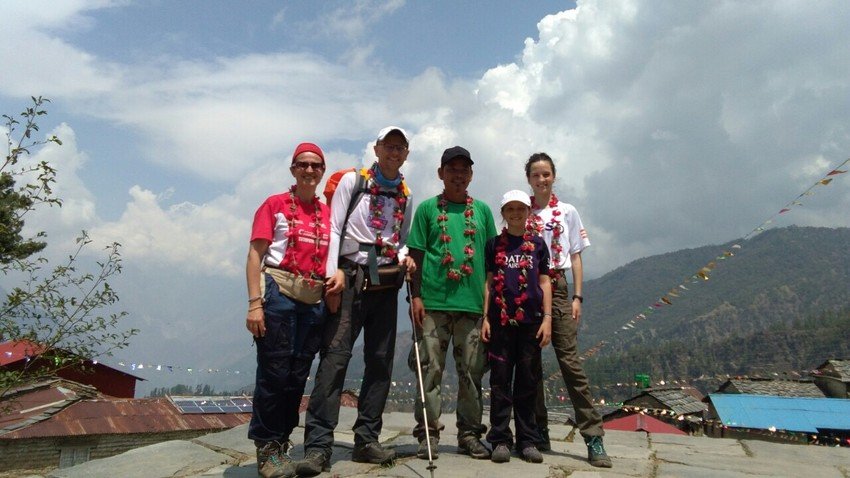 Photo: Farewell from the locals in Tikot Village during the Mohare Danda Trek
Whitewater Rafting (1-2 days)
White water rafting is another thrilling and exciting adventure you must do with your family. Nepal is not only gifted with tall mountains but also with some of the most amazing and fast rivers in the world. There are different grades of white water rafting, you can choose according to your taste and interest. Those who are looking for long and fast rivers you can settle for Marshyangdi or Kaligandaki rafting. But, if you are looking for a smooth and slow ride you can either go for Trishuli or Seti River. Rafting through the white clear waters while surrounded by green hills, you and your family will be able to enjoy some of the steepest Himalayan Rivers.
Wildlife Safari
With numerous national parks, wildlife reserves, and conservation areas, Nepal is a perfect destination for wildlife safaris. Rich in biodiversity, there are a wide number of floras and faunas along with sublime natural beauty that you and your family can explore in Nepal. The best destinations for such trips are Chitwan National Park and Bardia National Park which lie in the Terai region of Nepal. Taking a jeep through the national parks, you and your family will be able to sight the Royal Bengal Tigers, one-horned rhinoceros, Asiatic Elephants, and mugger crocodiles, etc. Wildlife safaris are one of the best choices you can enjoy with your family since they can be done easily in a short period.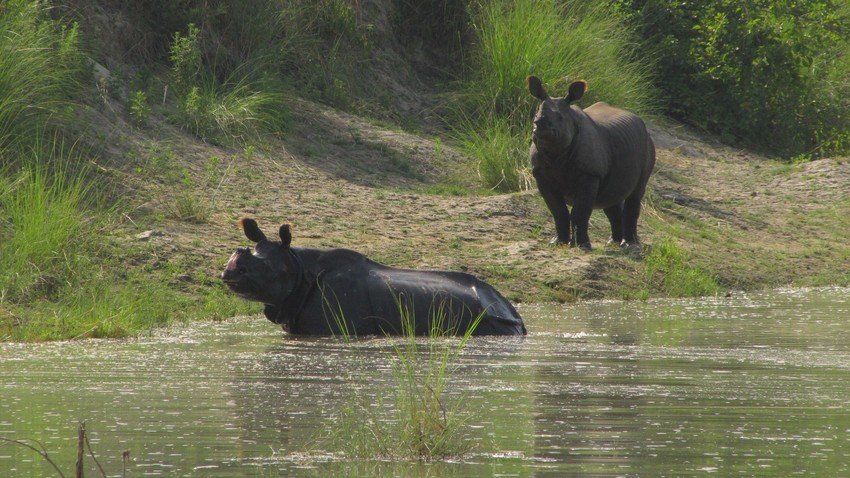 Photo: Rhinos in Bardia Nationa Park
Days trip around Kathmandu and Pokhara
With a limited number of days Kathmandu, Kathmandu and Pokhara tours are the best travel option for you and your family. Kathmandu is a melting pot of diverse culture and traditions along with a remarkable array of cultural heritage. The capital offers numerous tourist destinations including seven of its UNESCO world heritage sites. Pokhara, the city of lakes, is loved by the international as well as domestic tourists. This city is also known as a gateway to treks in the Annapurna region with plenty of activities and entertainment for individuals and families. In Pokhara, you can do bungee jumping, boating, kayaking, paragliding, etc. with your family. Moreover, Pokhara will surprise you with its immense natural beauty and the snow-clad peaks in the background will allow you a great photo session. However, if you prefer hiking to trekking places like Nagarkot, Shivapuri, Phulchowki, Kakani, Nagarjun, Peace Stupa and Sarangkot should be on the list.
Horseback riding and trekking with children
Horseback riding and trekking with your children is one of the most unique ways to travel to the Himalayas. It is specially designed for families with children who wish to trek in Nepal but is short on time and also concerned about their children's inability to trek for long hours. This trekking alternative will give you an extraordinary and special perspective of the terrain and people of Nepal. Horseback riding trek will lead you through the heart of the Himalayas and the distinctive landscapes of Nepal. Horseback riding and trekking with your children is a unique experience that allows you to enjoy the picturesque view of the massifs on the back of your horse. Some of the most popular horseback treks available in Nepal are horse riding treks to Everest region, Annapurna region, Upper Mustang, and Langtang Valley.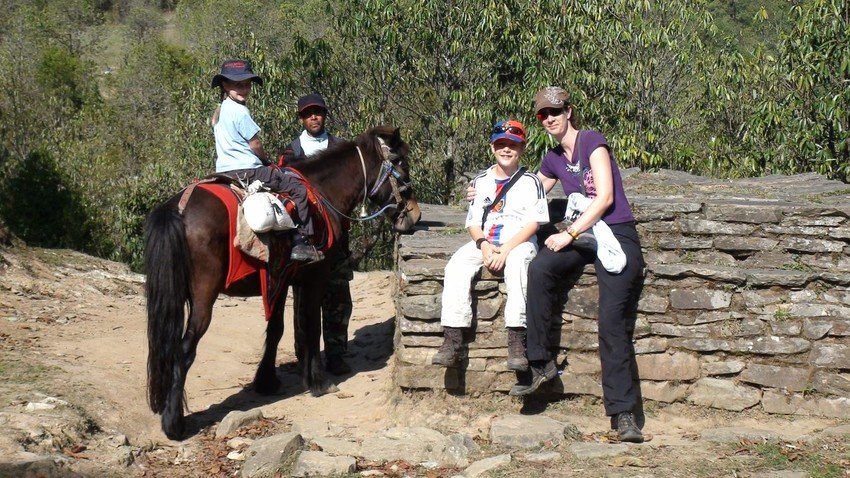 Photo: Horseback riding and trekking with children in Annapurna region
Relaxing in the hotel with a pool
There are lots of good hotels in Kathmandu and around Nepal where you can relish the finest amenities along with spas and pools. For some of your last remaining days, you can relax by the hotel pool. In recent years, many star hotels allow you to enjoy the pools and pool-side ambiance. With the best services, you and your family members will be able to relax in the best hotel rooms and enjoy the view of the Kathmandu city from the infinity pools as well.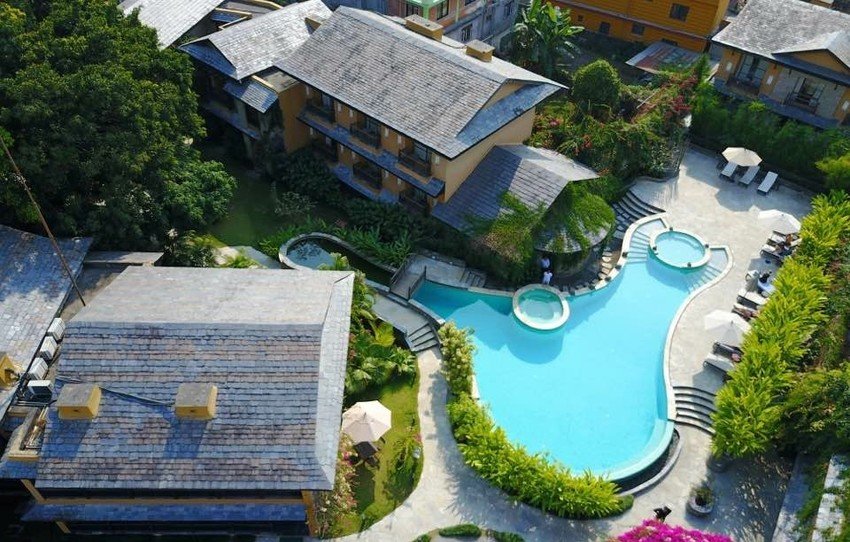 Photo: Temple Tree Resort and Spa in Lakeside, Pokhara
Nepal is an ideal vacation getaway for you and your family. There are a huge number of activities one can do in Nepal, too much to even make a list in one place. However, if you know what you want to do you can narrow down your choices and get a better insight into what you want. These vacation options allow you to enjoy the multiple facets of Nepal from thrilling treks to leisure relaxations. Choose for the option that you feel is the best for you and your family and enjoy your time in Nepal! Join us for Family Trekking in Nepal and Contact an Expert.
Back To Overview