Home / Related Infos / Hotel Swiss Family Home
Hotel Swiss Family Home
Short Introduction and History of Hotel Swiss Family Home
Our Hotel Swiss Family Home is located in Pharping, lies between rice fields and ancient Buddhist monasteries, which is 40 minutes drive from Kathmandu Center and is the perfect place for a short or long relaxing Holiday.
At the beginning, We are starting hotel accommodation business with 2 Deluxe Rooms and 1 Apartment since 2012. In 2015, then we extended 3 more new Apartments. Since over the last years, the Hotel has been very often booked out and the request for pilgrims stayed high in 2019. Then after, we decided to build next Anex building which we named Manaslu with 5 additional Studios and 3 one bedroom Apartments.
Since in Pharping, we have 34 monasteries to visit with, every year we can also welcome Buddhist groups who come for special teaching programs which are usually for 10 days to 1 month long and at the same time we can accommodate for them as per our availability of rooms.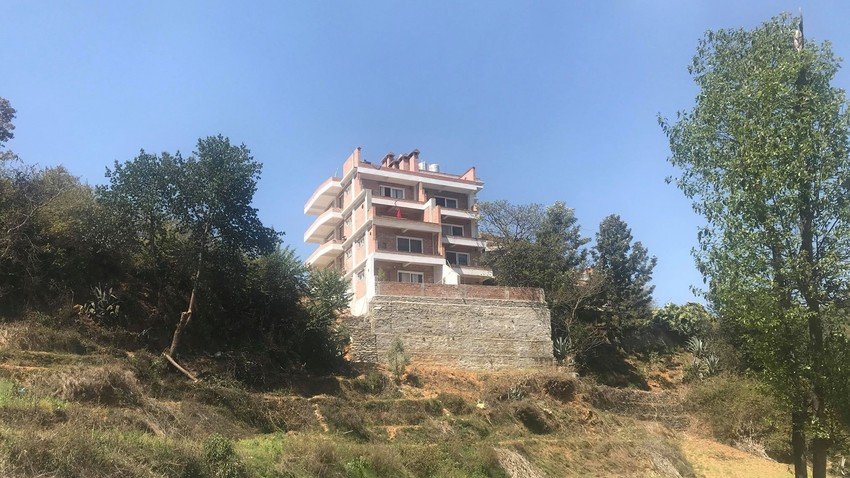 We were able to host Buddhist groups from Taiwan, Singapore, Hong Kong, Europe and the United States. Usually these Groups are staying with us on a full package plan.
Our hotel is very well known to the Buddhist Society in Worldwide. Therefore, we have also a lot of guests who come for long-term rental 1-5 months. Our Apartments are ideal for making a Retreat since all units are equipped with a full kitchen where they can cook their daily meals themselves.
With the extended Hotel building having a total of 14 rooms and we can host up to 22 guests at the same time. We have 12 apartments, small to big all with kitchenette and private bathroom as well as balconies. There are also 2 Deluxe Rooms. We can offer a special package price for groups and individuals including Breakfast, Lunch and Dinner.
We provide free WiFi, and guests can enjoy a restaurant, a garden and all rooms have a terrace or balcony.
For the winter time, all rooms have a heating system such as fire-place, wood stove or electric heating.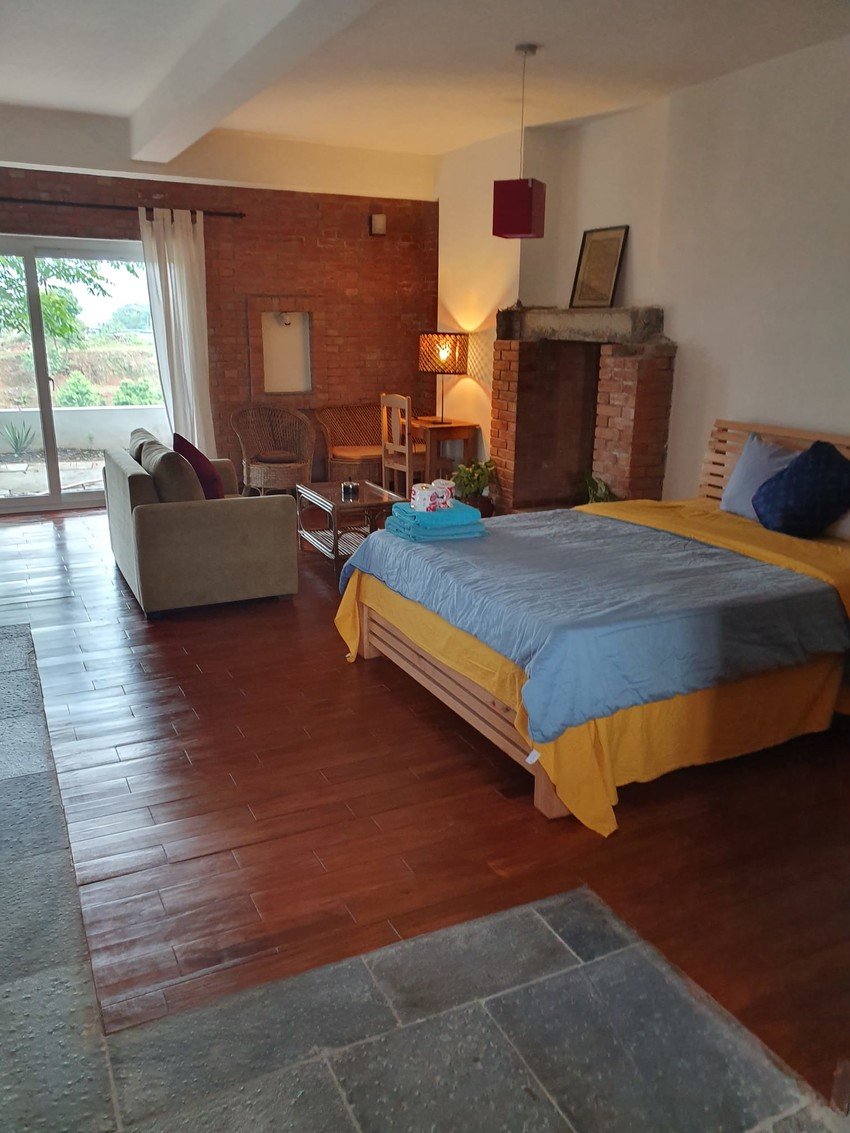 Guests at the apartment hotel can enjoy a Continental or an American breakfast which is included in the price. We also cook Dinner for our guests and sometimes we even can provide a Swiss Cheese Fondue or a Raclette.
All-important pilgrimage places in Pharping like Dakshinkali, Asura Cave and Vajrayogini can be reached easily on foot.
We can also provide guided day- hikes to the surrounding hills like Champa Devi, 2235m.
If you would like to discover the area, cycling is possible in the surroundings and Also Hotel Swiss Family Home can arrange a car rental service if guests needed to go to Kathmandu or other Buddhist Pilgrimage sites such as Boudhanath, Swoyambhunath and Kopan Monastery.
Kathmandu is 19 km from the Hotel, while Nagarkot is 44 km away for just doing some day trips or hikes.
We have special long-term rental plans which we called "Holiday Apartment Rental".
Our Hotel is rated 9.1 on booking.com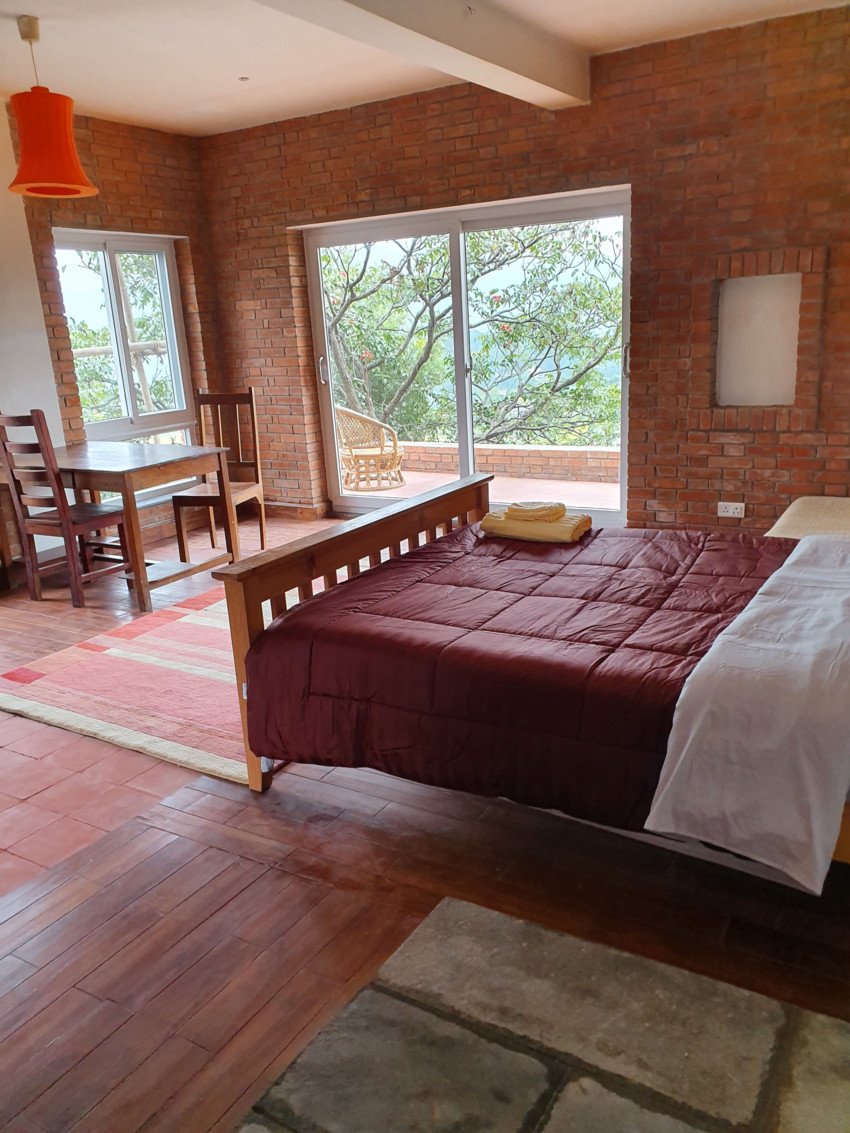 Hotel Swiss Family Home Daily/Monthly rental 2023/2024
Main Building
1. Big 1 Bedroom apartment Euro 50 per day USD 56. with kitchenette
2. Small 1 bedroom apartment Euro 45 per day USD 51 with kitchenette
3. Big Studio Annapurna Euro 40 per day USD 44 with kitchenette
4. Small Studio Annapurna Euro 35 per day USD 39 with kitchenette
5. Room inside our apartment Euro 33 per day USD 36 (Deluxe Rooms 2)
6. Room with big terrace Euro 33 per day USD 36 with kitchenette
House Manaslu all apartments with Terrace or Balcony, Kitchenette, heating.
1. 60m² 1 bedroom apartment Manaslu Euro 65 per day USD 73 Ground Floor, fireplace
2. 56m² Studio apartment Manaslu Euro 62 per day USD 70 Ground Floor, fireplace
3. 65m² 1 bedroom apartment Manaslu Euro 62 per day USD 70 First Floor
4 .55m² Studio apartment Manaslu Euro 56 per day USD 63 First Floor
5. 55m² 1 bedroom apartment Manaslu Euro 56 per day USD 63 Second Floor
6. 40m² 1 bedroom apartment Manaslu Euro 53 per day USD 60 Second Floor
7. 45m2 Studio apartment Manaslu Euro 60 per day USD 60 Roof top
8. 35m2 Studio apartment Manaslu Euro 60 per day USD 60 Roof top
Main Building, Monthly rental room only
1. Big 1 Bedroom apartment Euro 570 per month USD 640
2. Small 1 bedroom apartment Euro 515 per month USD 575
3. Big Studio Euro 475 per month USD 545
4. Small Studio Euro 435 per month USD 490
5. Room inside our apartment Euro 420 per month USD 475 (Deluxe room 2)
6. Room big terrace,kitchenette Euro 420 per month USD 475
House Manaslu all apartments with Terrace, Balcony, Kitchenette
Monthly rental
1 .70m² 1 bedroom apartment Manaslu Euro 855 1 month USD 950 Ground Floor, fireplace
2. 56m² Studio apartment Manaslu Euro 800 1 month USD 890 Ground Floor, fireplace
3..65m² 1 bedroom apartment Manaslu Euro 800 1 month USD 890 First Floor
4 .50m² Studio apartment Manaslu Euro 755 1 month USD 810 First Floor
5. 55m² 1 bedroom apartment Manaslu Euro 750 1 month USD 810 Second Floor
6..40m² 1 bedroom apartment Manaslu Euro 700 1 month USD 780 Second Floor
7 45m2 Studio apartment Manaslu Euro 700 1 month USD 780 Roof top
7 35m2 Studio apartment Manaslu Euro 700 1 month USD 720 Roof top
3-5 month rental, discount 10%
6-12 month rental, discount 20%
Hotel Swiss Family Home
Seshnarayan-5, Pharping
Kathmandu, Nepal
Mr. Stephan Kocher and Mrs. Pasang Tamangni
Mobile Number: +977 9803200543
WhatsApp: +41787685145
Email: snftnepal@yahoo.de