Top 20 Trekking Experiences of a Lifetime - Best Places to Visit in Nepal 2023
Top 20 Trekking Experiences of a Lifetime - Best Places to Visit in Nepal 2023
Swiss Family Treks Blog Posting
Despite being a small country, Nepal has everything that a traveler seeks, from breathtaking sceneries to diverse cultures. It is quickly becoming a popular tourist destination, and it is easy to see why.
Nepal is a country adorned by mountains and even has eight of the fourteen highest peaks in the world. One of them is the famous Mt. Everest—the highest peak in the world. It is a haven for trekkers due to its many trekking trails that leave visitors mesmerized and wanting more.
The geography of Nepal allows treks of different lengths, costs, and levels of difficulty. Nepal has something for everyone. Nepal offers a trekking experience like no other. It is not just the picturesque mountains, but also the friendly locals of colorful and ancient villages, the unique animals, the golden sunrise, and so much more. It is something to look back on and smile at.
As the best-valued tourist destination in the world, there are lots of amazing treks at an affordable price. The following are such affordable treks that are lighter on the wallet.
Everest Base Camp Trek on Horseback
The Everest Base Camp Trek on horseback gives trekkers a less-traditional way to reach the famous Everest Base Camp. Trekkers ride a pony or horse from Lukla, from where the trek starts, to the base camp. It is a 12-16 days long trek. The highest point is 5,545m at Kalapathar.
The trek gives trekkers a close look at the local culture and religion as it passes through villages. This gives trekkers a chance to observe the lifestyle of the Sherpas. It also gives trekkers panoramic views of high peaks and glaciers such as Mount Everest, Cho Oyu, Makalu, Lhotse, and many others.
It is a unique and unforgettable adventure that everyone should experience. While it is considered to be a strenuous trek, the trails are well-maintained, and it is a better option for people who want to bask in the Himalayan glory but are unable to trek for longer periods.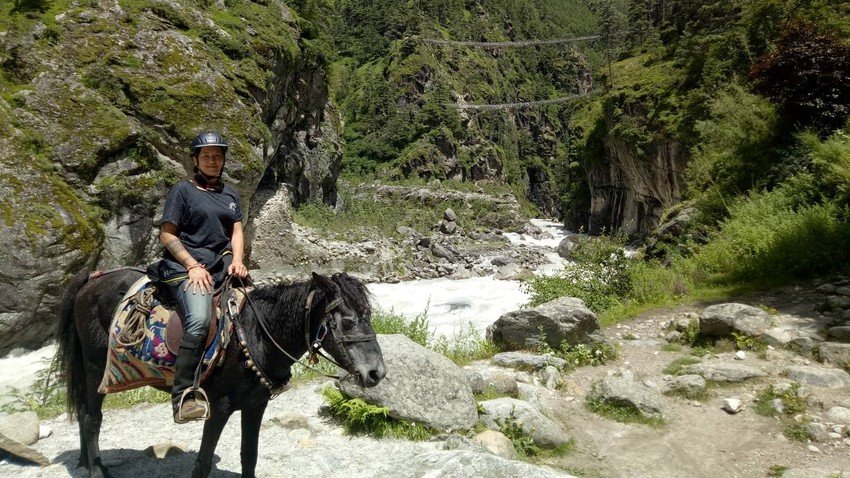 Pikey Peak by the cultural traverse
Pikey Peak is known for its phenomenal view of the Everest and many other peaks. This trek is fairly short and can be completed within ten days. The maximum elevation is 4,500m, and it is of moderate difficulty. Trekkers have the opportunity to explore the breathtaking sceneries of the Khumbu region.
The trek also passes through many villages, and trekkers get a close look at the unique lives of Sherpas. Along with a scenic experience, this is also a cultural experience. This trek gives an up-close look at the lives of Sherpas, their well-preserved culture, and also explore ancient monasteries and stupas.
Everest View Trek - families with youngsters
This is a fairly easy trek in the Everest region that can be completed within two weeks with minimum hours of walking per day. The maximum altitude is Tengboche Monastery at 3,800m. This gives the trekkers an up-close panoramic view of Everest and many other peaks like Thamserku, Lhotse, and Ama Dablam.
The trek starts with a flight to Lukla from where trekkers will walk to Tengboche. They will also catch a glimpse of various rare birds and animals as they pass through the Sagarmatha National Park. Trekkers can also observe the lifestyle of the Sherpas and their culture as they pass through numerous villages. This makes for a unique and unforgettable family vacation.
Upper Mustang Loop - the last Himalayan Buddhist kingdom
Upper Mustang begins after the central entry point in Kagbeni. The two ways to get there are either on foot or by a rough jeep ride. Access to this region is highly restricted, and to be able to trek here is considered to be a privilege.
The Upper Mustang has managed to preserve its ancient culture due to limited contact. Trekkers require a special permit that costs US$500 per person for the first ten days. An additional US$50 will be charged per day after that. Trekkers must also be accompanied by an official trekking guide.
The highest point of this trek is 3,800 m. Because Mustang lies in a rain shadow, it is very dry and moonlike. The landscape is very unique, and there are many monasteries and temples scattered in the region. The Upper Mustang trek is very dreamlike with its dramatic landscapes.
Annapurna Circuit with Tilicho Lake
Tilicho Lake is the highest altitude lake in the world at 4,900m. The crystal-clear lake is surrounded by peaks like Tilicho, Nilgiri, Muktinath, and Annapurna. It is a very challenging trek that is not meant for beginners at all. This popular trek welcomes hundreds of thousands of trekkers annually. It takes an average of 15-20 days to complete and perfectly showcases the diverse beauty of the Annapurna region.
The highest point of the trek is the Thorong La Pass at 5,416m, which gives breathtaking views of the Annapurna and Dhaulagiri mountain ranges. This trek takes trekkers to many timeless villages and exposes them to their rich Buddhist culture.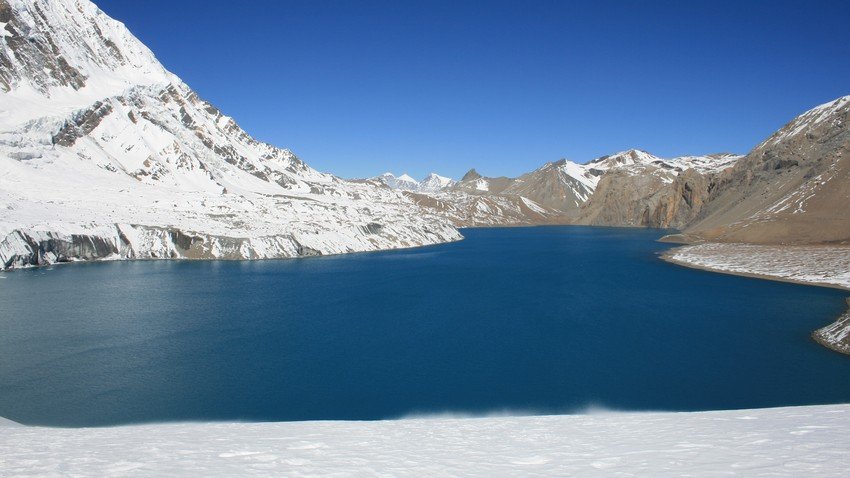 Khopra Ridge - the high route south of Annapurna
Located in the Annapurna region of Nepal, this is a newly established tourist destination that still is a secret hidden from many. This is a short trek of 10-14 days showcasing the beauty of the small country of Nepal.
It offers remarkable views of many mountains like Dhaulagiri, Annapurna South, Nilgiri, Bahara Shikar, and Fang. Trekkers also get to experience the rural lifestyle of villages and witness rare and beautiful wildlife. The highest point of the trek is the Khopra Ridge itself at 3,660m.
The trek starts with a scenic drive from Kathmandu to Pokhara from where trekkers will make their way to the Annapurna region through rhododendron and pine forests.
The Guerrilla Trek - high grasslands & the treasure of Rolpa
The Guerrilla Trek offers trekkers a break from the loud and hectic urban lifestyle by transporting them to a quaint place hardly touched by commercialization. The trail takes them through Myagdi, Rukum, and Rolpa districts that have a low population.
The trek usually takes 16-20 days to complete with a maximum elevation of 3,900m. Along with panoramic views of the Himalayas and lush green forests, the trek also has a historical pull to it. This area is known to be the birthplace of the country's Maoist revolution. Trekkers get to walk through the steep uphill and downhill terrains where people fought wars in the past and learn more about its history.
The trek also gives trekkers a wonderful opportunity to explore Magar Shamanism and various other ethnic cultures. Trails usually also give trekkers a chance to visit the only hunting reserve in Nepal—Dhorpatan Hunting Reserve.
Sailung Nature Trek - the indigenous people's trail
The low-elevation trek has a maximum elevation of 3,100m and can be completed in 8-10 days. It is the first of its kind in Nepal and provides a beautiful mix of different ethnicities and cultures like Tamang, Newar, and Majhi.
It is also a scenic treat that gives panoramas of many mountains such as Ganesh Himal, Jugal Himal, Langtang Himal, Ghaurishankar, Numburchuli, and Kanchenjunga. While the trek is open throughout the year, the best time is September-November and March-May.
The main aim of this trek is to gain cultural experience that is untouched by commercialization. The trek is heavily dependent on homestays, and there will hardly be any guest houses available in the villages. The host family treats the trekkers as if they are a part of the family, and trekkers usually partake in local activities as well.
Annapurna Sanctuary - spectacular mountain amphitheater
This trek is one of the most popular tea-house treks in Nepal. This trek gives trekkers a sight of diverse flora and fauna as they make their way to the Annapurna Base Camp. They also meet and interact with people of different ethnicities from different villages.
The trek provides picturesque views of mountains like Machhapuchhre, Dhaulagiri, Gangapurna Himchuli, Annapurna, and many more. The trekkers also hike up Poonhill, which gives a panoramic view of many peaks, including Dhaulagiri and Tukuche. The maximum elevation of the trek is 4,130m.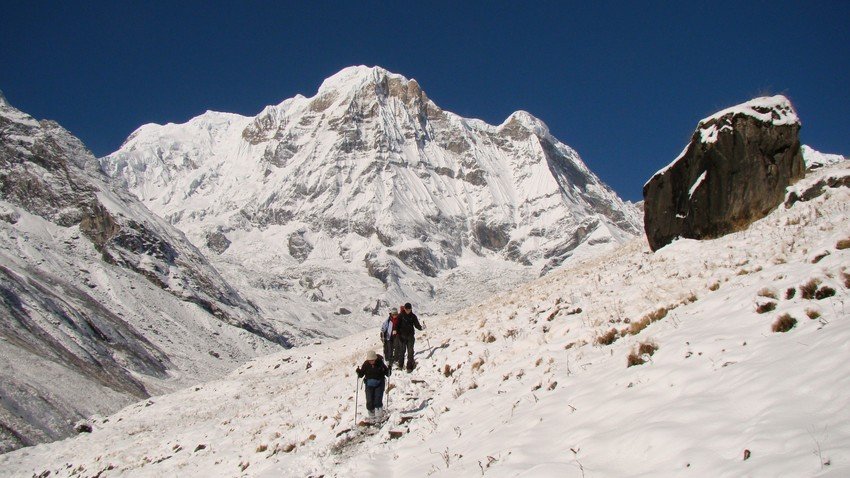 The lost valley of Nar-Phu - a pocket of pristine Tibetan culture
This is a strenuous trek that can take anywhere between 12-24 days to complete with a maximum elevation of 5,320m. It takes trekkers to remote villages located in Manang that are so untouched by urbanization that they seem to have frozen in time. The few people who live in the Nar and Phu villages lead a simple and traditional rural lifestyle that is new to trekkers.
While the trek does give wonderful views of Himlung and Annapurna range, the main focus of this trek is to learn about one of the oldest cultures and well-preserved culture in Nepal. The monasteries and tiny stone houses seem to transport trekkers into another world.
A special permit is required to be able to trek in this region which costs US$75 or US$100 per person for a week, depending on the time of the year. After a week, an additional US$15 is to be paid per day.
Langtang Valley - high alpine valley & glaciers
The Langtang Valley Trek is a two-week-long trek that manages to showcase many beautiful Nepalese scenes within this short amount of time. This is a very accessible trek as it offers rich Tamang culture and scenic beauty.
This is the perfect trek for people who want an affordable trek and are short on time. This beautiful place is 20 miles outside the capital Kathmandu with a maximum elevation of 4,984m. Some trekkers pass through the Langtang National Park, and others just relish in the gorgeous views of the Langtang Lirung, Langtang Ri, Langshisha, Dorje Lakpa, and Ganja La peaks.
Annapurna Panorama short and easy trek
The Annapurna Panorama Trek, better known as the Poonhill Trek, is a very easy trek with a low risk of altitude sickness. The maximum elevation is 3,210m and can be completed within a week. This also makes it ideal for family treks with kids.
Trekkers will have to travel to Nayapul from Pokhara from where their journey will begin. The main attraction of the trek is Poonhill, which is a popular viewing spot. It gives the best views of the sunrise and sunsets along with a panoramic view of the Annapurna range.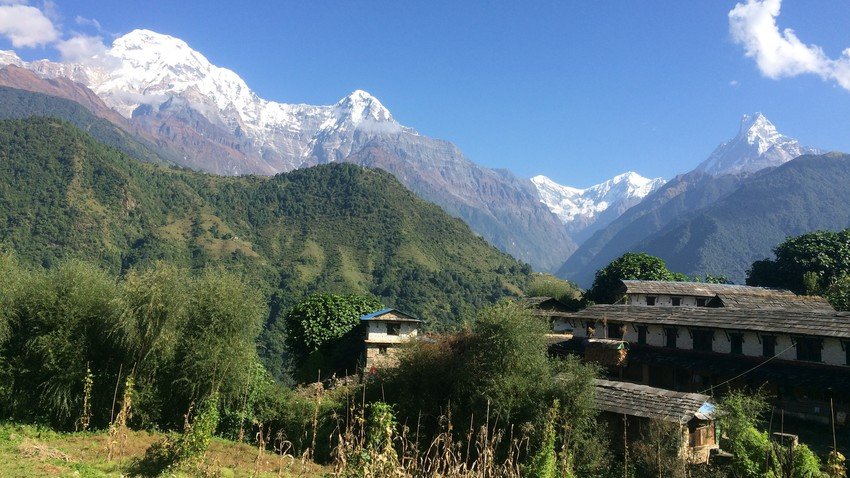 Rolwaling Valley-Tashi Labsta Pass to Khumbu
This trek is relatively challenging but getting a close view of the Himalayas makes it all worth it. On average, it is usually 18-22 days long. The trek takes trekkers through the under-visited Rolwaling valley, high mountain passes, and isolated villages.
The trek offers a diverse range of flora, fauna, and rich Tibetan culture. The view from the Tashi Lapcha Pass (5,750m) is phenomenal, and upon crossing it, trekkers will be in Khumbu. This pass is usually covered in snow. This trek also gives close views of Gaurishankar, Yalung Glacier, Everest, and Cho Oyu. It is an adventure-filled trek that merges nature and culture.
Arun Valley to Lukla trek via Salpa Bhanjyang
The deepest valley in the world, Arun valley, is situated in the Makalu region, hidden between two mountains and is rich in culture and nature. This two-week-long trek offers magnificent views of hundreds of mountains, including Mount Everest and Makalu.
The valley also has many different species of flora and fauna. The highest altitude of the trek is 3,350m at Salpa Bhanjyang. Many trekkers choose to visit the local lake, Salpa Lake, which is a holy lake. The unique culture and traditions of the predominantly Rai and Sherpa inhabitants will make this trip memorable.
Everest High Passes traverse - the single most scenic trek
This trek is perfect for people who want to cross the high passes of Everest without climbing the mountains. However, the trip is quite challenging and does have a maximum elevation of 5,5450m. It takes about 20 days to complete.
It starts with a scenic flight to Lukla from Kathmandu, from where trekkers will embark on the trek. The trail goes past the Dudhkoshi River, rhododendron forests, Sagarmatha National Park, and many ancient Sherpa settlements.
This adventurous trek passes through the Khongma-La Pass (5,535m) Chola-La pass (5,368m) and Renjo-La pass (5,338m). Trekkers are rewarded with beautiful views of various mountains like Cho Oyu, Makalu, and Everest. Many treks also take trekkers to Gokyo Ri and Kalapatthar, which are both excellent viewing spots.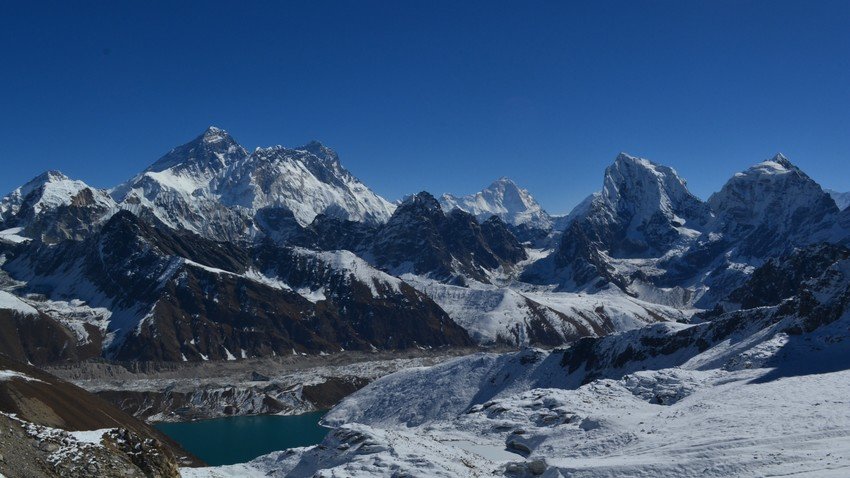 Chang La Valley in Humla
This strenuous trek is 20-24 days long and has a maximum elevation of 4,860m. The trek starts with a flight to Simikot from Kathmandu via Nepalgunj from where trekkers enter the valley. The trail follows the Chang River through lush green forests with a wide variety of plants and animals. It offers trekkers a majestic view of Changla (6,900m) and the surrounding lakes and peaks.
As the trekkers pass through many ancient settlements and traditional villages, they get a chance to immerse themselves in the Tibetan-Buddhist culture of this region. However, a permit is needed to enter Simikot, which costs US$50 per person for the first seven days. After that, each trekker will have to pay US$10 per day.
Upper Dolpo Circuit - the most traditional Tibetan influenced area of Nepal
Trekking in the Upper Dolpo region guarantees a relaxing getaway as it is a restricted area that has very few visitors. It is untouched by modernization and has a mystic charm to it. Trekkers require a permit costing US$500 for the first ten days, after which US$50 will be levied per day per person. A group of at least two people is mandatory.
The average trek is three-weeks long with a maximum elevation of 4,960m. Also, most people trek here to experience and study the well-preserved Tibetan culture. The main attractions are ancient monasteries like the Shey Gompa, the traditional villages, rare wildlife, and the beautiful landscape, which includes the Shey Phoksundo Lake.
Trekkers usually get a chance to pass through the Shey Phoksundo National Park. The strenuous trek starts with a flight to Jhupal from Nepalgunj.
Around Manaslu - a high pass crossing at Larkya La
Also known as the Manaslu Circuit Trek, this trek is less crowded and challenging. It takes an average of two weeks to complete. The trek moves along the banks of the Budi Gandaki River and passes through local villages and lush forests.
The highest point of this trek is the Larkye La Pass, which is 5,200m above sea level. Because the Manaslu trekking trail lies in a restricted area, trekkers must obtain a special permit from the Manaslu Conservation Area Project. Trekkers can spot different vegetation, snow-capped mountains (Manaslu, Larkye, and Annapurna II), glaciers, and rivers on this trek.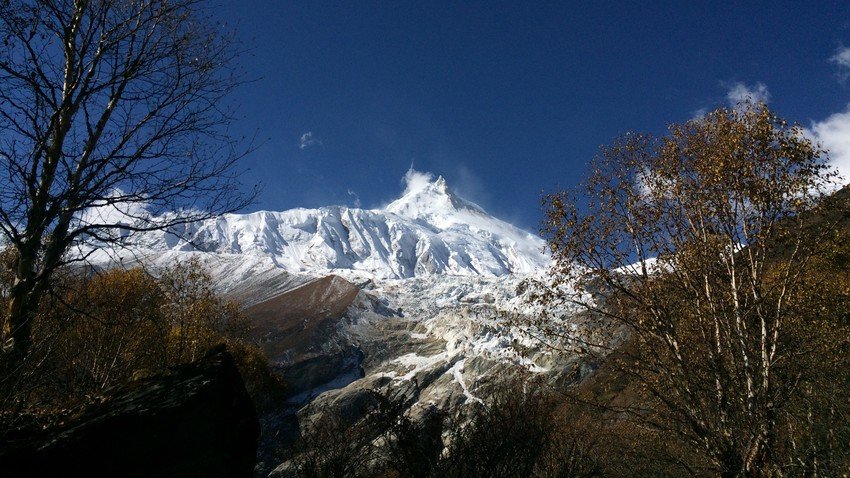 Kanchenjunga Northern & Southern Loop - excellent mountain scenery
The Kanchenjunga Base Camp Trek is one of the most popular treks in Nepal. It takes 20-24 days on average to complete this trek. This region is protected by the Kanchenjunga Conservation Area Project and requires a special permit. There are two such required permits: a Restricted Area Permit issued for a weekly basis, and the KCAP entry permit, which works for a month. A minimum of two people is mandatory.
This trip gives excellent views of many snow-capped mountains and glaciers, including Kanchenjunga, which is the third-highest peak, the Kabru and Rathong peaks, Mt. Janu and the Yalung glacier, among others. It also takes trekkers through many tranquil villages and forests, providing them with an opportunity to observe the ancient traditions and rare wildlife.
The Kathmandu Rim Valley - into the wilds near Kathmandu
This is a fairly short and easy trek which can be completed within a week. It is more or less a short hiking trip around Kathmandu Valley that allows trekkers to immerse themselves in local culture and green sceneries.
This trek traverses through the Shivapuri National Park, showcasing a wide variety of rare flora and fauna. The highest point of this trek is the Shivapuri hill (2,790m) from where trekkers get a remarkable view of various mountains like Manaslu, Boudha Himal, Ganesh Himal range, Langtang range, Dorjee Lakpa, and many others.
Conclusion
Nepal has a lot to offer. Trekking in Nepal is a wonderful way to break the monotony of life and make fun memories. And in 2023, this seems much more attractive with all the exciting offers that the tourism-focused year will bring.
Back To Overview