Short Treks around Pokhara
Short Treks around Pokhara
Swiss Family Treks Blog Posting
Most of the travelers or trekkers who visit the famous Annapurna region must-visit Pokhara as it is the entry point to the Annapurna region. Along with the major treks in the Annapurna region, there are many short treks around Pokhara which takes travelers closer to the majestic Annapurna massifs. The short trek options range from a day's hike to weeklong treks. You will find many trekking options that can be catered according to your requirements. Some of the exciting and adventurous short treks around Pokhara are listed and explained below. You can see which one of the options suits you and your family or friends the best.
Dhampus Australian Camp Trek (2-3 days)
Dhampus Australian camp trek is a short and easy trek which lies in the lower part of the Annapurna region. It is one of the best treks to relax and feel liberated from stress and anxiety.
Your trek starts as you drive to Kande, which is one hour away from the central city of Pokhara.
Australian Camp is a beautiful, green village best known for providing some of the best views of the mighty Annapurna ranges. On a clear day, you will be able to see an unobstructed view of the Dhaulagiri, Annapurna ranges, Machhapuchhre, and Manaslu ranges.
Dhampus is a small Gurung village where you will be able to experience the Gurung culture and traditions. Behind the terraced lush fields and hills, this village is one particular viewpoint of the Annapurna region. From the hillock, you will be able to see the exotic landscapes and the panoramic view of some of the tallest mountains in the world. This trek is a relatively easy and short trek so that it can be done by anyone of any age. You will be able to see the best of this trek during the spring, autumn and winter season in Nepal.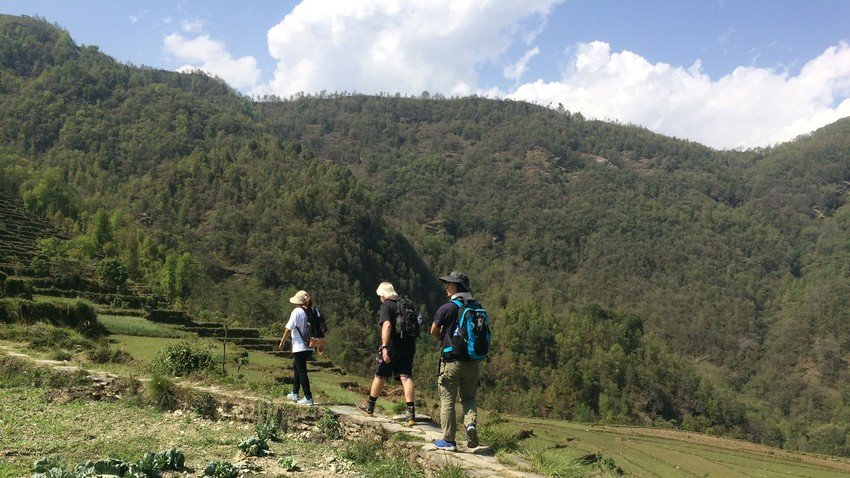 Panchase Trek (3-4 days)
Panchase rests on the lap of the Himalayas gleaming with its flawless beauty. Boasting the beautiful topographical diversity, historical, religious, and cultural features, and this place is one of the best destinations for short treks around Pokhara. It is a quick, family-friendly trek in the Annapurna region.
The trek to Panchase village starts from Pokhara and is 28 kilometers away. This is a low altitude trek, so it is suitable for all age groups. The eye-catching vistas, gradually varying landscapes, exotic trails, and several villages are the major highlights of this trek.
Panchase Hill (2500 m) is one of the tallest hills around Pokhara. The hilltop exhibits a beautiful and dazzling view of the snowcapped peaks. Panchase hilltop is also famous for offering some of the most pristine sunrise and sunsets. Here, you will get a panoramic view of the soaring mountains, such as Machhapuchhre, Dhaulagiri, Annapurna, Lamjung, Gangapurna, and Manaslu. This trek can be best done during the spring, autumn and winter seasons, which provides you with unforgettable views.
Ghorepani Poon Hill Trek (4-5 days)
Ghorepani Poon hill trek is probably one of the most popular short trekking destinations around Pokhara. The sunrise and sunset view from Poon Hill is absolutely stunning. In the entire Annapurna region, no other viewpoints can beat the view from Poon Hill.
Ghorepani Poon Hill trek starts from a drive to Nayapul and ends at Pokhara. Relatively one of the most amazing and easy treks, it can be done by any age group and is recommended for family and friends. This trek is also famous for the Ghandruk village. Ghandruk village is a vast settlement area of the Gurung community. During the trek, you will be able to learn and observe their culture and tradition. The beautifully aligned stone houses, stone stairs, and the warm welcome of the Gurung community will make you feel at home. The best time to visit this place is during winter, spring and autumn, when you can see the mesmerizing sunrise without any disturbances.
Ghandruk Loop Trek (4-5 days)
One of the most popular villages in the Annapurna region, thousands of travelers and trekkers, trek to Ghandruk village every year. This trek is perfect for those who want to see the Himalayas at a close distance but are in short of time to trek for a long duration.
Ghandruk loop trek starts from Pokhara with a drive to Nayapul, which is two hours' drive away. This trek ends at an altitude of 2000 meters, and the difficulty level of this trek is a medium one, recommended for adults. This trek is designed for those who wish to enjoy the best of the Annapurna region in a short period. Some of the famous peaks you will see during this trek are Annapurna South, Machhapuchhre, Himchuli, and Gangapurna. As the panoramic vistas lie right in front of your eyes, you will feel like you could touch them. To get the best sunrise and sunset views of the massifs, you are recommended to visit during the winter, spring and autumn season.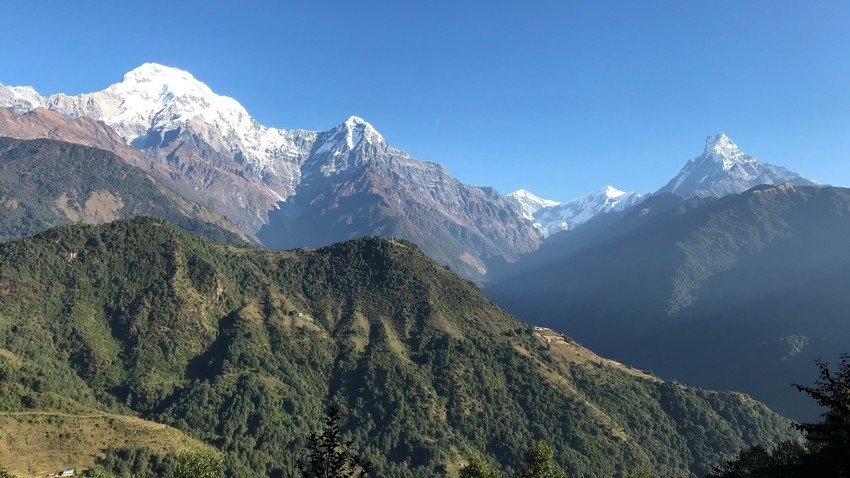 Mardi Himal Base Camp Trek (6-7 days)
Mardi Himal base camp trek is known as a raw and exotic trek in Nepal. It is a freshly opened trek in the famous Annapurna region. Surrounded by distinctive landscapes and adorned with some of the tallest peaks in the world, this trek is perfect for adventurers.
Located on the east side of Annapurna Base Camp, Mardi Himal base camp trek lies at an elevation of 4500m above sea level. It is a high-altitude trek, and the difficulty level is challenging. So, this trek is highly recommended for healthy, active adults, and seasoned trekkers. Your trek to Mardi Himal base camp starts from Phedi or Kande, which is a one-hour drive away from Pokhara. From Phedi or Kande, the rugged and raw trails will lead you through Forest Camp, Low Camp, High Camp and finally to Mardi Himal base camp. Upon arriving at the base camp, the tall Mardi Himal stands proudly in front of you, and the beauty of this peak will leave you breathless. The ideal season to indulge in this trekking course is during spring and autumn and winter.
Mohare Danda Trek (6-7 days)
Mohare Danda is a hilltop in the Annapurna region, near the most popular trekking destination Ghorepani Poonhill. In recent years, Mohare Danda trek has been acknowledged as one of the best community-based lodge trekking trails. This trek is ideal for those who want to avoid the busy and bustling Ghorepani Poonhill.
Mohare Danda lies at an elevation of 3300m, and the level of this trek is graded as an easy one. It is a family-friendly trek and is recommended for every age group. With an abundance of natural and cultural beauties, this trek is perfect for those who want to enjoy nature as well as experience the local culture. Providing the closest view of the Annapurna and Dhaulagiri ranges, Mohare Danda trek also offers the most glorious sunrise and sunset views. This trek starts from Pokhara and leads you through the hills of Galeshwor, Nangi, and finally, Mohare Danda. Then trek continues to Magar peoples settlement of Khibang, Tikot village. Moreover, it is best done during the spring and autumn and winter seasons when the weather is stable.
Khopra Danda Trek (9-10 days)
Khopra Danda trek, also known as the Khopra ridge trek, is a newly established trekking destination in the Annapurna region at an elevation of 3640 meters. Trekking to Khopra Danda is an activity you wouldn't want to miss out on while in Pokhara.
Walking through some of the less-traveled trails, you will explore the raw, exotic beauty of this trek at the fullest. One can relish the awe-striking panoramic view of the Annapurna and Dhaulagiri massifs. The hilltop offers you the picturesque view of Annapurna, Dhaulagiri, Himchuli, Tukuche, Nilgiri and Machhapuchhre.
The trails taking you through Ghandruk, Dobato, Khopra danda, Mohare Danda and Nangi, and finally back to Pokhara will allow you to traverse through the lush green forest adorned with rhododendron flowers. Graded as a moderate-strenuous trek, it can be done by every age group. Moreover, this trek shines with its most elegant features during the spring and autumn season.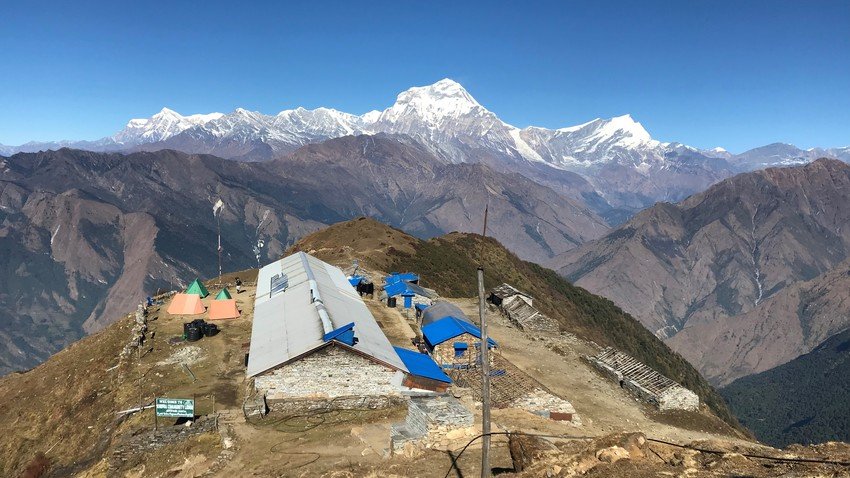 Annapurna Base Camp Trek (7-8 days)
Radiating magnificent beauty, the short Annapurna Base Camp trek is one of the most popular treks that can be done in Nepal. It is an excellent opportunity to explore the beautiful region of Annapurna. In just eight days, you will be able to enjoy the best features of the Annapurna region.

Located in the northern central region, Annapurna Base Camp lies at an elevation of 4130 meters. Annapurna Base Camp trek is graded as a moderate trek and is suitable for all trekkers whether a beginner or an advanced trekker. The march towards the Annapurna base camp starts with a drive from Pokhara to Syauli Bazar, leading you through the dry trails of Annapurna sanctuary, villages like Chhomrong, and finally to the base camp. As you reach the base camp, the soaring, majestic Annapurna ranges, Himchuli, Machhapuchhre, and Gangapurna lies in front of your naked eyes, and you will experience one of the most unforgettable moments in your life. You will also witness the reason why Nepal is called a paradise on Earth. To spectate the fullest of Annapurna base camp, you will have to schedule your plans during the spring and autumn season.
Other day hikes around Pokhara
Other one day hikes can be done near Pokhara city. If you do not have much time to trek or if trekking is not your cup of tea, you can opt for one-day hikes around the lake city.
The most popular day hike around the city is Sarangkot and World peace stupa. These are quite easy hikes and are also accessible by driving. Sarangkot is a very famous viewpoint near Pokhara, where you can discern the most spectacular sunrise over Machhapuchhre (Fishtail Mountain). Similarly, you can hike to World peace stupa after boating in the Phewa Lake for about 30 minutes to get to the other side. The one-hour uphill hike will offer panoramic views of Annapurna, Machhapuchhre, and Dhaulagiri, along with the view of Phewa Lake and the entire Pokhara city.
Conclusion
Short treks around Pokhara offers promising views of some of the tallest peaks in the world. There are various trekking destinations you can choose from according to your needs. The treks, as mentioned earlier, are not only about the pristine mountain beauty but also provides insights into the typical lifestyle and settlements of different ethnic groups. Hence, if you are in Pokhara and are short on days for trekking, you can opt for any mentioned treks above. These treks will surely satisfy your desires to reach near the Himalayas.
Back To Overview