Everest Base Camp Trek for Beginners - A Himalayan Adventure
Everest Base Camp Trek for Beginners - A Himalayan Adventure
Swiss Family Treks Blog Posting
The Everest Base Camp Trek is a thrilling and unforgettable journey that allows beginners to experience the majestic beauty of the Himalayas while getting up close to the world's highest peak, Mount Everest (8,848.86 meters or 29,031.7 feet). This trek is a popular choice for novice adventurers seeking to challenge themselves and immerse in the breathtaking landscapes of Nepal.
Description:
The trek commences in Lukla, a small town accessible by a short scenic flight from Kathmandu. As you set foot on the trail, you'll pass through charming Sherpa villages, lush forests, and suspension bridges over roaring rivers. The route offers an incredible blend of cultural encounters, with colorful prayer flags and ornate monasteries along the way.
The gradual ascent ensures trekkers can acclimatize properly to the increasing altitude. The highlight of the journey is reaching Everest Base Camp (5,364m), where mountaineers prepare for their ascent to the summit. The sight of the colossal Khumbu Icefall and the stunning view of Everest are awe-inspiring and make the challenges of the trek all the more rewarding.
Trek Highlights:
Stunning Scenery: The trek offers panoramic views of towering snow-capped peaks, including Everest, Lhotse, Nuptse, and Ama Dablam.
Sherpa Culture: Encounter the warm hospitality and rich culture of the Sherpa people in their traditional mountain villages.
Everest Base Camp: Stand at the foot of the world's highest mountain, an achievement that leaves trekkers with a profound sense of accomplishment.
Tengboche Monastery: Visit the ancient Buddhist monastery and immerse yourself in its spiritual atmosphere.
Kala Patthar: An early morning hike to Kala Patthar for sunrise view over Himalayas and it provides the most accessible closeup view of Everest.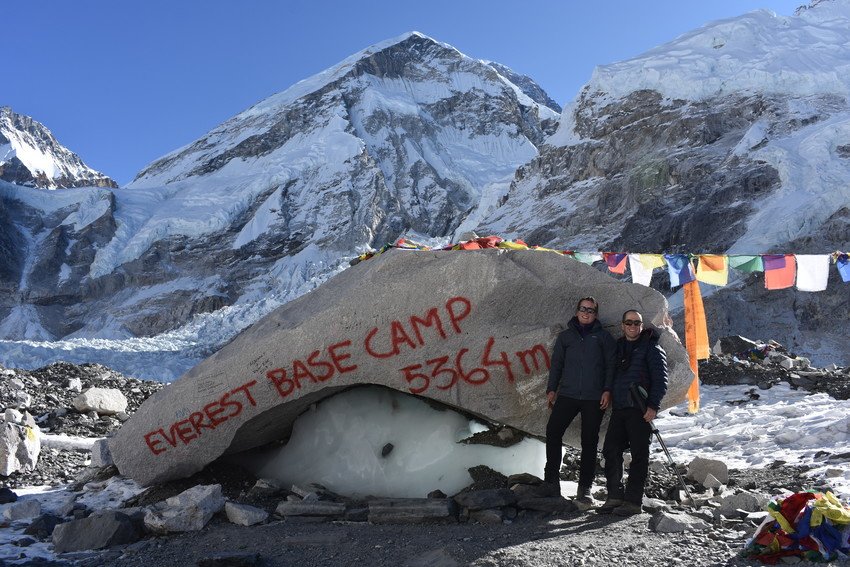 General Tips and Guidance for beginners:
Physical Fitness:
While the Everest Base Camp Trek is suitable for beginners, it's essential to have a basic level of physical fitness. Engage in cardio exercises and stamina-building activities before the trek to enhance your endurance.
Acclimatization:
Altitude sickness is a concern during the trek. It's crucial to take acclimatization days to let your body adjust to the altitude. Plan your itinerary with enough rest days and gradually ascend to higher altitudes. Ascend slowly and listen to your body; if you experience any symptoms of altitude sickness (headache, dizziness, nausea), descend to a lower altitude immediately.
Pack Light:
Only carry essential items for the day and keep your backpack as light as possible. Porters can be hired to carry your heavier belongings, allowing you to focus on enjoying the trek. Only bring essential items, as porters will carry your main baggage. Focus on comfortable, moisture-wicking clothing suitable for changing weather conditions.
Proper Gear:
Invest in good-quality trekking gear, including sturdy hiking boots, warm clothing, waterproof layers, a sleeping bag, and a backpack.
Stay Hydrated and Eat Well:
Drink plenty of water and stay hydrated throughout the trek. Carry water purification tablets or a filtration system. Consume a balanced diet, and avoid excessive alcohol and caffeine intake. Enjoy local Nepalese cuisine.
Permits and Guides:
Obtain the necessary permits for the trek and consider hiring a local guide. A guide can provide valuable insights into the culture, navigate the trail, and assist in emergencies. For beginners, it's highly recommended to trek with a licensed guide who knows the region well and can provide assistance in emergencies.
Be Respectful:
Embrace the local culture and customs. Show respect to the people, their traditions, and the environment. Refrain from littering; bring back all non-biodegradable waste with you. Learn basic phrases in Nepali to communicate with locals and enrich your cultural experience.
Prepare for Weather Changes:
Be prepared for unpredictable weather conditions. Dress in layers and always carry a waterproof jacket and a hat.
Choose the Right Season:
The best time for beginners to trek to Everest Base Camp is during the pre-monsoon (Spring - March to May) and post-monsoon (Autumn - September to November) seasons. These months offer stable weather and clear mountain views.
Communication and First Aid:
Carry a fully charged mobile phone with a local SIM card. Basic first aid supplies and any personal medications are essential.
Travel Insurance:
Purchase comprehensive travel insurance that covers high-altitude trekking and emergency medical evacuation.
Teahouse Accommodations:
Along the trail, you'll find teahouses/guesthouses/lodges providing accommodations and meals. Remember that amenities may be limited, so be prepared for simple living conditions.
Essential Packing List:
For anyone planning on a trek to Everest Base Camp, one must be equipped with the following essentials:
Clothing and Shoes
• Warm cotton clothes (t-shirt and pants)
• Lightweight wool T-shirts
• Fleece jackets
• Thermals
• A sturdy pair of hiking boots
• Woolen socks (few of varying thickness)
• Warm Gloves (waterproof if possible)
• Sun-hat and Woolen Hats
Accessories
• Duffle Bags
Medical Necessities
• A proper first aid kit
• Necessary Medications

Other Necessities
• A good quality sleeping bag
• Climbing pole (optional)
• Sunscreen
• Water bottles and purifiers
• Sunglasses
Make sure to keep as warm as possible in the higher altitudes to avoid the chances of altitude sickness. Also, keep in mind to always drink boiled or purified water only. Waterproof clothing is the ideal clothing for mountain trekking in Nepal.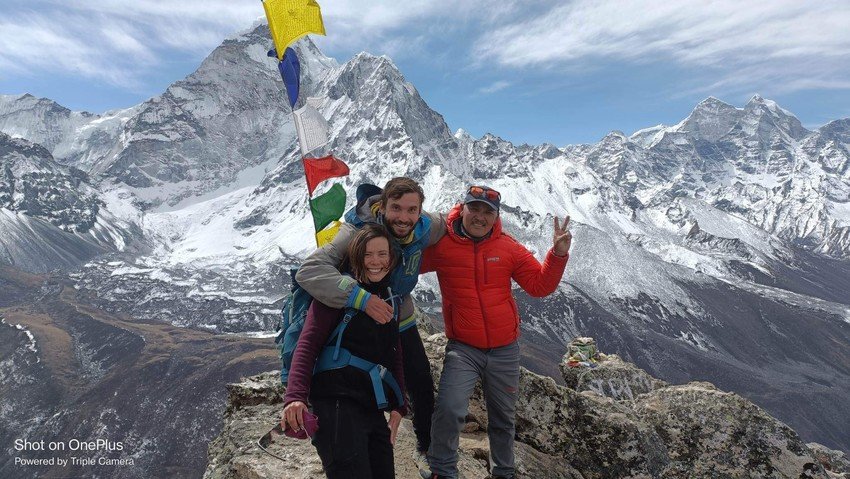 Lukla Flight Cancellation and Weather
Lukla Flight can be canceled or delayed during the summer and winter due to bad weather conditions. Summertime experiences rainfall and the winter months can experience snowfall, both of which present high flight cancellation chances due to poor visibility.
Spring and autumn months are suitable for the trip because they present good visibility and few cancellation chances of the Lukla Flight to/from Kathmandu or Manthali Airport in Ramechhap. Nevertheless, while trekking, even during the trekking seasons of spring and autumn, it is a good option to have an extra contingency day for unexpected cases of flight cancellations and delays.
Booking through a trekking agency/company
While planning on adventurous treks in Nepal's mountain regions, it is best to travel with the help of a trekking agency. We at Swiss Family Treks and Expedition is equipped with well-trained and experienced guides and loyal porters who can make your trek more enjoyable and less stressful. Most of the trekking areas like Everest Base Camp Trek require prior reservation, especially during the peak seasons. Most of the mountain regions also require permits, which can only be acquired if you are acquainted with travel agencies. Booking treks in the Himalayas through trekking agencies make the trek easier, less-costly, less-stressing and more enjoyable, making it the best option.
The Everest Base Camp Trek for beginners is a life-changing adventure that will leave you with cherished memories and a profound appreciation for the natural wonders of the Himalayas. With proper preparation, guidance, and a positive attitude, you can conquer this bucket-list journey and revel in the breathtaking beauty of the Everest Region.
Ready for an unforgettable adventure? Join us on our Everest Base Camp Trek today!
Back To Overview