Trekking in Langtang Region
Trekking in Langtang Region
Swiss Family Treks Blog Posting
Located in the northern region, Langtang lies near the border between China and Nepal. It is the closest region to the Himalayas from Kathmandu city. Yet, it is also one of the purest and untouched regions of Nepal. Regarded as one of the most magnificent trekking destinations in Nepal, Langtang region is home to several high peaks, including Langtang Lirung (7246m).
This region is also one of the most easily accessible places in Nepal. Often described as "the valley of glaciers," Langtang region boasts majestic beauty of the Himalayas. Along with the beautiful natural features, you will also get the opportunity to experience the unique cultural practices of people in the region. Langtang region is home to the Sherpa and Tamang people who are initially from Tibet.
Trekking in Langtang is a perfect gateway from a monotonous daily routine. Walking through pleasant trails, the Langtang region offers you an enjoyable adventure with your friends and family. Enjoy the local culture and way of life as you pass by monasteries and quaint hamlets.
Considered as a mesmerizing region for trekking activities, various trek options suit the taste of all kinds of trekkers. Some of the most popular treks of this region are described below.

Langtang Valley Trek
Langtang valley trek is the most popular trekking option in the exotic Langtang region. With unique landscapes and a dazzling view of the Langtang ranges, this trek offers you a wide range of biodiversity and cultural diversity. This beautiful valley is situated in the north of the Kathmandu city and is easily accessible.
Key features:
• Splendid panoramic views of the massifs above 7000 meters, such as Ganesh Himal, Langtang Lirung, and Langtang II.
• Langtang valley, also known as the valley of glaciers, has offered trekkers one of the best views of glacial lakes.
• Explore the Tamang and Sherpa culture of the region.
• Witness exotic and rare floras and faunas.

Langtang valley trek is a moderate and strenuous trek that can be done in 7-11 days. This trek starts with a scenic drive from Kathmandu to Syabrubensi. You begin the trek walking through gentle ups and downs trails, along the dense green forest adorned with rhododendron flowers. You will also see some of the rare species of birds and animals as your paths take you through the Langtang National park. The peaceful and solitary trails let you fully indulge in the beauty of Mother Nature.
The trek will lead you from Syabrubensi to Lama Hotel, to the Kyanjin Monastery, and finally to Tserko Ri. You will be able to experience the Buddhist culture and traditions in one of the oldest monasteries in the region, Kyanjin Gompa. Moreover, you will also be able to experience the rich culture of the Sherpa and Tamang people.
Healthy trekkers of any age can do Langtang valley trek. Although this trek is not as famous as the Annapurna and Everest treks, Langtang valley trek is still an outstanding choice for trekkers who wants to explore the natural beauty in less crowded regions. To explore the full blooming beauty of this trek, you will have to schedule your trek for spring (March-May) and autumn (September- November) season.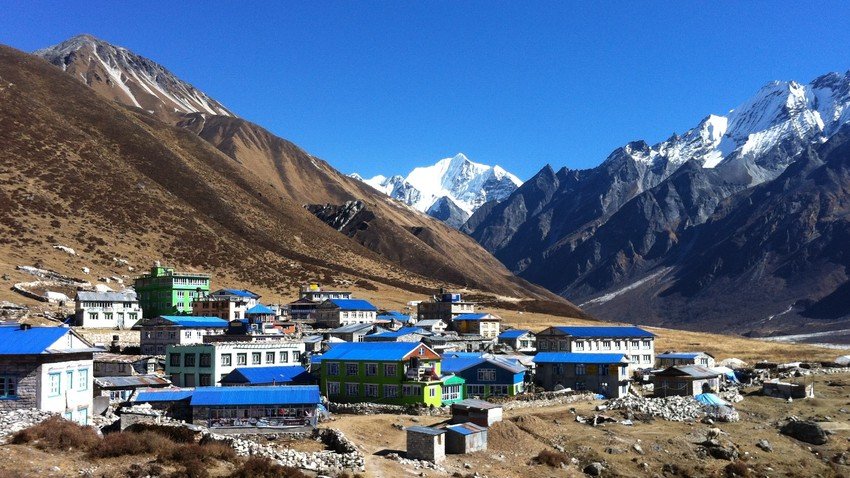 Tamang Heritage Trail Trek
Tamang heritage trek is a newly discovered cultural trek through Tamang villages in the Langtang region. With the picturesque view of the Langtang range and other peaks, this trek is the perfect way of enjoying and experiencing the Tamang culture and lifestyle. This community and the eco-friendly trek can be done in around 11 days.

Key features
• Hot natural healing springs and Chilime hydropower dam
• Panoramic view of Ganesh Himal, Langtang Ri, and other peaks near the Tibet-China border
• Experience the rich cultural traditions of the Tamang people
With the beautiful lush hills, quaint villages, hanging bridges, green forests, gushing rivers, and epic vistas on the background, this trek is considered as the best cultural trek in the Langtang region. Introducing you to the unique Tamang community and culture, Tamang heritage trek is filled with a lot of natural beauties as well as cultural experiences.
This trek starts with a scenic drive from Kathmandu to Syabrubensi. From Syabrubensi, the trail will take you to the Gatlang village, providing you with the most exciting insights into the Tamang culture and lifestyle. The cultural show in this village will amaze you, and it will remain a memorable experience throughout the whole trekking course. You will also be able to enjoy the hot springs at Tatopani, which is also known for its healing properties. You will also visit villages such as Nagthali, Thuman, and Briddim.
This trek is graded as an easy trek which is doable by people of all age groups. This trek is mostly recommended for family and friends as you will be able to relish the easy trails with unique cultural experiences. The best season to plan for this trek is during the spring and autumn seasons.
Gosainkunda Lake Trek
Gosainkunda lake trek is considered as one of the shortest treks in this region as it can be done in 5-10 days. This trek is for those who are short on time but still want to witness the glorious beauty of Himalayas. The main attraction of this trek is the Gosainkunda Lake at an altitude of 4380 meters, which has a great religious significance among Hindu people.

Key features
• One of the holy lakes in the world Gosainkunda lake
• Fabulous panoramic views
• Tea house trekking

Gosainkunda lake trek is a short and easy trekking journey in the Langtang region. As the trail is easily accessible and close to Kathmandu, it is widely prevalent among trekkers. This trekking journey will take you to the holy lake, Gosainkunda. Along with Gosainkunda, you will also see other high lakes, namely Saraswati Kunda and Bhairab Kunda.
Likewise, you will get to witness the picturesque, panoramic view of massifs such as Ganesh Himal, Manaslu Himal, and Langtang Lirung. This trek also offers you some insights into the rich cultural beauty of the region. This trekking journey begins with a scenic drive from Kathmandu to Dhunche. From Dhunche, you will again be driving till Thulo Syabru. Here, your trail starts as you walk through the dense hills and forests adorned with radiant floras. Your path will take you through Chandan Bari as you ascend to Gosainkunda Lake and then back to Dhunche or otherway round to Sundarijal.
With the spectacular mountain views and rich cultural beauty, your trek to Gosainkunda will allow you to explore the natural beauty of Nepal. Graded as a moderately difficult trek, it is mostly recommended for adults and others with excellent physical fitness. The best season to trek to Gosainkunda Lake is during spring and autumn seasons.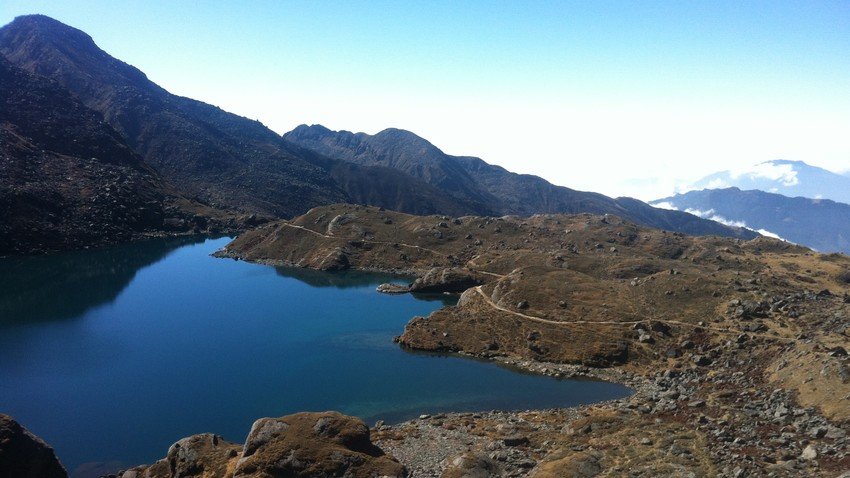 Helambu Valley Trek
Helambu valley trek is a newly opened short trek in the Langtang-Helambu region. It is perfect for those who are short on time or are looking for a different experience from the usual, populated trekking destinations. Despite being so close to Kathmandu city, this valley is rather unexplored in terms of natural beauty. This trek can be completed within 6-8 days. This settlement amidst the Langtang region has remained intact with its pacific culture and environment.

Key features
• Most comfortable and shortest treks in Nepal
• Lots of Buddhist monasteries and apple farms
• More in-depth insight into the cultures and traditions of Hyolmo and Sherpa people.

Helambu valley trek provides an opportunity for trekkers and travelers to explore the magnificent mountains, glaciers, gushing rivers, dense forest, along with the unique culture and tradition of the local Helambu people. Since Helambu is an easily accessible trekking destination, it poses as an ideal destination to experience the incredible geographical and biological diversity that includes some of the scarce species such as Red Panda.
This trek also gives the opportunity for travelers to enjoy the less trodden part of Langtang region. The Helambu valley trek begins from Sundarijal, an hour drive from Kathmandu. The trail passes through Chisopani, Kutumsang, Thadepati, Melamchi Gaon and Sermathang. Your journey then ends at Melamchi Pul Bazar in the Helambu region.
Traversing through the green terraced farm and several Buddhist monasteries with the Himalayan ranges on the backdrop, the trek to Helambu valley will be worth your time. As this trek is done in a low elevation, it can be done by people of any age group. It is also renowned as a family-friendly cultural trek. This trekking journey gives trekkers the real rural experience of Nepal away from the hustle and bustle of the city. It is best done during the spring and autumn seasons as you can enjoy the unobstructed panoramic view of the majestic Himalayas and unique landscapes.

Conclusion
Langtang region is well known for its eternal and mesmerizing natural beauty, along with its many trekking options. For trekking activities, this region is a perfect choice. You will be blessed with the spectacular mountain views and will also get to experience the rich culture of the ethnic people living in the region. Pack your bags and head to the Last Shangri-La of Nepal- Langtang valley. With so many trekking options available, you can opt for one which suits you best.
Back To Overview