The Mardi Himal Trek
The Mardi Himal Trek
Swiss Family Treks Blog Posting
The Annapurna region is a magical place, where one must visit at least once. The immense beauty of the natural and cultural elements is what makes this region an outstanding choice for trekking.
Amidst the vast choices of treks in Nepal, the Mardi Himal trek is a fantastic option for those who wish to explore the quaint lands of the Annapurna region. This short trek takes you to the sacred mountain ridge right under the massive Machhapuchhre that lies east of the Annapurna Base Camp. The popularity of this trek grows by the day. Also, the Mardi Himal trail receives fewer tourists in comparison to its neighboring Ghorepani Poon Hill and Annapurna Base Camp trail. Thus, making Mardi Himal trek perfect for those seeking a quiet time.
Trekking in the Himalayas is undoubtedly a unique experience. Likewise, the Mardi Himal trek offers its own unique experience. The beauty of this journey reflects from the beautiful natural gifts and the cultural beauty of the remote settlements. The trail is decorated with diverse landscapes consisting of dense forests, lush green valleys, rich flora and fauna, winding rivers, and giant snow-clad peaks.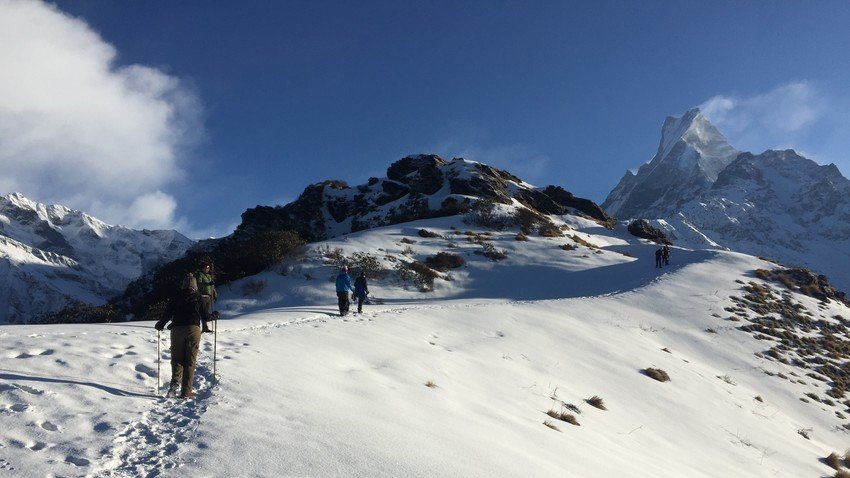 Mardi Himal Trek for families with Children
The Mardi Himal trek is short and easy. Thus, it is recommended for all types of travelers as well as with your friends or family. It can be a great place to take your family as an escape from the routine of everyday life. As the trails are easy to walk on and anybody can complete this trek, you can also take your children on this adventurous journey.
Although this trek does not require any prior experience as a trekker, you should keep in mind that preparing your body for this journey can do a lot of benefits. You, along with your family, can engage in cardiovascular activities or even go on rehearsal hikes. As long as the real journey does not pose physical hardships, it is always good to be prepared.
The next key point to keep in mind is the dangers of trekking in high altitudes. Even though the trails and the distance of the walk may be easy, you have to take proper care of your health. The maximum altitude you will reach during this trek is 4,200 meters. If you choose to go for Mardi Himal Peak climbing, you will ascend to a maximum height of 5,500 meters. Keep in mind to stay hydrated, and also, make sure to educate your fellow trekkers to be safe.
The trails of the Mardi Himal trek are off-beaten, yet the overall trek is an easy one compared to other treks in the Himalayas. You will only be walking around 5 hours on average per day during this trek. The trail consists of various tea houses and lodges that provide quality accommodation services with food provisions. Summing up the factors of this trip, it is safe to say that the Mardi Himal trek for families with children is a worthy option for a memorable journey with your loved ones.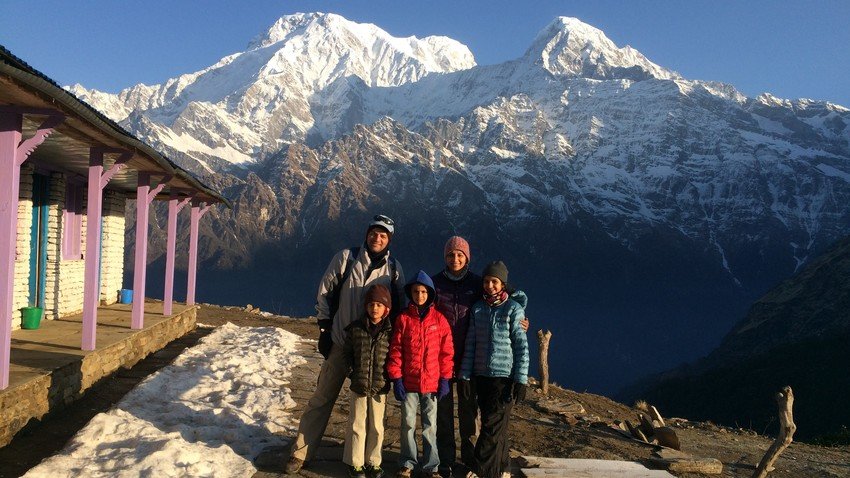 Mardi Himal Trek Route
The Mardi Himal Trek takes you to the east of the Annapurna Base Camp. This is a short trek that can be completed within seven days. Your journey begins with a scenic flight/drive from Kathmandu to the lively city of Pokhara. Pokhara is the gateway to numerous significant treks in the Annapurna region.
From Pokhara, you will drive to Kande/Phedi, where the trek begins. Your first destination is Pothana or Deurali, a village amidst lush green forests. You reach Pothana in about 4 hours from Phedi or 3 hours from Kande. The next day, you will be trekking towards the forest camp at Kokar. You will also be part ways with the Annapurna Sanctuary trek route. The camp at Kokar has very basic lodges and, in a way, are more like homestays.
The following day, you will be heading towards Low Camp. You will be walking through dense forests of Rhododendrons and pines. As you reach Low Camp, Machhapuchhre will be visible to you, and towards the west will be Annapurna and Hiunchuli. Next, you will make your way towards High Camp. Continuing the journey, you make way for the Mardi Himal ridge. On the way, you may also spot some colorful Himalayan Monal. The day after you reach High Camp, you will be hiking to the upper Viewpoint.
The Mardi Himal upper Viewpoint is at 4,200 meters and provides stunning views of the Annapurna ranges. This hike is the most challenging part of the journey as you will be walking on narrow and rocky trails. If you head out early in the morning, you can make it just in time to view a mesmerizing scene of the sunrise over the mountains.
After a good session of landscape viewing, you come back down to Low Camp, where you rest for the night. On the next day, you will make your way to Siding Village. From Siding village, a car will pick you up and drive you back to Pokhara.
For those who have a wish to go an inch further for an adrenaline-pumping adventure, they can select the Mardi Himal peak climbing trek. Till today, not many people have summited the Mardi peak.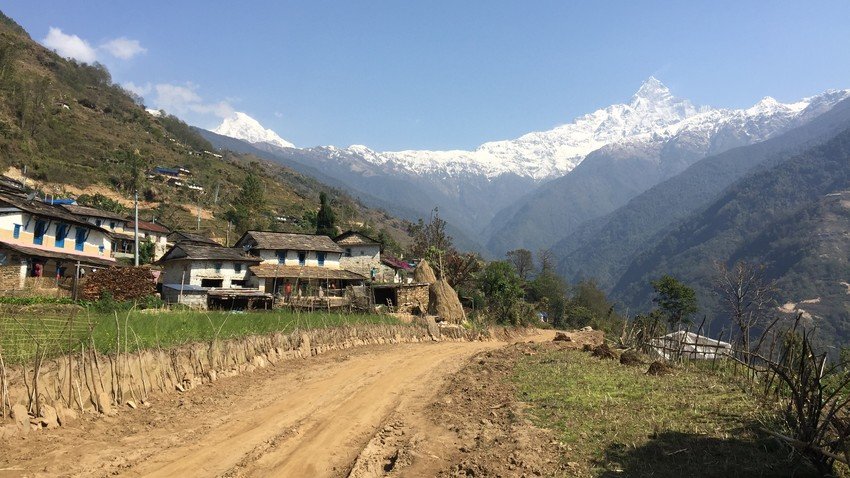 Mardi Himal Peak Climbing
Mardi Himal Peak Climbing offers climbers with a relatively less crowded trail journeying along the untouched trans-Himalayan terrains. The Mardi Himal Peak climb is a comparatively easy climb that has minimal technical difficulty. It does not require prior climbing experience, and you can complete this climb within two weeks.
The Mardi Himal Peak climbing has a different route than that of the Mardi Himal trek. Your journey for the climb begins from Pokhara, where you commence the trek towards Gyachok. Your next destination from here is Sano Khoban. Sano Khoban is a steep climb away from Kaduwa, a tiring walk to end the day.
The following day, you will be heading to Pipa. The trail is now covered with lush forests. Today's walk is a long up-hill struggle. Finally, after covering a steep ridge, you reach the small lake at Pipa. You will be spending an additional day here for acclimatization. Rest up well, and make sure your body is ready for the rest of the journey.
The next destination is the Thulo Kharka. As you continue along the ridgeline, you arrive at the wide grazing area of Thulo Kharka. Manaslu in the east and Annapurna in the west are now visible, providing a stunning horizon view. The next day, you will be heading out to the Mardi Himal Base Camp.
You are now at 4,500 meters of altitude; it is highly recommended that you spend a day to acclimatize. After your acclimatization day, you will be heading towards High Camp. The ascend is a steady climb on rocks and is short but tiring.
Finally, the day after, you will be making it up the peak. Today's hike up is lengthy and tiring. You will be covering 900 meters in altitude to make it to the summit. Standing atop 5,500 meters, the views of the Annapurna, Machhapuchhre, Dhaulagiri, Hiunchuli, Lamjung Himal, and many other peaks are stunning. After taking plenty of pictures and enjoying the mesmerizing views, you will be making your way back to Base Camp.
The following day, you take a different route towards Khorchon and then to Riban. The next morning, you head to Hyangja. At Hyangja, a car will be waiting for you to take you back to Pokhara.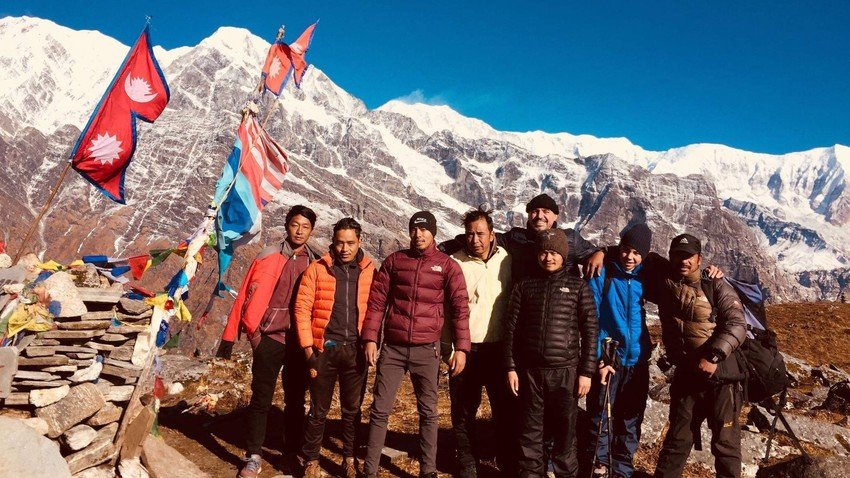 Best seasons and Average Costing for Mardi Himal Trek
The best season to do the Mardi Himal trek is considered to be around autumn (September to November) and spring (March to May). Both these seasons provide pleasant weather, moderate temperatures, and a slim chance of precipitation. This makes the atmosphere extremely suitable for trekking. The dry trails and unobstructed views also make the trip more enjoyable.
The Mardi Himal trek can cost around $ 1250 per person. This cost includes all your accommodation charges, food costs, transportation fees, guides/porter fees, and other miscellaneous costs. You may also incur additional expenses such as tipping guides/porters or waiters and lodge owners, donating to local communities, purchasing souvenirs, etc.
Personal equipment required for trekking
Besides the list of conventional trekking equipment, there aren't many more things that are necessary for this trek. If you are willing to carry the load for specific equipment, you are free to do so. Some recommended equipment that can come in handy are:
● Trekking poles
● Trekking hats
● Warm jackets and pants
● Trekking shoes
● Sleeping bag
● Warm woolen socks
● Sunglasses
● Water purification tablets, devices or purifiers
● First-aid kit
● Toiletries
● Water bottle
● Map of trekking area
Besides, various miscellaneous objects can also help make this trip better. Such as:
● Camera
● Solar battery chargers
● Portable power banks
● Spare batteries
● Emergency lights
● GPS unit
● Pocket knife
● Playing cards, books, journals, etc
Conclusion
There are many adventurous places to visit in Nepal. Among them, you must not miss out on experiencing the thrill of trekking in the incredible Annapurna region. The Mardi Himal trek is a suitable option for a beautiful experience of trekking in the Himalayas of Nepal. Also, as the national tourism campaign "Visit Nepal 2020" has started, come join us today! Experience the journey of your lifetime with the Mardi Himal Trek!
Back To Overview