Nepal's Best Trek - The Manaslu Circuit via Larkya-La Pass
Nepal's Best Trek - The Manaslu Circuit via Larkya-La Pass
Swiss Family Treks Blog Posting
Nepal is home to mystical terrains offering multiple trekking avenues that take you to the middle of the glazed mighty Himalayas. Recently, there has been an argument on the entitlement of the best route out of these all. We have Upper Mustang Trek, Annapurna Circuit Trek, Manaslu Trek, Langtang Trek, Annapurna Basecamp Trek, Everest Basecamp Trek, and several more. Out of these many treks, which one should we call the best one?
With diverse cultures, dramatic landscapes, and intimate encounters with welcoming people, the Manaslu Circuit trail is one of the excellent general treks in the country. Why wouldn't it be? This trail will give you the epic package of everything that you've been expecting; be it the classic scenery of the untouched region or passing the Larkya La at 5153 meters.
Manaslu Circuit Trek: The Best Trek in Nepal
Trekking around the 'untouched region of Nepal' will gift you memories of unlimited adventure and mountaintop thrills. Manaslu Circuit Trek is honestly one of the excellent treks in Nepal which was opened around 1992. Moreover, trekking around Manaslu offers a unique chance to witness the extraordinary beauty hidden along the border of Nepal and China. Likewise, the friendly people and their rich culture add to the specialty of the jaw-dropping natural beauty of the woods. Here are some crucial highlights of the trip:
Manaslu Mountain, 8th highest peak in the world
The breathtaking sceneries heartily invite all the trekkers and walk them to Mt. Manaslu which stands at the elevation of 8156m (26,759 ft.). This remarkable peak holds the record for the world's eighth highest mountain. Furthermore, around ten other peaks exceeding the height of 6500m (21,300 ft.) are situated nearby and visible within the circuit.
Diverse ethnicity, Brahmin, Chhetri, Gurung, Ghale, Tibetan
The region homes a diverse group of people, giving you a taste of different cultures. The Manaslu Circuit Trek introduces you to the warm hospitality summing up the vibrant way of life of the locals. From ethnicities following Hinduism in lower regions to the Tibetans following Buddhism in the high-altitude areas, the Manaslu circuit trek brings out the best possible way to explore an interesting ethnic variation. The fascinating and enthralling surroundings of the primitive region will captivate your minds.
Rich Biodiversity, Manaslu Conservation Area
The preeminent part of this trek is 'The Manaslu Conservation Area'. Amidst the wondrous sceneries of mountains and the staggering landscape, there lies a plentiful of rich Himalayan wildlife, floras, and faunas. Watch out for Blue Sheep, Himalayan Marmots, Mountain Goat, and Pika (Highest living Mammal). This area has become a haven of plant life in the entire ecological region.
Hidden Gem, Close to Annapurna Region
The challenging yet astounding route of the Manaslu circuit takes you through laced cotton-white beaches to lively Buddhist villages of Sirdibas, Samdo, and Samagaon. The route further descends towards Marsayangdi valley in the Annapurna Circuit path. Adding Annapurna Circuit trek within this circuit trail is your choice. If you combine these two routes, an entire package of Nepali culture and Himalayan lifestyle is ready for you.
Teahouses at an everyday stage for food and accommodation
The Manaslu circuit trek is known to be intense and remote. Despite the fact, there are teahouses you can rest for the night, throughout the trek. As a result, there is no need for trekkers to bring tents and food with them. This makes the journey more affordable and accessible compared to other remote treks. Therefore, this trek is entitled to a great tea-house trek.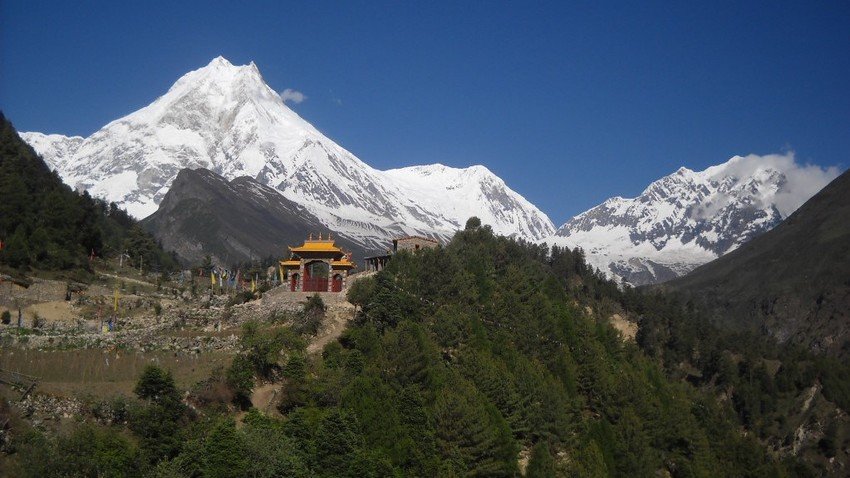 Photo: Mount Manaslu view from Lho Village
Manaslu Circuit Trekking Itinerary
Day 01: Arrival in Kathmandu
Day 02: Permit Procedure and Full Day Guided Sightseeing Tour in Kathmandu Valley by private van
Day 03: Drive from Kathmandu to Soti Khola 810m/7 hours
Day 04: Trek from Soti Khola to Khorlabesi 920m/5 hours
Day 05: Trek from Khorlabesi to Jagat 1340m/6 hours
Day 06: Trek from Jagat to Deng 1860m/7 hours
Day 07: Trek from Deng to Namrung 2630m/6 hours
Day 08: Trek from Namrung to Samagaon 3520m/7 hours
Day 09: Acclimatization day. Hiking to Manaslu Base Camp 4400m/8 hours and back
Day 10: Trek from Samagaon to Samdo 3875m/4 hours
Day 11: Trek from Samdo to Dharamsala 4460m/4 hours
Day 12: Trek from Dharamsala to Bimthang 3590m/8 hours via Larkya La Pass
Day 13: Trek from Bimthang to Tilije 2300m/6 hours
Day 14: Trek from Tilije to Tal 1700m/5 hours
Day 15: Trek from Tal to Syange 1100m/5 hours
Day 16: Drive from Syange to Kathmandu via Besisahar by 4W land cruiser
Day 17: Final Departure from Kathmandu
Manaslu Circuit Trek Route:-
For Day 01-03
Immediately after you land in the gorgeous city of Kathmandu, you will get glimpses of the distinct cultures and lifestyles within narrow streets. Stroll around the city and enjoy the night lights around Thamel. The focal point of the city is Kathmandu's cultural highlights. On the third day, you will head towards the village of Soti Khola (810m) along the Kathmandu-Pokhara Highway. This drive will take you through small rural towns and grassy terraces. After around 7 hours, you will arrive at Soti Khola in the Bhuri Gandaki Valley.
For Day 04-09
The remarkable trek begins by crossing a bridge and then climbing onto a rim above the Budhi Gandaki River. The trek includes varying landscapes covered in grassy woodland, paddy fields, blue-green rivers, and dazzling waterfalls. This trail is a bit narrow at the beginning and eventually goes up and down after crossing Tharo Khola to reach Khorlabesi (920m).
On the fifth day, you will trek towards the village of Jagat (1340m), all the way from Khorlabesi. This walk requires you to cross the west bank of Budhi Gandaki. On the sixth day, you will be witnessing a dense sub-tropical jungle. There is an ascending path over a rocky hill to Salleri, and then a descending trail to Sirdibas. En route, you will encounter a large Gurung village in Philim to arrive in Deng (1860m).
After your breakfast in Deng on the seventh day, your excitement starts to heighten as the major peaks gradually start to appear in front of your eyes. You'll find yourself surrounded by quaint villages with alpine vegetation. The end of this tiring walk will be worthwhile as you make your way to experience the Manaslu Conservation Area.
The eighth day will bring you a close-up view of snowcapped Ganesh Himal, Siring, and Himchuli. You will get you to explore the famous Ribung Gompa in Shyala village, and the journey ceases at Samagaon (3250m). The ninth day is an acclimatization day. There is an option for a day hike to Manaslu Base Camp (4400m) for those willing to get indulged in the Tibetan culture.
For Day 10-17
After you move further from Samagaon, the valley begins to widen as you get closer to the Tibetan border. This journey will be breathtaking as you get to view some extraordinary scenes. You continue walking from the village of Samdo (3875m). If the timing is right, you will get to visit the seasonal Tibetan market called Larke Bazaar.
Witness the beautiful view of Larkya Glacier and then climb up to Dharamsala (4460m), which is also called Larke Phedi. On day 12, you'll set out to Bimthang (3590m) from Dharamsala via Larkya La Pass. The great Himalayan peaks like Manaslu, Lamjung Himal, and Himlung Himal will be following you to Tilije (2300m). You will exit the Manaslu Conservation Area.
On the sixteenth day, the trail further moves downwards to a beautiful neighborhood of pine forests covered in rhododendron. Syange village (1110m) is the final stop of the trek. After taking one last stroll around the stunning place, you need to get ready to hit the road heading towards Kathmandu. The road trip via Besisahar will be full of heart-warming views of the diverse landscapes all around you.
This is the time to bid goodbye to a beautiful country. You head to the Tribhuvan International Airport to catch your scheduled flight.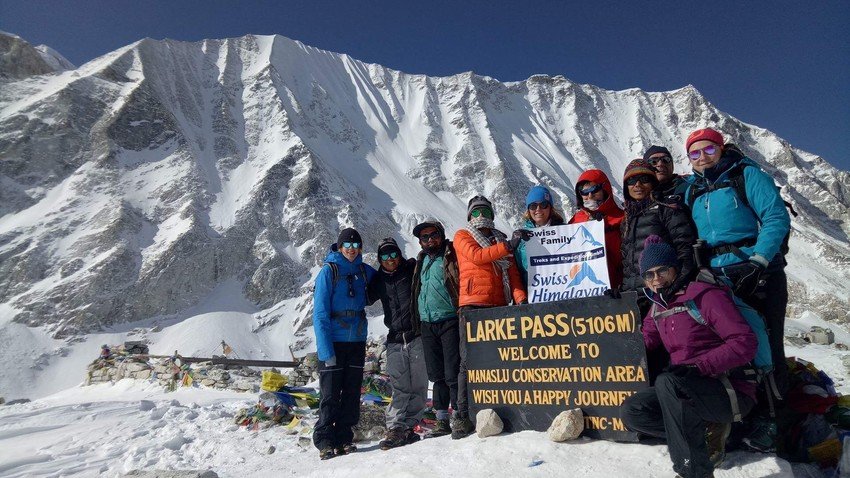 Photo: Larkya La Pass in Manaslu Circuit
Best Season and Cost
March to May and September to November are regarded to be the most feasible time to trek. The temperature is favorable and trekkers will get to witness clear skies and views of the glorious peaks. Mostly, the trekkers opt trekking during October, making it the busiest month. Celebration of the great Hindu festival Dashain-Tihar adds up the hype to the trip. On the other hand, June-August is the monsoon season and December-January brings freezing weather which is unfavorable for trekking.
The expenses include trekking permit fees, accommodation and food, and transportation fees. The total cost of the trek is around USD 2000 to USD 2300 depending upon your travel period and number of people in group.
Key Information:-
Permits
Being situated in a restricted area, obtaining a special restricted area permit is a must. The Nepal government provision requires a minimum of two trekkers accompanied by a local guide to issue the permit. Trekking independently is not permitted. Also, the permits must be issued by registered companies. You will need the Manaslu trek permit to travel from Jagat to Sama Gaun.
The permit costs USD 100 per person for the first seven days and an additional USD 15 per day then after, if you're trekking between September to November. In case you are trekking between December to August, the cost declines to USD 75 for seven days and then USD 10 for each additional day.
Trekking Gear
This is the part where most people are in a dilemma on what to take and what to leave. This trek is best known for its varied landscapes that will walk you through sub-tropical and alpine passes. It is obvious for the weather to be unpredictable. The first thing to remember is not overpacked. Be sure that you bring only the essentials with yourself. You need to get dressed as per the weather so layering is recommended. Focus on your sleeping gears, trek clothes, personal items, and trekking accessories.
Altitude sickness
The differing elevation is the major element that makes this trek so difficult. This challenging journey will test the trekker's mental as well as physical endurance to a whole new level. The major issue you could face while trekking is AMS (Acute Mountain Sickness). You need to be very careful while climbing the high elevation and immediately seek medication in case of uneasiness. Don't worry though as there are enough acclimatization days for you during the trek.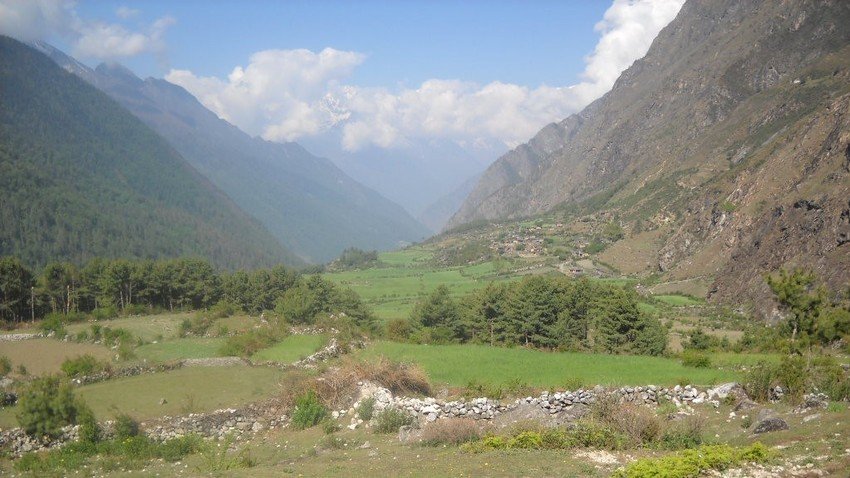 Photo: Tsum Valley in Manaslu Region
A Side Trip to Tsum Valley
If you're down for the trek with ample time, there is an alternative of combining the Manaslu circuit trek with the Tsum valley trek. Fuse these two remarkable treks and make it a grand one! It will provide you a great opportunity to explore the Tsum valley where you will closely encounter the rich Tibetan culture. You just need to add one more week to your schedule to enjoy the side trip to Tsum Valley. Tsum Valley awaits with more wilderness and remoteness than the main Manaslu trail. The views in this valley are jaw-dropping and of course, the famous viewpoint above Mu Gompa is not to be missed.
Conclusion
This is a challenging trek. Nonetheless, walking into an undiscovered and unspoiled region of the Himalayas has a different charm. Being surrounded by the glazed mountains, eye-pleasing terrains, and dense woods covered with red rhododendrons, your pain gets dissolved in the breeze flowing in such magnificent height. The journey in this off-beaten trail of the Manaslu region will undoubtedly leave you with memories that will last a lifetime.
Brace yourself for the thrill of this magnificent journey in 2022!!
Back To Overview