Mohare Danda Community Eco-Trail Trek for Families
Mohare Danda Community Eco-Trail Trek for Families
Swiss Family Treks Blog Posting
A Well-Organized Family-Friendly Trek
Traveling as a family is not always the easiest of affairs and trekking is especially challenging when traveling with children. So, my partner and two daughters (14 and 11 years of age) were looking for a family-friendly trek in Nepal which would be relatively easy but still give us a full trekking experience involving the beauty of the country. But, we also did not want a trail that would be too touristy and crowded. Wonderfully, our 6-day trek to Mohare Danda (Danda meaning 'hill') (3300m) met all these expectations and gave us the most fantastic and unforgettable trip that we could have hoped for.
As I would be coming in all the way from Germany, I made sure to book the trip more than 6 months in advance to make sure that all parties involved would get sufficient time to prepare and organize a superb adventure for us.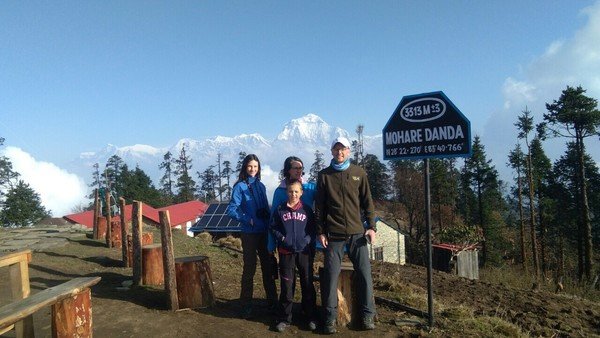 About the Trek
The Mohare Danda Community Eco-Trail is a new route established only a few years ago. Mohare Danda is a hill-station located in the gorge between Dhaulagiri (8167m) and Annapurna I (8091m) mountains – the world's 7th and 10th highest mountains – hence, giving a close view of both. Eco-trails are created and used with nature in mind, making sure that the waste produced during the trip is well-managed and that the local environment is not harmfully impacted by tourism. This is complemented by the many homestay accommodations provided by the local villagers. Another salient feature of the trek is the community dining halls – rooms where the villagers bring freshly home-cooked food to serve travelers and locals. Some homestays also serve their own food to their guests. The homestays were very simple and the local food was clean and delicious. Homestays generally have all the basic necessities such as comfortable beds, thick blankets, and solar lights – just like the locals' own rooms.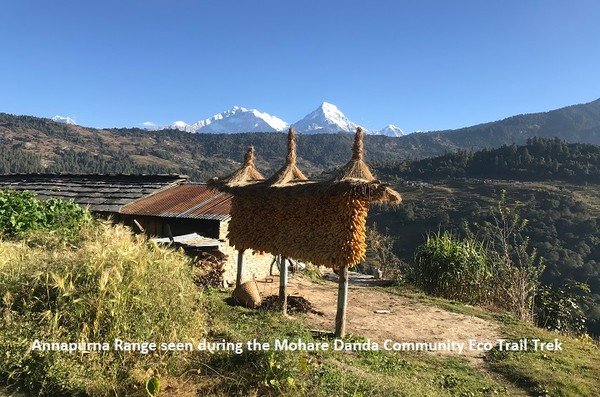 Itinerary of the Mohare Danda Trek
Now, let me talk about the trip from the beginning. Me and my family arrived on 7th April in Kathmandu. The travel agency, Swiss Family Treks and Expedition had organized everything for us. The agency had planned and implemented its itinerary in perfect detail. After arriving at the Tribhuvan International Airport in Kathmandu, they took us to a 3-star Hotel Marshayngdi located smack in the middle of the city. After meeting with trekking guides and discussing details about the trip, we took an evening stroll and also bought some trekking equipment and supplies for the trek. The next day, the guide took us on a private van for a sightseeing tour all around Kathmandu Valley – including UNESCO World Heritage Sites like Swayambhunath Stupa, Pashupatinath Temple, and Boudhanath Stupa. Then, we went to try out the local Newari food before returning to the hotel for the night.
On the 3rd day, we flew out from Kathmandu to Pokhara on a scenic half-hour flight over mountains, lakes, and villages. From Pokhara, it was a 3-and-a-half-hour drive northwest by the Kali Gandaki river to Galeshwor village, from where the trekking began. A 3-hour trek to Banskharka village – which included crossing a bridge over Kali Gandaki gorge, the world's deepest – concluded with a homestay at one of the local houses. The 4th day involved 6 hours of trekking up through flourishing woods to Nangi village. On the way were an organic farm school and beautiful Magar ethnic community settlements as well as stunning views of the surrounding landscape and its mountains. The overnight stay was at an eco-community lodge in Nangi.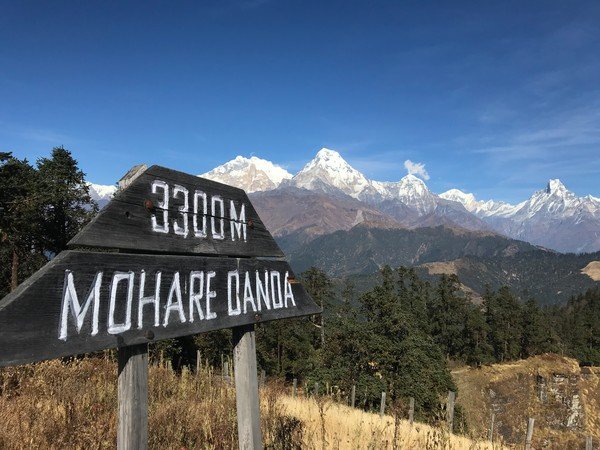 Finally, on day 5, the trek proceeded from Nangi through thick oak forests brightened by rhododendrons and soon rewarded us with breathtaking sights of the Dhaulagiri (8167m), Annapurna South (7219m), Machhapuchhre (6997m), Tukuche (6920m), Nilgiri South (6839m), and Hiunchuli (6441m) mountains. After 5 hours of trekking, we reached the top of the Mohare hill. At dusk, we witnessed the most brilliant sunset which welcomed us to a panoramic view of the awe-inspiring mountains. A community lodge provided overnight accommodation for us.
The fact that we did not have to go to an altitude higher than 3300m meant that, without having to worry about the kids getting altitude sickness, we still got to enjoy great views of immense mountains every day on the trail! And our guide Maila and our two porters were a wonderful company, keeping our girls motivated and helping us learn a lot about Nepali culture.
On the 6th day, after enjoying a beautiful sunrise from Mohare Danda, we headed down to the village of Khibang, an eco-community with communal forests and organic farms. It was a 6-hour trek that took us through more forests of oaks and rhododendrons. After staying at a homestay overnight, we made our way to Tikot village, a small, beautiful Magar settlement about four hours away from Khibang. After staying at Tikot for the night, on the 7th day, we headed further down for 3 hours to Tiplyang village and then got a jeep from there to Pokhara.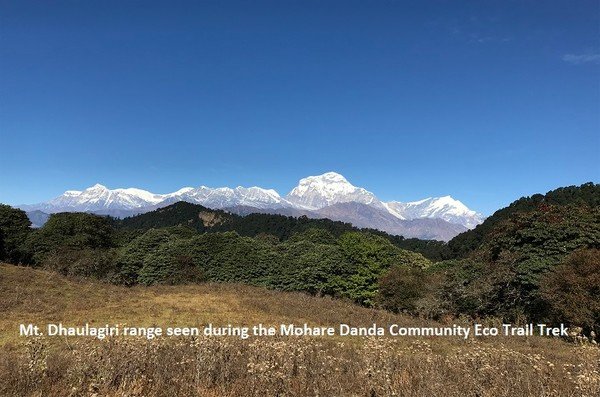 Pokhara Tour
In Pokhara, Swiss Family Treks and Expedition had organized a wonderful stay at a 3-star hotel Temple Tree Resort and Spa for us, one with marvelous rooms and an inviting swimming pool. The travel company also organized an early morning hike to the World Peace Pagoda, a fairly easy hike to a height from where we enjoyed a bird's-eye view of the entire city. We also visited other major attractions in the city like the sublime Phewa Lake, the Bat Cave, and the Davis Falls waterfall with its fascinating underground tunnel and cave.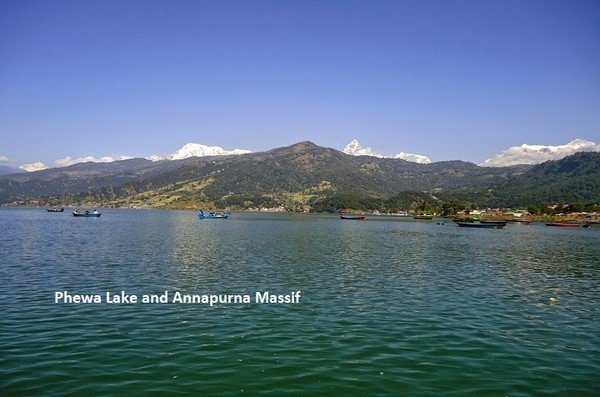 Chitwan Tour
As my family also wanted to go to Chitwan, famous for its well-preserved jungles and lands dense with flora and fauna, the company drove us there from Pokhara. There too, we were able to enjoy staying at a 3-star hotel Green Park Chitwan with great rooms and a pool thanks to Swiss Family Treks and Expedition! At the Chitwan National Park, we saw wild elephants, great one-horned rhinoceroses, monkeys, and several colorful birds. The conservationists working in this park have done a truly heroic job of saving several critically endangered species of rhinos, vultures, Gharial crocodiles, turtles, and the Bengal tigers. The popular jungle safari took us through the grassland, savanna, and forests on the backs of elephants to see the rhinos and other animals. Driving back to Kathmandu on a 5 hours driving by private vehicle, we got to enjoy the sight of the lush vegetation of Chitwan, a rich agricultural haven of Nepal.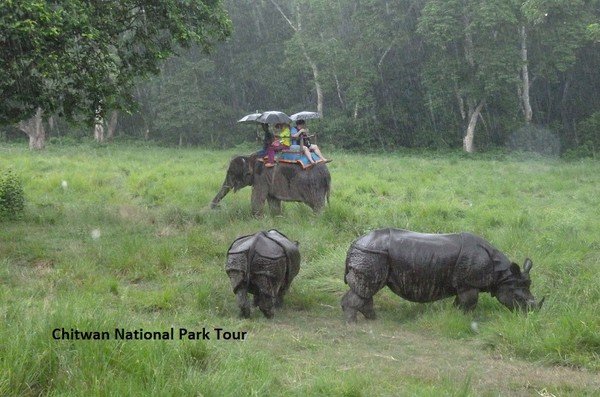 Kathmandu and Bhaktapur Cultural Tour
The company had also organized a cultural program in Kathmandu Valley for us. With local guides, we toured around the districts of Kathmandu and Bhaktapur, and they gave us deep insights into Hindu and Buddhist history. The beauty of these districts was greatly enhanced by the thriving traditions and cultures that have continued and evolved for thousands of years, and we got a chance to appreciate them. Kathmandu and Bhaktapur both have their respective Durbar Squares (Durbar meaning 'palace'), which are plazas located next to historical palaces. Both are UNESCO World Heritage Sites with centuries-old elaborately and intricately designed temples, statues, and stone water spouts that show the richness of the cultural and art history of Nepal. Hindu temples like Changunarayan – located in Bhaktapur – and Buddhist stupas like Boudhanath and Swayambhunath – located in Kathmandu – are other UNESCO World Heritage Sites that are equally impressive with their stunning architectural structures and deep cultural and religious significance.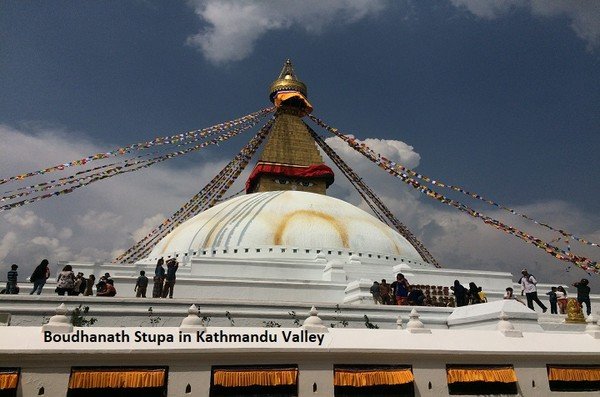 Everest Mountain Flight
As our trip started approaching its close, on the day before our flight back to Germany, we took a different type of flight. This one is not for landing anywhere! It is about an hour-long flight from Kathmandu early in the morning to see twenty of the tallest peaks to the east of the valley. All of the passengers get a window seat to ensure an unobstructed view of the mountains. After reaching the eastern-most destination of Chamlang Mountain, the plane turns around for the return trip, giving a second peek at the peaks. Both times, the plane flew as close as 20 miles to the Mount Everest (8848m)! This gives the passengers a very close view of the dazzling mountain. With the help of a map and live commentary provided by the flight attendants and the pilot, passengers can keep track of all the stunning mountains that they fly by. The Flyers could even get invited into the cockpit, in turn, to see and take more pictures of the mountains! We will never forget the impressive views that we saw during the flight – just like we will never, ever forget the entire trip.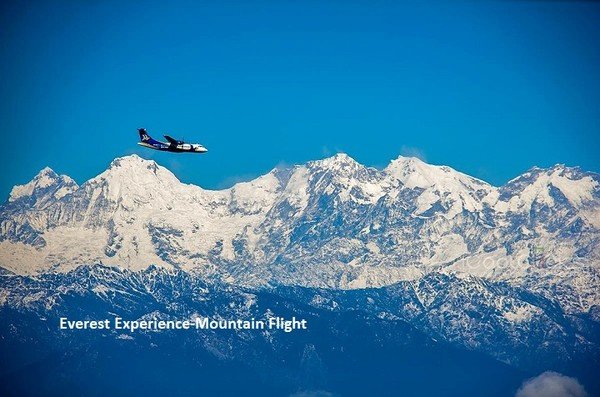 Conclusion
While there are far too many great places in Nepal to travel to and 14 days are not enough to visit all of them, we still had some of the most unforgettable experiences of our lives here and enjoyed some of its main attractions. We were able to trek, view the tallest mountain of the entire world among several others, experience Nepali culture and learn about the cultural heritage, and eat local delicacies – all of it while traveling with young children. Nepal is a country full of the most wonderfully natural and cultural jewels of the world. And my family and I are very happy that we got the chance to explore this spectacular nation with Swiss Family Treks and Expedition.
Back To Overview