Beni to Dolpo Trek in Nepal - Everything you need to know for the remote adventure
Beni to Dolpo Trek in Nepal - Everything you need to know for the remote adventure
Swiss Family Treks Blog Posting
Beni to Dolpo Trek in Nepal - Everything you need to know for the remote adventure
The exhilarating trek from Beni to Dolpo is the epitome of rural mountain treks in Nepal. Having stayed as a restricted zone until a few years back, Dolpo's lowlands bring forward a unique beauty into the trek.
Passing through the rough track of the Dhorpatan area, the trek reaches the isolated Himalayan valley of Dolpo. A deeply rooted mixture of Tibetan and Nepali culture manifests in people who live here, showing how time has stayed at a standstill in these regions.
The dream-like view of Dhaulagiri massif is the highlight of the trek. The trek also follows through several stunning high-passes, covered in snow all year round. Another highlight is the turquoise color of Phoksundo Lake has mystified travelers for years.
The enthralling Shey Phoksundo National Park, the largest national park in Nepal, covers a large Dolpo portion. This gives trekkers the chance to experience a unique ecosystem of stunning flora and rare fauna collection from up close. The Beni to Dolpo Trek is thus one of those unique treks that people get a chance to enjoy only once in a lifetime.
Necessary Permits
To complete Beni to Dolpo trek, you will require a special trekking permit for Lower Dolpo. All travelers who wish to pass through Nepal's mountainous regions need to acquire TIMS (Trekkers Information Management System) card beforehand through your affiliated trekking agency. You are thus required to have a TIMS card before your trek to the Dolpo region. Since the trek also crosses Shey Phoksundo National Park's boundary, you will need to have a Shey Phoksundo entrance permit. Dhorpatan entrance fee is included on the list of permits.
Getting there and Away
The wild and remote Dolpo lies in the western region of Nepal. The trek starts with a flight to the capital, Kathmandu. It takes about 8 hours to drive the 285 km distance from Kathmandu to Pokhara. We will provide you with a personal jeep for the travel. Driving is the best for acclimatization purposes, as you will gradually make yourself comfortable with the changing altitude. There is also the option for a short 30-minute flight to reach Pokhara from Kathmandu.
Another short drive away from Pokhara is the beautiful city of Beni, where you will spend the night. A 4-hour drive through the rugged paths of Beni to Darbang takes us to our destination for the start of the journey on foot.
On the last day of the trek, a short flight from Juphal will take you to Nepalgunj. From here, you will take another connecting flight to reach the destination, i.e., Kathmandu, finally.
Typical Trekking Route
The typical trekking route of Beni to Dolpo trek is as follows:
Day 1: Arrival in Kathmandu
Day 2: Full Day Sightseeing in Kathmandu Valley, stay overnight in Hotel.
Day 3: Drive from Kathmandu to Pokhara 820m by tourist bus, stay overnight in Hotel.
Day 4: Drive from Pokhara to Darbang 1030m via Beni, stay overnight at tented camp.
Day 5: Trek from Darbang to Takum 1665m, stay overnight at tented camp.
Day 6: Trek from Takum to Lumsum 2250m, stay overnight at tented camp.
Day 7: Trek from Lumsum to Jaljala La 3435m, stay overnight at tented camp.
Day 8: Trek from Jaljala La to Gurjaghat 3020m, stay overnight at tented camp.
Day 9: Trek from Gurjaghat to Dhorpatan 2860m, stay overnight at tented camp.
Day 10: Exploration Day in Dhorpatan Hunting Reserve, stay overnight at tented camp.
Day 11: Trek from Dhorpatan to Takur 3190m, stay overnight at tented camp.
Day 12: Trek from Takur to Tatopani 2400m, stay overnight at tented camp.
Day 13: Trek from Tatopani to Dhule 3340m, stay overnight at tented camp.
Day 14: Trek from Dhule to Seng Khola 3820m, stay overnight at tented camp.
Day 15: Trek from Seng Khola to Purpang 4270m, stay overnight at tented camp.
Day 16: Trek from Purpang to Sahar Tara 3010m, stay overnight at tented camp.
Day 17: Trek from Sahar Tara to Tarakot 2760m, stay overnight at tented camp.
Day 18: Trek from Tarakot to Laini 3370m, stay overnight at tented camp.
Day 19: Trek from Laini to Nawarpani 3475m, stay overnight at tented camp.
Day 20: Trek from Nawarpani to Dho Tarap 3944m, stay overnight at tented camp.
Day 21: Trek from Dho Tarap to Numala Base Camp 4440m, stay overnight at tented camp.
Day 22: Trek from Numala Base Camp to Danigar 4631m, stay overnight at tented camp.
Day 23: Trek from Danigar to Ringmo Gaon 3733m, stay overnight at tented camp.
Day 24: Exploration Day in Phoksundo Lake, stay overnight tented camp.
Day 25: Trek from Ringmo Gaon to Chhepka 2838m, stay overnight at tented camp.
Day 26: Trek from Chhepka to Dunai 2140m, stay overnight at tented camp.
Day 27: Trek from Dunai to Juphal 2475m, stay overnight at tented camp.
Day 28: Fly from Juphal to Nepalgunj and fly back to Kathmandu, then transfer to Hotel.
Day 29: Full Day Sightseeing Trip in Bhaktapur and Patan Durbar Square, stay overnight at Hotel.
Day 30: Final Departure to International Airport.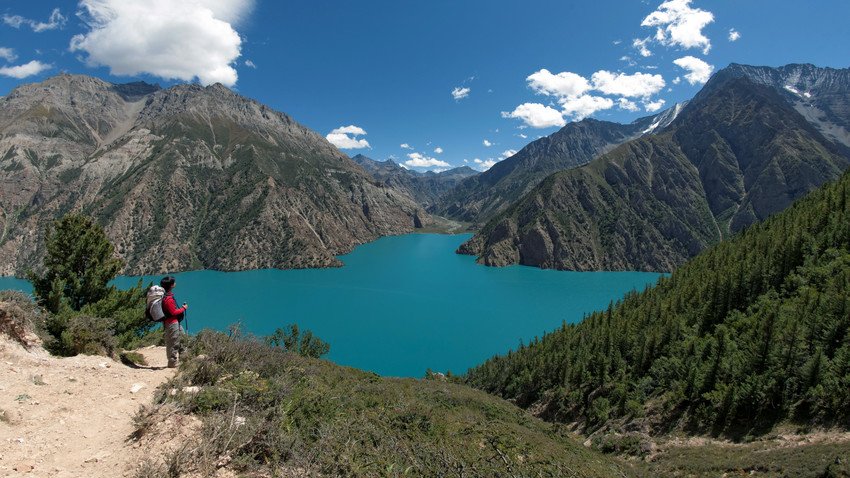 Difficulty of Trek
The trek from Beni to Dolpo through the rural Tibetan villages is strenuous yet exhilarating. The average trekking hours each day is 5-6 hours, and when combined with the constant incline and decline, the trekking route is not everyone's cup of tea. The route passes through several steep high passes along one of Nepal's most remote areas, which can be a challenge for even experienced trekkers. The trek thus requires a right level of stamina and a decent level of experience in trekking. The breathtaking view of glimmering mountain ranges, however, makes it worth the grind.
Culture, Views, and Wildlife
Lower Dolpo was once one of the most prominent trade routes to Tibet in Nepal. Thus, Tibetan culture has made residence in these rural areas of Dolpo, and you can see it in the lifestyle of the people who reside here. The trek combines the culture and tradition of various cultures living in the mountain region, giving you a chance to experience the rural lifestyle for yourself. Some traces of the unruly Bon religion still present in some places, which was a pre-Buddhist religious practice in Tibet. Brahmin and Chhetri settlements are scattered in the lower parts of the trek as well.
Along the trek lies the beautiful Shey Phoksundo Lake and Dhorpatan Hunting Reserve. Here you can see with your own eyes an awe-inspiring variety of wildlife and flora. Endangered species like Himalayan Black Bear, Snow Leopard, Grey Wolf, Musk Deer, Blue Sheep, and so on flourish under these conserved areas. The encircling lush forests of pine birch and rhododendron trees along the way purify your soul to become one with nature.
Where to Stay - Camping Mode
The isolated trekking route is the beauty of the Beni to Dolpo trek that separates it from the other mountain treks in Nepal. There are little to no lodges available along the arduous path, so that you will be spending most of your nights inside tented camps. Living within tents gives you the chance to experience the tough lifestyle of people living in these cold mountainous regions of Nepal.
The tented camps are fully equipped with a two men dome tent, kitchen tent, staff tent, along with toilet tent, and shower tent. All of the tents are spacious, and we will provide you with hard and soft mattresses to guarantee your comfortable stay.
What to Eat - Camping Mode
Healthy food is the key to a perfect journey to the mystical Himalayas. We will provide you with nutritional, healthy, and fresh meals that suit your taste during the trek. With talented and experienced cooks at hand, you will choose between various exotic cuisines, including Nepali, Tibetan, Continental, Indian, and even western food. The meals include breakfast, lunch, and dinner, along with a warm cup of tea in the morning.
When to go
The Beni's beauty to Dolpo trek flourishes in the time between the first weeks of May to the last days of September. These months welcome the seasons of spring and autumn. This is the best time to enjoy any mountain adventures in Nepal because of the clear blue skies and the warm temperatures. There are lesser chances of rain, so the trek is easier along with the drylands. Spring and autumn are the best times to catch the spectacular view of freshly snowed Dhaulagiri mountain vistas shimmering under the glistening sun.
Monsoon season is coming along with slippery roads, obstructed views, and many bugs. It is best to avoid the monsoon season (July to August) for a safer journey. Winter is also not advisable for travel because of the bitter cold and minus 0 degrees temperature.
Contingency days for domestic flight delays or bad weather
It is best to have a few days to spare while traveling to the rural areas of Nepal. As Nepal consists of a diverse altitude at a short distance, even a slight fog might be dangerous for flight. Such is why domestic and international flights are prone to cancellation and delay due to the bad weather. This is a reoccurring problem even in months that are best for traveling.
Make sure to check on the weather condition beforehand to avoid such situations. If everything goes as planned without any obstructions, then you can use those extra time at hands to enjoy sightseeing in and around Kathmandu. It is best to have travel insurance that will reimburse you for the flight cancellation fees if the need arises.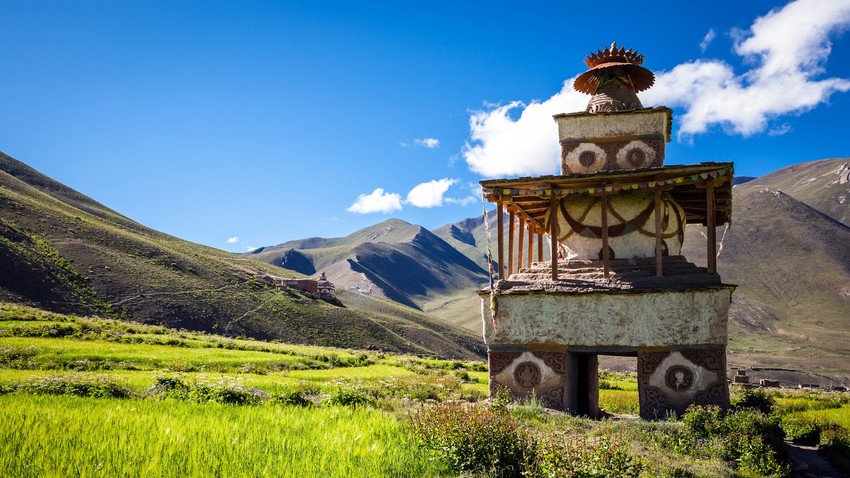 Essential Equipment Check List
It is best to keep the load light, not exceeding the weight of 15kg per person. An essential packing list while traveling to the mountain regions should include:
Clothing Items:
• Long-sleeved sweat absorbent T-shirts
• Fleece Jackets and Pants
• Lightweight Hiking Pants (long)
• Thermal innerwear
• Inner liner socks and Warm woolen socks
• Light shirts
• Sun-hats and Woolen caps
• Heavy-weight gloves (with water-resistant outer covering)
• Waterproof Jackets
Foot Wear:
• A sturdy pair of hiking boots
• Sandals or light shoes to wear as camp shoes
Medicinal essentials:
• Medicinal Box with all your essential medications
• First Aid Kit
Other essentials:
• Duffle Bag (Preferably Waterproof)
• Sunglasses
• Sunscreen
• Headlamps or Torchlight (optional) with spare batteries
• Energy bars or candy
• Water filter or water purifying capsules
• Water bottles
• Lip Balm and Moisturizer
Book in Advance through Trekking Agency
It is best to travel through Dolpo's unknown torrent lands with the help of a travel agency. Booking in advance through a trekking agency like us will not only give you a chance for safer and more comfortable travel, but you will also get the freedom to choose your desired itinerary. You can also get the chance to collect top-grade camping equipment to rent and a lower price if you book early.
You can leave the problem of getting permits and tackling other smaller tasks on our capable hands. Our experienced and friendly guides and porters will make sure everything goes as planned as they lead you along the rugged paths of Dolpo.
Conclusion
The trek from Beni to Dolpo perfectly mirrors the hidden magic of the rural lands of western Nepal. Mixed with the lavish jungles, serene lakes, and glistening mountain ranges, it is one of the best treks to be had in Nepal. Missing out on this trek will be missing out on the unforgettable and thrilling adventure of a lifetime.
Back To Overview