Special Activities in Nepal - For seniors, small children, and less-abled persons
Special Activities in Nepal - For seniors, small children, and less-abled persons
Swiss Family Treks Blog Posting
Special Activities in Nepal - For seniors, small children, and less-abled persons
Nepal is a country of Himalayan wonders, suitable for people of all ages and interests. It welcomes with open arms any individual who wishes to lose themselves in its beauty. There are various activities to enjoy in Nepal, even if you an elderly or someone with a physical disability. It is also one of the best destinations for family trips as there are countless adventures that you can enjoy with children, like camping, short treks, day hiking, etc. The thrilling variance in landscapes gives a gateway where you can enjoy the stunning view of panoramas from even a short hike, which depicts Nepal's true beauty.
The eccentric mountain regions of Nepal provide the perfect gateway for family adventures. Nepal is not only about challenging mountain adventures; even without exerting much physical strain, you can enjoy Nepal all the same.
1. Guided city tour in Kathmandu Valley
The guided city tour in Kathmandu valley is an action-packed adventure suited for all kinds of people. In a time of a single day, you will get to travel around the bustling city of Kathmandu, Patan, and Bhaktapur. The major highlights of this trip are the UNESCO world heritage sites in and around Kathmandu.
The beautifully carved architecture of the temples and bustling Newari settlements are always a sight to see. It is a leisurely activity in Kathmandu where you can enjoy door-to-door travel within an air-conditioned vehicle. The tour is affordable and is suitable to partake in all seasons.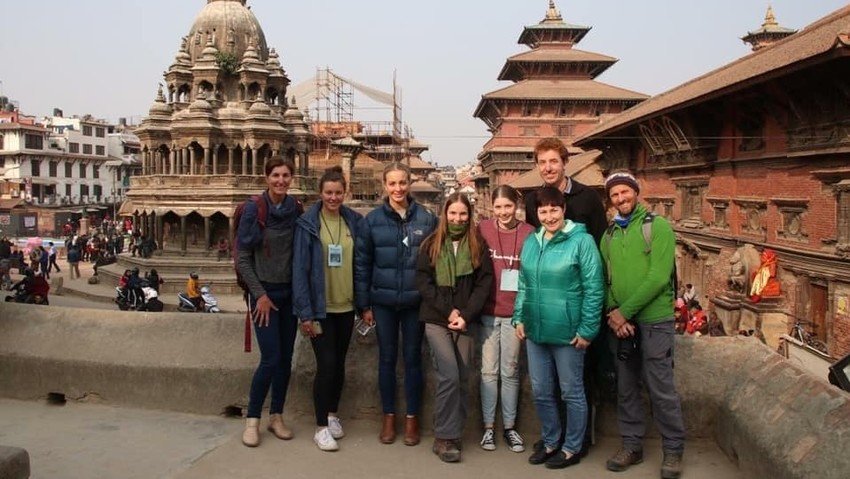 2. Day hikes around Kathmandu Valley
Short hikes in the short hills around Kathmandu are accessible for all demographic, even children and the elderly. These short 3-6 hours trek offer the stunning picturesque view of snow-covered mountains and the spectacular bird-eye view of Kathmandu valley.
Some of the most popular day hike trails like Champadevi day hike, Phulchowki day hike, day hike around Nagarkot, are of easy difficulty. The trails are equipped with leveled paths. Some trekking trails like Champadevi even have easy-to-climb steps along with railings, specially made for the safety and comfort of elderly pilgrims.
Short day hikes around Kathmandu are inexpensive, and you can enjoy it for only $80-$90 a day. The best time to enjoy a day hike around Kathmandu is spring and autumn.
3. Short treks with staying at luxury lodges in Everest and Annapurna
Among all the majestic mountain regions in Nepal, the Everest and Annapurna region have the highest popularity. There is no shortage of short and easy treks in these regions you can with friends and family. It is also really affordable, costing only $150-$250 per person per day.
Most short treks in lower regions of Everest and Annapurna pass through leveled trekking grounds, which are easy to climb with only 3-5 hours of trekking time daily. You can leisurely enjoy the top-notch service in the luxury hotels, all the while enjoying the spectacular sight of the Himalayan panorama all around you.
These short treks do not require a high level of physical fitness and are enjoyable for everyone. The best time to enjoy the trek is in autumn and spring when there are fewer rainfall chances.
4. Day hikes around Pokhara
Day hikes around Pokhara fall on the top of the tier-list for easily accessible and comfortable hiking routes. With a short and easy day hike, you can enjoy the sight of mountains like Mt. Machhapuchhre, Mt. Annapurna. Day hikes in Pokhara cost about $125 per person, including transportation and meals.
There is also a day hike trail in Pokhara, explicitly designed for the elderly and people with a physical disability. The short 1.3km hike is equipped with proper signs and washrooms, along with a safe and leveled trekking trail, making it more comfortable. The view of Lamjung Himal, Machhapuchhre, Annapurna, Dhaulagiri, along with the spectacular bird-eye view of Fewa Lake, is the highlight of this hiking trail. Like most of Nepal's trekking spots, the best time to enjoy a day hike in Pokhara is during autumn (September to November) and spring (March to May).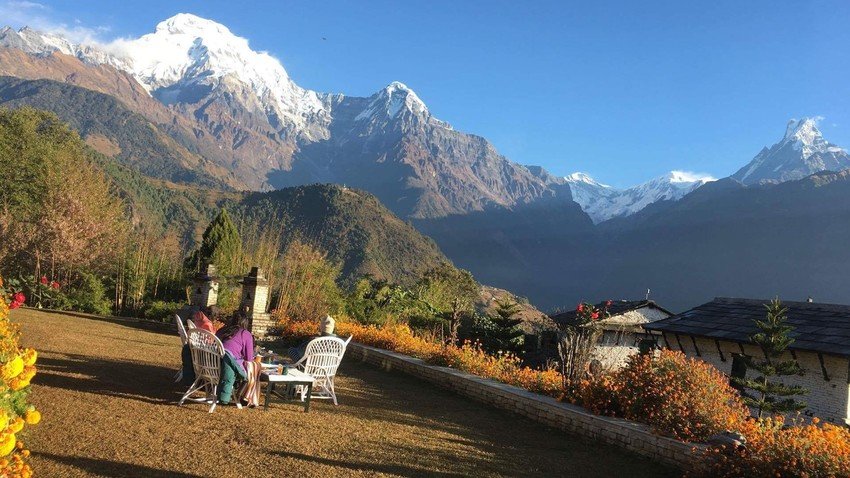 5. Boating on Lakes
Boating is the best leisurely activity for children and the elderly to enjoy. On the list of the famous destination for boating in Nepal fall three lakes, Phewa Lake, Begnas Lake, and Rupa Lake; all of which are in Pokhara. The boating time can range from 1 hour to a whole day, according to your desire. Boating in Pokhara is a once in a lifetime chance to see the marvelous view of mountain panoramas like Mt. Annapurna, Mt. Machhapuchhre, and so on.
You can enjoy boating the best in Nepal during the months from early September to late May. Boating in Nepal cost anywhere from Rs. 450-Rs. 500 every hour with a boatman to Rs. 1000 every hour if you want to paddle yourself.
6. Wildlife Safari in Chitwan and Bardia National Park
Wildlife safari in Chitwan and Bardia National Park can capture the beauty of the unique ecosystem that survives in the vast stretch of jungles. You will get the chance to come across several endangered species like One-horned Rhino, Asian Elephants, Bengal Tigers, Gharial, Langur, Nilgai Antelopes, Gangetic Dolphins, Bengal Florican, and many more.
Physical fitness is not a necessity as the plain-level paths are easy to walk along, so all kinds of people can enjoy the safari equally. The wildlife safari can last from one day to several days. A wildlife safari cost can range from $95 to $150 per day for an individual. The best time to visit these parks is from November to March when the wildlife are the most active.

7. Scenic Mountain Flight from Kathmandu and Pokhara
Mountain flight in Nepal truly captures the essence of once in lifetime experience. People of all constitutions can equally enjoy the thrill of mountain flights in Nepal.
There are several mountain flight options from both Kathmandu and Pokhara, which last anywhere from 30 minutes to 1 hour with the affordable cost of $200. Among the other mountain flights, the Everest experience provided by Budhha Air or Yeti Airlines is the best, with the breathtaking view of the Khumbu Region. You can enjoy the marvelous view of snow-covered mountains like Mt. Everest, Mt. Annapurna, Mt. Dhaulagiri, Mt. Cho Oyu, Mt. Lhotse, Ganesh Himal, and many more. The best time to catch a glimpse of these stunning Himalayas would be between September to April (winter).

8. Easy grade whitewater rafting in Trishuli River
The rafting spot of Trishuli is just 3 hours drive away from Kathmandu in the west of the capital. The thrilling whitewater rafting in Trishuli River is one of the most easily accessible rafting destinations in Nepal. The difficulty grade ranges from 3 grade to above, which is ideal for novice riders. Rafting in Trishuli takes about 2-3 hours at a time and lasts one to 2 days.
It is one of Nepal's most affordable adventures as it takes only $45 per day for an individual. You can enjoy rafting in Nepal throughout the year, but it is best to avoid the monsoon season for novice rafters.
9. Adventure activities such as Paragliding, Ultralight flight, Zipline and Bungee Jumping
Adventure sports are slowly gaining more popularity in Nepal, not only for the rush of adrenaline they provide but also for safety and inclusivity. Everyone can enjoy adventure activities like paragliding, zip-lining, bungee jumping, ultra-light flights, and so on in Nepal. Even people with physical disabilities can enjoy such activities with only the difference of a customized harness.
Pokhara is one of the best places to enjoy such adventure activities in Nepal. They are one of the most affordable activities in Nepal in comparison to anywhere else in the world. The best time is in spring and autumn when the skies are the clearest.
10. Bicycling Tour in Pokhara Valley
A bicycle tour is one of the best options to enjoy the serene Pokhara Valley's true beauty. It only costs $2-$5 per hour to rent a bike in Pokhara! The experience of cycling along the Lakeside of Fewa Lake is truly a rejuvenating experience that you can enjoy even if you are with children and the elderly.
With the introduction of safe cycling paths and three-wheeler bicycles, you can get the best experience even if you have physical disabilities of any kind. The most popular destinations for bicycle tours are Peace Stupa, Davis falls, and around Lakeside. You can enjoy the tour at any time of the year.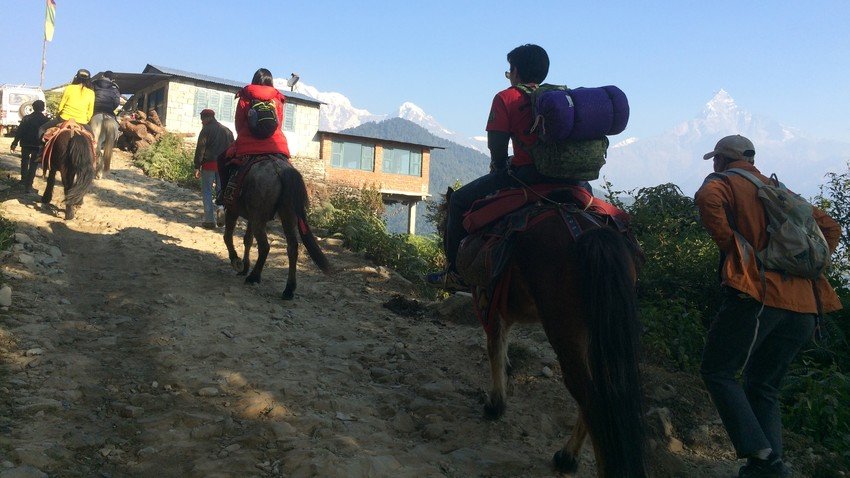 11. Horseback Riding short Treks
Horseback riding treks are one of the unique trekking experiences which you can enjoy in Nepal. You can truly experience the rural mountain lifestyle closely with horseback riding, without having to go through too much physical strain. Some of the most popular Horseback short treks are Everest short trek, Annapurna Panorama Trek, Upper Mustang Trek, Langtang Valley Trek, etc. These treks give not only the experience of Himalayan culture but also the beauty of Himalayan panoramas.
On average, a short trek while Horseback riding will cost you $1800 for the whole trek. Like any mountain adventure in Nepal, the best time for horseback trek is during spring and autumn.
Conclusion
Nepal is not short of adventures for the elderly, people with physical disabilities, and even children. Traveling in Nepal is bound to be a memorable experience, no matter what you do, no matter who you are. In this essence, Nepal is one of the best travel destinations worldwide, which caters to people of all ages and interests.
Back To Overview