Things to Do in Chitwan National Park
Things to Do in Chitwan National Park
Swiss Family Treks Blog Posting
About Chitwan National Park
The warm jungles of Chitwan National Park always fall on the list of top sites to visit in Nepal. In 1984, it was established as one of the World Heritage Sites, garnering hundreds of travelers every year from within and outside the country. It is located in the southern-central part of Terai, at the foot of the Himalayas. Mingled with the unique Tharu culture and a collection of flora and fauna, which are only found here, Chitwan National Park provides adventurers with a packed deal.
Visiting Chitwan National Park gives you a set of experiences different from the mountain climbing adventures. Spread in this particular wide area are peculiar wildlife like One-Horned Rhino and Bengal Tiger, lasts of its kind present on earth as they are on the verge of extinction. The fascinating culture is also one of its specialties, which you cannot find anywhere on the planet. Visiting Chitwan National Park is a relaxing endeavor for many travelers, one you should not miss out on while in Nepal.
How to Get There
From Kathmandu, it will take you about 6 hours to reach Chitwan if you are traveling by road and only 30 minutes if you plan on taking a flight. You are provided with three options for your travel to Chitwan National Park, i.e.

By Bus:
Bus travel is the most readily available among all the options. It will take you about 5 to 7 hours to reach Chitwan National Park by bus. You can either take a tourist bus (which can be booked through your travel agents) or a local bus, which makes a regular trip through Kathmandu to Chitwan every day.
By Car:
Having a personal car can make travel even more comfortable and exciting. It will take you about 5 to 6 hours to reach your destination by car from Kathmandu, which can be managed by your travel agency.
By Air:
One of the available options also includes a flight to Bharatpur Airport, which takes about 20-30 minutes, only 10 minutes taxi drive away from your destination. However, domestic flights are often prone to cancellation or delay because of changing weather conditions.
Activities to Partake in Chitwan National Park
Tharu Culture
Chitwan National Park is the homeland of the peculiar Tharu culture. The Tharu people, with their language and traditions, were the original tribe of Chitwan National Park. They were also the only inhabitants of Chitwan until the late 1950s. They are known for their talent in arts and the peculiar Mithila paintings. Many houses around the area have walls covered with these Mithila paintings, which gives you a peek into their beautiful culture.
While traveling to Chitwan National Park, you can enjoy your nights with the alluring dances like Peacock dance, Stick dance, Fire dance, and so on. Apart from jungle safaris, you can also enjoy tours in the Tharu villages near to Chitwan National Park, making your travel even more exciting.
Elephant back Safari
Elephant back Safari is one of the highlights of the trip to Chitwan National Park. It is also one of the safest ways for Jungle Safari. You can enjoy viewing the wide variety of flora and fauna from proximity within the elephants' safety back. Only four people are allowed on the back of one elephant at a time, and they generally last for about 1 to 1.5 hours. The price of the safari falls in a range of Rs 1500 to Rs 2500 (Approx. $15 to $25)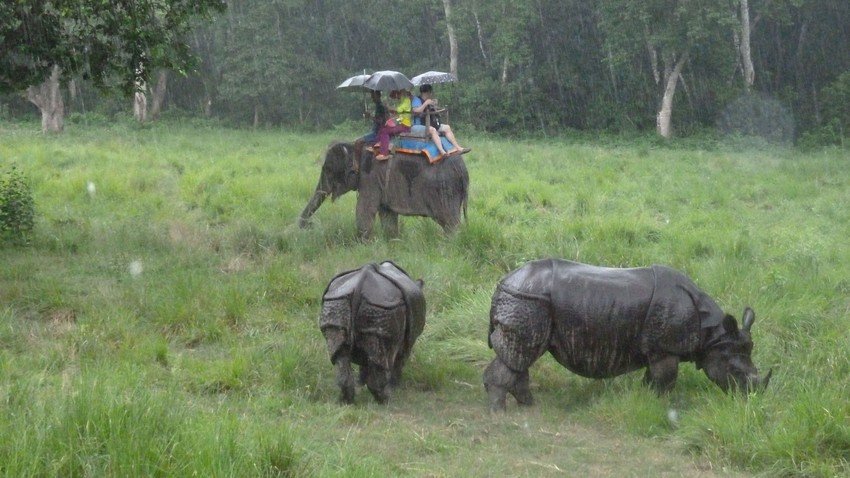 Jeep Safari
Jeep Safari is also one of the safer options for wildlife viewing in Chitwan National Park. The benefit of taking the Jeep safari is that it will take you further than the distance traveled with elephant back safari (932 sq. km.). The whole trip is filled with spectacular sights of an extended range of exotic flowers like Orchids, Eupatorium, Philodendron, etc. The long Elephant grasses which adorn the area give you a feel of the wild, which is not short of African wildlife safaris. You also get to meet an array of unique wildlife during your trip like the infamous one-horned rhino, giant hornbills, Bengal tigers, Gharial, and so on.
Nature/Jungle Walk
If you want to enjoy a more isolated traveling experience, you can also try taking Jungle walks in the Chitwan National Park. The whole experience is mesmerizing and provides a sense of thrill as you travel through the wilderness occupied by such ferocious wild animals. It is one of the more dangerous routes as the fear of having a sudden encounter with wild animals is always present.

The jungle walk includes a 5 to 10 km walk into the national park, allowing travelers to view up close the variety of flora and fauna. There is a high probability of meeting wild rhinos and elephants during your trip, in which case caution should always be maintained. It is best to travel with experienced guides not to lose your way in the jungle.
You also will have the chance to encounter the beautiful one-horned rhino, wild boars, sloth bear, bison, Gangetic dolphins, Gharial crocodiles, Bengal tigers, and so on. However beautiful, these are also the predators of Chitwan National Park, so it is best to enjoy their sights from a distance. Jungle safaris, in the end, are not for everyone, but also one of the best ways to enjoy the wilderness of Chitwan National Park.
Bird Watching
Chitwan National Park also allows you with the option of bird watching. It is one of the more relaxing endeavors you can partake in the park. Chitwan National Park is not short of enchanting sights of angelic birds like Eagles, Giant Hornbills, Grey Crown Prinia, Wood Peckers, Grey Headed fish eagle, Rocky Tail Drango, Serpent Eagle, Hoopie, Honey Buzzard, and so on.
You can choose to spend an entire day bird watching, or you also have the option to plan your whole trip for bird watching, which can take 3 to 4 days.
Elephant Breeding Center
You can also visit the famous elephant breeding center while you are at Chitwan National Park. Here you get to see several baby elephants prancing about with their mother elephants, which is quite a wholesome experience. You can also gather more knowledge about how these elephants are fed and brought up and facts about their nature and habitats.
The breeding center was first established to protect elephants from endangerment and save them from poaching. While visiting the Elephant breeding center, you not only get to enjoy watching them from up close but also contribute to protecting these graceful creatures.
Canoe Ride
Canoe riding in the Rapti River of Chitwan is by far the most relaxing and exciting adventure to partake in the Chitwan National Park. The rush of adrenaline you felt in your jungle safari will instantly be calmed as you drift through the river's currents, enjoying every moment.
The half an hour ride is genuinely mesmerizing with the view of dense forests on one side of the bank and the vast stretch of plain paddy fields on the other side of the bank. If you are lucky, you will encounter the sights of several Gharial tigers basking in the sun on the banks of the river along with the view of several exotic birds.
Elephant Bathing
If you have always wanted a picture of yourself with a big smile on your face while the elephant sprays water on you from above, do not miss out on Elephant bathing in Chitwan National Park. It is undoubtedly the most entertaining activity in Chitwan National Park, which you must not miss out on. You can enjoy the scenery as the elephants compete to throw the water and enjoy as your friends are being sprayed with water as they sit back and laugh at the back of the elephants with the cost of only $5.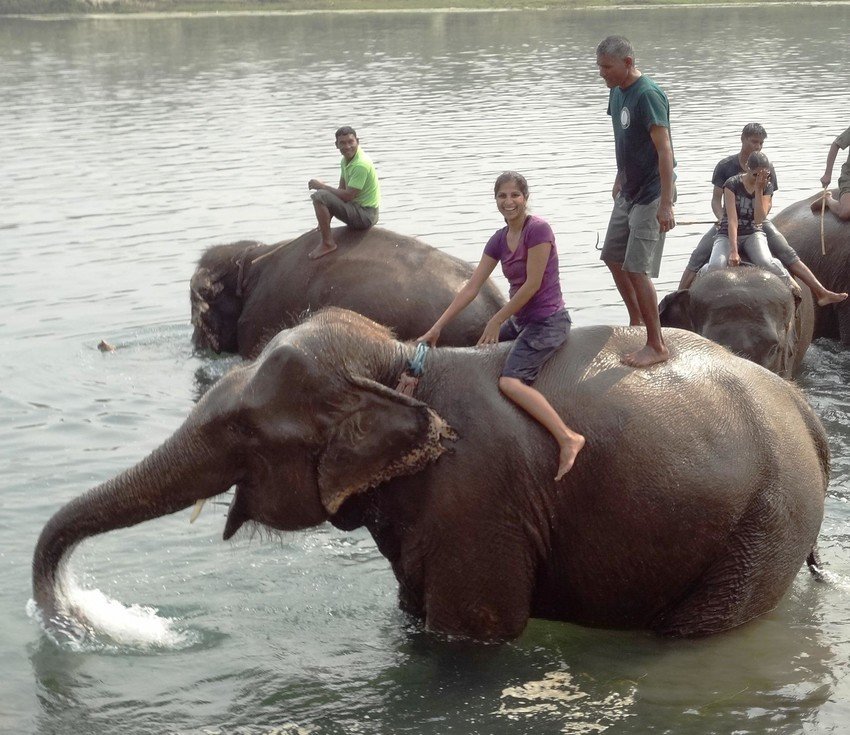 Village tour on Ox Cart
Before motor transports were ever a thing, people in Chitwan took to an ox cart as their means of travel. As you embark on a journey along with the Tharu villages on the back of an ox cart, you get to travel back in time and relive what these Tharu people would have felt at that time. It is one of the best ways to get an outlook into the culture of the Tharu people. As you travel across the villages in the cart, you can also enjoy your guide explaining to you the Tharu settlements' culture and traditions.
Conclusion
Chitwan National Park is one of the best places to visit in Nepal, not only to experience the wildlife but also to experience the unique culture present here, which cannot be found elsewhere. Contact us at snftnepal@yahoo.de if you are planning a trip to Chitwan National Park anytime soon. With more than 10 years of experience, we are sure to provide you with the best travel plans that suit your tastes and accommodations that are affordable as well as comfortable. Our trusted and friendly travel guides are sure to enhance the quality of your trip so that you leave only with beautiful memories.
Back To Overview