Top Tips for Winter Travel in Nepal
Top Tips for Winter Travel in Nepal
Swiss Family Treks Blog Posting
Traveling in the winter season is something not to miss out on. Mountains get covered in a thick new layer of snow in the winter, and the icy lakes glisten in the warm winter sun. Wild beasts of the jungle hide in their dens, looking for a cover from the cold, and the forests fall in a silent trance.
At such times, looking at the spectacular view of snow-covered mountains while sipping on hot tea will give you a sense of peace like never before. Heat your body with daring adventures in the slippery high altitudes this winter, and you might find out what traveling in winter is about!
Trekking in Nepal during the winter
Winter season might be one of the best times for traveling in Nepal. The chilly air, breathtaking scenery, and snow-covered giants are enough to give a majestic feeling of adventure.
The mountain regions of Nepal are especially attractive for winter trekking adventures. The enchanting high altitudes filled with several kinds of flora and fauna provide travelers a new kind of aesthetic that is hard to get anywhere else in the world. The splendid sceneries and deeply rooted culture of the people living in these high altitudes provide travelers with a cultural reset.
If you are looking forward to daring adventures in the slippery snow-covered hills of Nepal, then winter treks might give you exactly what you need.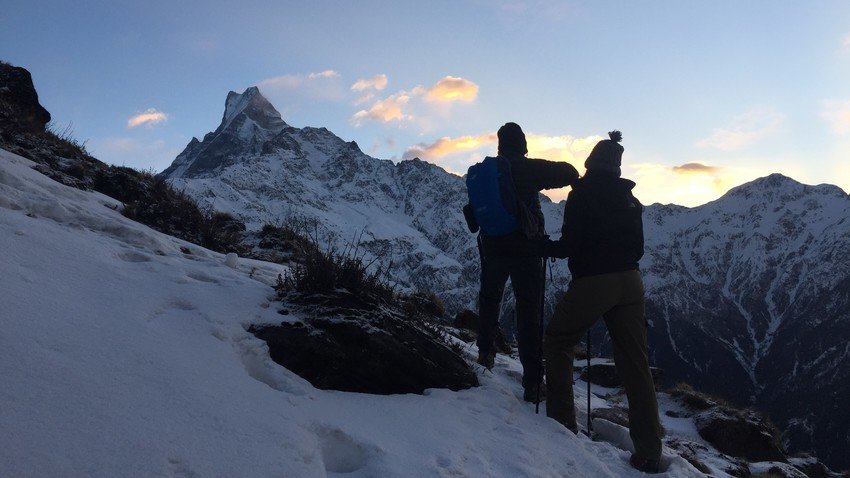 Seven trips to enjoy in winter
Enjoy this winter in the mesmerizing lands of Nepal! Here is a comprehensive list of places that are best for winter travel.
1. Trekking around Pokhara
Pokhara is a paradise for winter treks. The sight of tranquil mountain ranges in the backdrop and the adventurous trails makes for a perfect trekking journey. You can also enjoy the view of the highest mountains in the world like Mt. Machhapuchhre, Mt. Annapurna, and take part in several daring adventure sports like paragliding and Bungee jumping.
2. Trip to Nagarkot
One of the most popular destinations for traveling in winter is Nagarkot. With luck on your side, you might be able to enjoy the sight of 8 out of the 13 mountain ranges of Nepal from Nagarkot View Point. Mystical flora and fauna that surround the small village of Nagarkot are another one of its specialties.
3. Bandipur Trip
The local hot tea and the traditional Newari houses make for a perfect winter journey in Nepal. The cultural monuments and the city's essence have been conserved with carves you a chance to take a peek at the rich culture of Nepal. Since Bandipur lies at medium elevation, the winters are not as harsh, making it one of the best places to enjoy the winter.
4. Adventures in Chitwan
Winter is the best time for a trip to Chitwan as it lies in the lower altitudes. The winters are cold but not as chilly as the higher altitudes. Adventure activities of all sorts like jungle safari, trekking with the wildlife, jeep safari, elephant riding, and many more can be enjoyed in Chitwan during the winter.
5. Uncover Nature in Phulchowki
The fresh layer of snow that covers Phulchowki every winter brings hundreds of travelers to enjoy its magnificence. You can enjoy the spectacular birds-eye view of Kathmandu Valley along with the stretch of snow-capped mountains. Phulchowki is also famous among botany enthusiasts as it contains different species of flowers and plants which you can enjoy along with your trek.
6. Explore the hidden kingdom of Mustang
Known to be one of the most isolated places in Nepal, Mustang provides one of the best gateways for winter travel. You can enjoy the view of the semi-deserted lands and countless tall mountain ranges on this trip. The mystical culture that has been conserved for hundreds of years makes travelers gravitate towards an unforgettable trek to Mustang in the hopes that they might uncover another one of its mysteries.
7. Trip to Kalinchowk
The winter comes along with a gust of snowfall and hundreds of travelers in Kalinchowk. With its peaceful environment, high cultural significance, and a spectacular view of mountain ranges, it is one of the best places for winter treks. The short trip to Kalinchowk is enough to give you an outlook on Nepal's rural villages and their unique culture and traditions.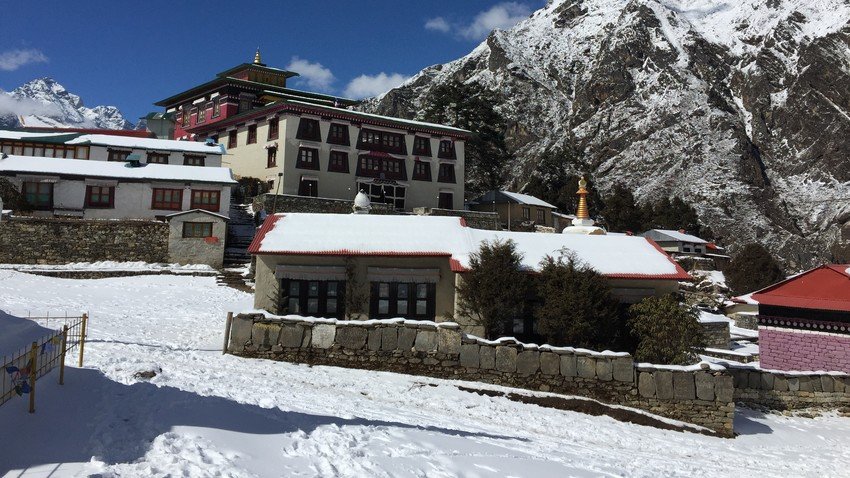 Tips for Travelling in Nepal in the winter
Here are some useful tips for you to follow if you are planning on traveling to Nepal for the winter:
1. Cover up nicely
If you are planning for a winter trek in Nepal, then it is better to be prepared with warm clothes. Make sure to bring warm jackets, pants, and also thermal wear. Since most of Nepal's houses do not have heating mechanisms, you might even need to wear them to bed. The higher altitudes are especially cold, with the temperatures dropping to below 0 degrees, so it is better to dress up warm at all times.
2. Bring your Woolen Protections
Do not forget to bring mufflers, warm gloves, socks, and hats for protection. Covering your head from the cold and warm woolen caps is the best option for this. Keep yourself covered up to the best of your ability to avoid catching a cold. Be aware of frostbites; if you are planning to travel to higher altitudes, it is better to have a pair of waterproof gloves and socks to protect your hands and feet.

3. Waterproof yourself
Most of the higher altitude trekking routes and some of the lower altitudes experience snowfall in the winter. Make sure you have packed water-resistant clothes and raincoats to protect you from getting wet while trekking. It is also best to bring water-resistant bags.
Ensure that your shoes are waterproof and suitable for walking in the snowy roads if the needs arise. Comfortable trekking shoes that do not let water in and keep your feet warm will be helpful in the long run.
4. Bring necessary medications
It is best to visit a doctor at least a month before starting your trip. Make sure you are appropriately vaccinated against any disease prevalent in Nepal that you might not have been vaccinated for like measles, chickenpox, and so on. If you have any medication you are on, make sure to pack enough to last till the end of your trip.
Since you will not find proper health posts or medical help in the higher altitudes, it is best to pack a first aid kit with all the necessary medication and pain medicines, bandages, and mosquito repellents.
5. Protect your skin
Winter in high altitudes can be harsh, with chilly winds constantly blowing. Make sure you have a layer of cold cream on your face to protect your skin from breaking or getting dry.
6. Drink Warm Water Regularly
Make sure to travel with your bottle of water. Several trekking trails have a stream of water available for drinking, but they might not be safe from different kinds of bacteria and insects. Accommodations in rural areas will not be equipped with mineral water.
If you are traveling to these rural areas at higher altitudes, you can ask for a bottle of boiled water from the accommodation you are staying at. You can also bring water purification capsules or your portable filter to ensure you are drinking safe water.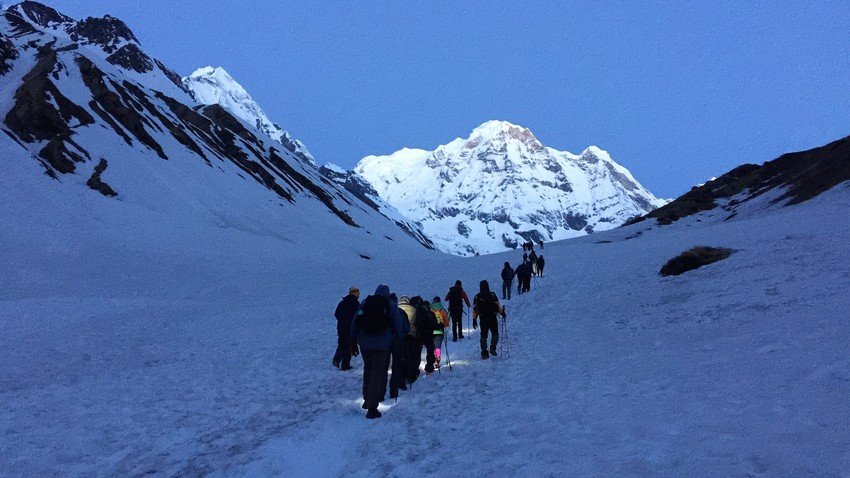 7. Bring your sleeping bag.
Bringing your sleeping bag can be useful if you are traveling to higher altitudes. Most of the lodges in higher altitudes provide you with a pair of blankets and a pair of pillows at most. A sleeping bag will provide you with a layer of protection against the cold in the chilly winter nights. If you are traveling at a short distance like Nagarkot or a well-developed travel destination like Chitwan or Pokhara, then it is unnecessary to bring a sleeping bag with you.
8. Keep yourself updated
During the winter, the higher altitudes of Nepal are prone to avalanches and snowstorms. Make sure you are up to date on the weather conditions beforehand while traveling to these higher altitudes. Keep your eye on the weather report and only travel when you are sure there will not be any calamities.
9. Get insurance
Protect yourself from any financial risk with the help of travel insurance before traveling to Nepal. Ensure that the policy pays the hospital bill for you instead of getting reimbursement as most of the hospitals in Nepal collect the fees before the treatment.
10. Money tips
Almost all of the paces in Nepal use Nepalese Rupees for the transaction. It is better to exchange your currency beforehand and use Nepalese currency for transactions. Make sure to keep the money with you at all times to protect from theft.
Conclusion
Traveling in Nepal's beautiful lands along with the snow-covered mountains and the warm winter sun is, quite frankly, an adventure waiting to happen. For those who want to get a taste of the rich culture of Nepal but do not want to get caught up in the crowd of travelers, winter is the best time for traveling.
Back To Overview