Meditation and Trekking in Nepal
Meditation and Trekking in Nepal
Swiss Family Treks Blog Posting
Nepal, the land of the Himalayas, is a perfect destination to let yourself loose and enjoy a unique and intimate time with nature. Journeys that embark amidst these adventurous trails lead to a lifetime of spiritual awakening. Likely, for those who wish to activate their inner spirits, meditation trekking provides an excellent opportunity to experience adventure, nature, and inner peace.
Meditation trekking in Nepal is a rather new concept. It focuses on providing travelers with an experience that is not just about trekking in the Himalayas, but also about exploring inner peace. The concept of meditation trekking infuses meditation while walking along the high Himalayan belt. You can travel to famous trekking regions such as the Annapurna Region, Everest Region, Langtang Region, or even around some famous religious and pilgrimage sites that lie scattered around the Himalayas.
For various reasons, Nepal can be the best place for meditation trekking. Meditation trekking in Nepal provides a unique and indifferent experience to that of any ordinary treks. Here are some key features of meditation trekking in Nepal:
1. Witness marvelous mountains and landscapes
The immense natural beauty of Nepal makes it one of the best places to trek. Nepal is famous for its marvelous mountains and the fantastic landscapes that follow. Trekking here allows you to witness these great mountains by getting as close to nature as possible. Trekking allows you to dive right into the heart of the dense natural beauty. You can witness mountains, lakes, valleys, forests, glaciers, rivers, and many more fascinating landforms.
2. Enjoy a mixture of relaxing and adventurous journey
For those who seek adventure, trekking in Nepal is the perfect opportunity to fulfill those desires. On the other hand, if you also want to enjoy a relaxing time, where else can be a better experience than in the shelter of the Himalayas. Meditation trekking is a compact blend of both adventure and a relaxing journey. The chilling breeze of the Himalayas allows a scintillating vibe as you meditate in the realms of the greatness of nature. The journey itself has a high adventurous factor as you traverse across dramatic landscapes navigating towards greater heights to witness fascinating views.
3. Get acquainted with the local culture
Trekking in Nepal is more than just adventure and thrill. As you travel across the dramatic terrain, you come across various local settlements. Of the dense cultural diversity that exists in Nepal, you can get acquitted with the uniqueness of the people and their lives. The traditions and cultures of the local people are interesting topics to observe. Trekking allows you to get close to the diverse communities and experience their lifestyle and culture.
4. Visit some prominent Religious sites of the Himalayas
Meditation treks are all about exploring one's inner spirits. What better way to do so than by visiting the amazing religious sites nestled in the Himalayas? Most of the meditation treks are planned to take you to a specific temple, stupa, or monastery. Nepal, the birthplace of Lord Buddha homes numerous religious sites that are scattered amidst the Himalayan trails as well. Thus, trekking in Nepal also allows you to visit some iconic religious sites, mostly Buddhists and Hindus.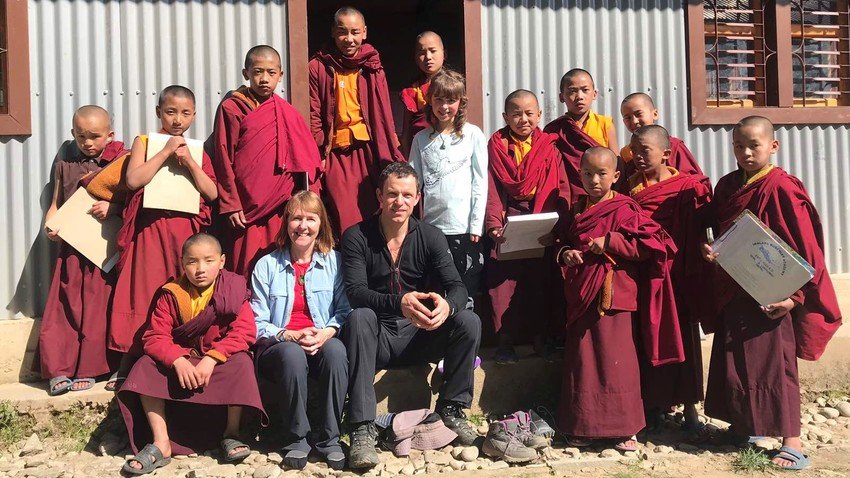 There are several meditation treks available in Nepal. Meditation treks are mostly about relaxing the inner self and finding a deeper meaning of peace. No matter what religion you may follow, you can join these meditation treks to embark on your spiritual journey. The meditation trek programs include both natural settings and religious settings. A guide will accompany and instruct you on your meditation course. Here are some of the most popular meditation treks in Nepal:
1. Meditational Trek to Buddhist Sacred Sites Trail of Khumbu Region
Khumbu region is one of the beautiful locations in the world. Moreover, this may also be the most sacred trail to trek as it consists of numerous monasteries, Chortens, and hermitages to meditate at. Moreover, the immense beauty of the captivating Himalayas intensifies the beauty of the trip.
The Khumbu region is home to some 250-year-old Vajrayana and Mahayana monasteries. This gives a wonderful opportunity for trekkers to participate in the practice of meditation around the most sacred of atmospheres. This 16-day trek circuits around some of the most prominent monasteries of the Khumbu region. These monasteries included in the trails are Thame Monastery, Khunde Monastery, Khumjung Monastery, Pangboche Monastery, and Tengboche Monastery- the biggest monastery in the Khumbu region.
While you traverse across these majestic monasteries, you can witness breathtaking views of the massive Himalayas. This entirely helps you rejuvenate and get rid of all the stress tightened in your body. The trails also pass through many Sherpa villages, where you can get close to the Sherpa culture and lifestyle. The meditational Trek to Buddhist Sacred Sites Trail of Khumbu Region is a blend of natural, cultural, and spiritual beauty. Some prominent peaks to see along this meditation trek are Everest (8848m), Lhotse (8516m), Nuptse (7855m), Amadablam (6812m), Pumori (7165m), Cho Oyu 8188m, and the holy Khumbila (5761m).
2. Yolmo Valley Meditational Tour
Within the beautiful trekking region of Helambu, a secluded valley is hidden amidst the lush hills, the Yolmo valley. Although Yolmo valley has not gained much popularity yet, it is one of the holiest places in terms of religious understanding.
Yolmo valley is where both Guru Padmasambhava and Tibet's Great Yogi, Milarepa, are known to have meditated. Thus, adding on to the bliss of the valley, relive the experience of these great figures by meditating in the Yolmo valley. It is also said that the valley consists of hidden "Tarmas" – spiritual teaching/guidance for other yogis to find. The valley has numerous caves, where Guru Padmasambhava, Yeshi Tsogyal, and Milarepa meditated in. Thus, these caves are considered as highly holy.
Moreover, the area is a beautiful village surrounded by wonderful jungles. You can encounter the local Yolmo people and get acquainted with their culture. You can also visit the various holy monasteries around the villages to pray and meditate.
3. Meditation Trek to Maratika Cave (Halesi Mahadev)
The trek to Maratika Cave, also known as the Cave of Bringing Death to an End, is a journey that takes you to the quaint district of Khotang in East Nepal. Towards the south-west of Mount Everest, the holy rivers of Dudh Koshi and Sun Koshi flow as barriers to a hilly region. The local people of this valley call the region "Haleshi." The location is flourished with natural beauty, religious inheritance, and stands significantly important for Hindus and Buddhists.
According to the legend, Lord Vishnu himself paid homage to the Haleshi Mahadeva in the Satya Yuga (Golden Age). After him, numerous kings, sages, devotees, philosophers, and hermits have paid homage to this sacred place. Haleshi Mahadev is known as a place for fulfilling wishes and giving boons to those who are devoted and visit the temple. In the Buddhist legend, Guru Padmasambhava (Guru Rinpoche) and his consort Mandarava were blessed with an immortal life by Buddha Amitayus at Halesi.
You can find the reference of the caves of Maratika in Tibetan literature back from the 12th century. It is believed that Dakini Sangwa Yeshe recorded the teachings of Buddha Amitayus and hid the treasure inside the Maratika Cave. Many more sages and monks have written about Maratika caves in their writing, such as H.H. Dalai Lama, Trulshik Rinpoche, Dudjom Rinpoche, Dilgo Khyentse Rinpoche, Chatral Rinpoche, Lama Ngawang Chophel Gyatso, and Lopon Karma Wangchuk.
Thus, Maratika is one of the holiest places in Nepal. The location and its history provide a very promising atmosphere for meditation. Those who travel here are on a deeper journey to explore these teachings. Those ready for the intense meditation practice and pilgrimage can take part in this meditation trek to Maratika Cave.
4. Meditation Trek to Helambu (Yolmo Land)
Helambu, also known as the Yolmo land, is situated towards the north of Kathmandu close to the borders facing Tibet. The region has a heavy Tibetan influence in the local culture. The region is blessed with scenic beauty and is also considered as a sacred site. Although Helambu is a popular tourist destination, few people are aware of the significance it holds for the Buddhist religion.
Helambu, or more so, Yolmo, is one of the seven "Hidden Valleys," discovered by the Tibetan saint Rigdzin Godem. Besides making it a resident village, it was also a place to practice Buddhist meditation. The history engraved in this region represents the cultural and spiritual heritage of the ancient Nyingma-pa (Byangter Lineage) and Kagyu-pa schools of Tibetan Buddhism. It is also known that Guru Padmasambhava meditated here in Yolmo during the middle of the 7th century. Tibet's Great Yogi Milarepa also meditated in the caves of Yolmo during the 10th century. Legend has it that he was able to fly after meditating here.
Trekking here allows you to bear witness to the magnificent old monasteries and the religious heritage of this valley. Being one of the seven holy hidden Valleys, meditating here has a deeper spiritual meaning as well.
Before you plan on going for a meditation trek in the grand Himalayas, you must know there are a few things. Here is some key information you need to know before going on a meditation trek:
1. Meditation treks may sound easy, but depending on the destination, the journey can get tough. Thus, it is suitable for all, but make sure you are aware of the trek's difficulty level.
2. Some treks may lead to high altitude regions, where altitude sickness can be a probable threat. Consult with your doctor if your body can adapt to high altitude regions.
3. You can also engage in yoga treks that are similar to meditation treks. The same concept of meditating while traveling applies to a yoga trek. Visit some of the most peaceful places and relax the body as you perform the ancient art of Yoga amidst the Himalayas.
4. While on a meditation trek, you also get the opportunity to infuse a religious detour on your trip plan. There are numerous iconic religious sites scattered in the Himalayas. Ensure that you are aware of the sites within your reach during the trip so that you can visit them while you are near.
Adventure trekking surpasses any thrill seeker's expectations in Nepal. However, if you are traveling for a greater purpose, such as achieving inner peace, meditation trekking in Nepal is the ideal option.
Back To Overview