5 Off the Beaten Path Treks in Nepal
5 Off the Beaten Path Treks in Nepal
Swiss Family Treks Blog Posting
Nepal is known as "the trekker's paradise" for many reasons, and off the beaten treks are one of them. Nestled in the magnificent Himalayas, trekkers can find a way to the heart of Nepal's remoteness in the most untouched places.
The quaint isolated paths and various offbeat rocky trails present trekkers with unforgettable Himalayan adventure. The adventures that follow these paths are unparalleled. Many of Nepal's destinations have been popularized over the years due to their notable features and facts. However, off the beaten tracks aren't one of these. Due to the difficult nature of the trails, most people refrain from engaging in these treks. However, trekking in these isolating trails is a different kind of adventure that will help one make lifetime memories. Thus, for those who have an extra appetite for adventure, Nepal serves the best of opportunities to fulfill their desires.
If you are planning for an off the beaten trek in Nepal, then you are in for a treat. Out of numerous options to choose from, here are the top 5 off the beat treks in Nepal.
1. Indigenous Peoples Trail Homestay Trek
One of the most unique experiences one can gain while traveling in Nepal is through a homestay trek. The Indigenous Peoples Trail Homestay Trek gives you an opportunity to live with a local family and experience their lifestyle for 10 days. This trek takes you to the remote areas of Ramechhap district. The region is mostly populated by Tamangs, Sherpa, Newar, Yolmo, Thami, Maji, among others. You get to explore their culture while living in their houses as you get acquainted with the local lifestyle. The Indigenous peoples trail homestay trek is a journey that depicts a perfect blend of natural and cultural beauty. Traversing through Ramechhap, you can witness various mountains from the Annapurna ranges to Kanchenjunga and Number Chuli.
You can go for this trek anytime from autumn to spring (September to May). Although winter may be cold, the weather is bearable as the village home will help you stay warm. On the other hand, summer may also be possible but heavy rainfall can cause a lot of hassle. The total cost of the trip is around $ 1240 per person. During the course of the trip, you will be staying with host families in their household. If you plan to travel with a tour operator, all arrangements will be made beforehand. If you want to travel independently, you will have to arrange your homestay with host families yourself and set a price accordingly.
2. Guerrilla Trek, 15 Days
The history books of Nepal consist of several of fascinating and interesting events. One such event is the Maoist rebellion during the Nepalese civil war. For someone who is keen about history and also desires to explore rural nature, the Guerrilla Trek is the perfect fit. The Guerrilla trek is one of the newest trekking routes that has been built across the remote areas of Rukum and Rolpa, two of the most remote districts of western Nepal. With this 15-day journey, you relive the routes taken by the Maoists on their insurgency during the Civil war.
Trekking in the Guerrilla route offers you an opportunity to gain insight into the lives led by the local people and the trails that have the footprints of the revolutionaries. The trek also offers some fantastic panoramas including, Api (7132m), Saipal (7031m), Dhaulagiri (8167m), Annapurna (8091m), and the other Himalayas. The best time to do this trek is during Spring (March to May) and Autumn (September to November). These seasons provide a pleasant atmosphere for trekking with moderate temperatures and clear weather.
The average cost for this trek is around $1770 per person. You will be staying at lodges where available. On the rural side, you will be staying at homestays as guests with local families. Your tour operator will be in charge of arranging all the preparations for your homestay.
3. Panch Pokhari Trekking, 10 Days
Yet another recently opened trekking route in Nepal is the majestic Panch Pokhari Trek. This off the beaten trek offers some of the most beautiful rural sceneries of nature. Panch Pokhari is a famous pilgrimage site for Hindus and Buddhists. Thus, for many years it was closed for trekking until 2012.
Panch Pokhari translates to "five lakes," which is the main essence of the trip. The five lakes are highly important in religious terms in Nepal. Thus, the Panch Pokhari Trek is a blend of natural and spiritual beauty. You will also be traveling across various villages inhabited by a diverse range of ethnicities, such as Sherpas, Magars, Newars, and Tamangs. The trekking route parts ways with the pilgrimage route and follows more of an off the beaten trail. If you want to avoid crowded trails and like to travel in isolation, the Panch Pokhari Trek is a perfect trip for you.
The best time to do this trek is during autumn (September to November) and spring (March to May). These seasons accommodate the best atmosphere for trekking. The skies are clear almost throughout the months, and the temperature is mild and warm. This 10-day trek to Panch Pokhari requires a budget of around $1400 per person. For the first few days, you will get to stay at lodges. After you reach Chautara, you will start camping from here on till you get back to Melamchi. Your tour operator will arrange a camping crew who will set up camps at different locations. All meals will be prepared at camp by the crew.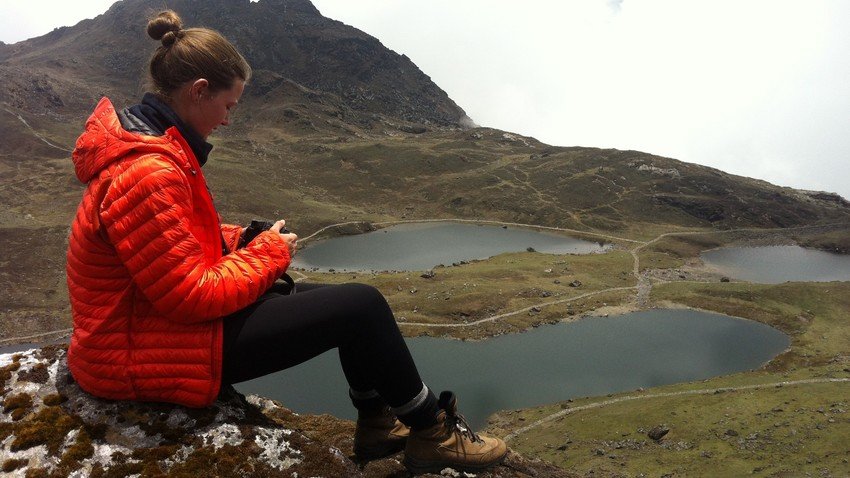 4. Numbur Cheese Circuit Trek, 15 Days
The Numbur Cheese Circuit Trek is a journey to one of Nepal's first cheese factories. It was only recently opened as a tourist destination and now accommodates trekking. The circuit lies on the laps of the great mountain Numbur Chuli. This off the beaten trek is ideal for those who seek to walk on unpaved natural trails and travel in isolation. Lying eastwards in Ramechhap, this journey beautifully reflects the cultural diversity of Nepal.
The trails are nestled amidst deep gorges, glacial lakes, subtropical forests, and scattered settlements of various ethnic villages. You can also enjoy marvelous views of mountains such as the Numbur Chuli, Sarmoche, Ramdung, Chukyima Go, Parchamo, Bigphrea Go, and many more. Far off, you can also spot the Everest range, Annapurna South, Langtang, Jugal Himal, and Gaurishankar.
The Numbur Cheese Circuit Trek is a 15-day journey. Accommodation during this trek varies from place to place. At some locations, you will have to camp whereas homestay is available in other villages. Less rural areas will have lodges and hotels, where you can stay for the night. The average budget requirement for this trek is around $4850 per person. The best time to do the Numbur Cheese Circuit trek is during spring (March to May) and autumn (August to November). These seasons offer great weather to travel outdoors with the least chances of rain or snowfall. The temperature is also moderately cool and warm during spring and autumn respectively.
5. Salpa High Pass Trek, 13 Days
On the fossils of the ancient trade routes that once ran between Namche and Tibet, there now lies trekking trails that are filled with fascinating things to discover. One such route is the Salpa High Pass Trek. The Salpa High Pass Trek runs its course on the ancient trade route. The trek flaunts some unique ecological aspects of the Khumbu region, along with the massive mountains and Everest itself. Cascading waterfalls, glacial rivers, sub-tropical to alpine vegetation are some of its major attractions. The trek also visits various local settlements of the Sherpa communities where you can explore the lifestyle and culture of the famous Sherpa people of the Khumbu region.
The Salpa High Pass Trek is a 13-day trek. The best time to do this trek is during spring (March to May) and autumn (September to November). You can experience clear weather and moderate temperatures during these months. The average budget required for this trek is around $1600 per person. Accommodation varies from hotels to lodges depending on the location.
Key Information
Before you decide to go on any off the beaten trek, there are a few things you should keep in mind. Here is a list of things to pay attention to before you venture out on an adventure world apart:
● Make sure you are well aware of what you are up for. Off the beat treks aren't like normal treks. Trails in this trek are not well-built, and there might not be conventional accommodation services during the trip. Thus, you must be well informed about the entire course of the trip, from navigating to accommodation and food services.
● Off the beat treks can be physically more strenuous than conventional treks. Due to the nature of the trails, you might have a hard time walking on unpaved natural trails unlike that of the conventional well-built ones. Thus, if you are not used to it, you might want to get some practice or training beforehand.
● Prepare your backpacks accordingly. All treks have different requirements. From clothing equipment to gears and tools, make sure you have what you need for the trek. Also, avoid carrying unnecessary load.
● Most trips take you close to the local communities. It is best if you have some idea on respectful etiquettes like greetings to make sure you are well accepted by the people.
● Almost all of the beat treks are known to provide an isolated atmosphere for trekkers. Thus, off the beat treks are for those who prefer to travel in lesser crowded areas.
There is no doubt that off the beat treks are an exceptional way to enjoy trekking. There are numerous options to choose from when it comes to trekking in Nepal. If you seek to explore nature and learn about some rural cultural diversity, then you should definitely try off the beat treks of Nepal.
Back To Overview