10 Reasons to visit Upper Mustang in Nepal
10 Reasons to visit Upper Mustang in Nepal
Swiss Family Treks Blog Posting
Upper Mustang, "Kingdom of Lo," is a remote and isolated region of Nepal. Nobody had the chance to explore this unique land until 1992. Still, today, it falls under the restricted area. To trek on such land is a great privilege. Thus, the Upper Mustang visit is an excursion that unwinds the true definition of traveling with a satisfied heart & soul.
Let's begin the journey to unleash more about the undiscovered Upper Mustang!
Upper Mustang excursion takes you on the journey to explore the Tibetan plateaus around Mustang. This journey offers you the spectacular travel experience all over. The remote geography with prosperous cultural settlements will amaze you. Here, you will get up close with the soaring ranges of Annapurna. Also, you get the insight of a true mountainous lifestyle that has a history of a hundred years.
Further now, let's discuss the other ten reasons to visit Upper Mustang:
The Last Forbidden Kingdom of Mustang
The foremost reason that you can't miss the opportunity to visit Upper Mustang is its originality. Upper Mustang is the Last Forbidden Kingdom. Being an isolated land, it was only open to travelers after the year 1992. Mustang was a separate kingdom within the boundaries of Nepal until 1950.
The last king (Raja) of Upper Mustang has his home in the ancient capital, Lo-Manthang, at 3840 meters. Lo-Manthang is the ultimate vantage point of the Upper Mustang Trek. The early history of Lo embellishes the myths & legends of its existence. Thus, all these make Upper Mustang the most preserved & forbidden region in the world.
Local tribes and rich & unique culture
Mustang is the hidden paradise on Earth. What is more, unexplored is their local lifestyle and culture. Thus, the next reason to visit Upper Mustang is the local tribes and their rich & unique culture.
Lying on the border, Mustang flaunts Tibetan influenced art and ancient history. Upper Mustang belongs to the ethnic tribe known as the Loba. From their lifestyle to language, they resemble the Tibetans. Their culture and traditions date back to the eighth century when Buddhism reached Tibet during the Yalung Dynasty. From Tibet, religion & traditions spread to Mustang.
Mustangis, from Tibetan dialect, identify themselves as Loba or Lowa. They celebrate four major religious festivals: Gine, Gensu, Gelung, and Nayuene. These festivities lighten up the whole of Upper Mustang.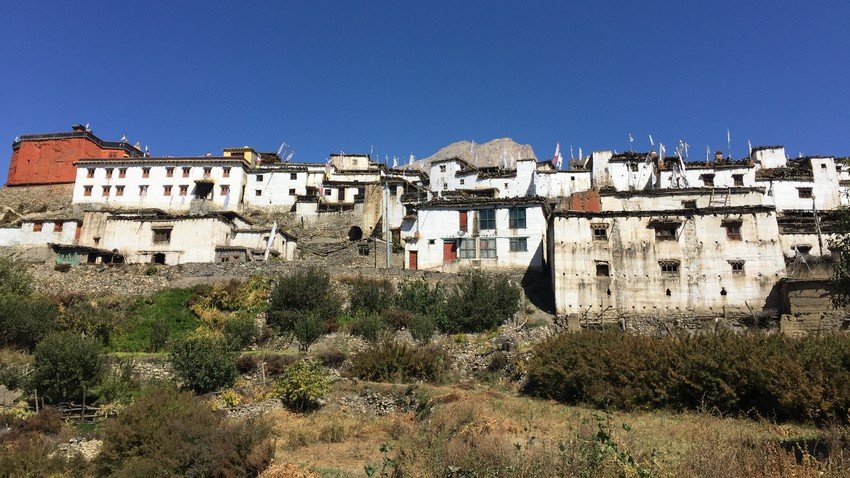 Ancient Buddhist monasteries, caves, and palaces
What makes Upper Mustang richer is its ancient mythology and ancient arts. You get to explore numerous ancient Buddhist monasteries, caves, and palaces. This is also because the Upper Mustang was once a kingdom. You get to submerge yourself in this heaven to its fullest.
They are famous monasteries that you must visit. Dragkar-Thegchen Ling Gompa, Jampa Gompa, and Thupchen Gompa are significant highlights.
Dragkar-Thegchen Ling Gompa is the most famous and thriving Buddhist monastery in the region. You get to explore the artifacts that take you back to the 13th century. Built-in the 14th century, Jampa Monastery showcases 109 ancient mandalas painted in multiple colors. You can explore the golden and silver statues in this three-storied monastery. Thupchen Gompa dates back to the 15th century. Back then, this Gompa was the major center of all religious activities in Lo-Manthang.
You can also visit the Monastic Museum and Choe Gompa. They are right around Dragkar-Thegchen Ling Gompa.
The ancient wall city of Lo-Manthang
The old wall city of Lo-Manthang is another attraction of Upper Mustang. Known to be the capital, it lies in the uppermost part of Upper Mustang. Lo represents Tibetan culture and linguistics. You can also explore the southern part of Mustang called Thak. Thak is the homeland of the Thakali people.
Lo Manthang history took us to 1380 when Ame Pal ruled this capital. He supervised the construction of the city wall and various unique constructions. Today, these constructions are the major attractions of Upper Mustang. The palaces and caves comprise of ancient Buddhist paintings. These mural paintings show sub-tropical themes of palm trees, billowing textiles & birds. You can find these paintings in caves situated in sheer cliffs at 4300m elevation.
Further, you can explore stupas where you can interact with the local monks. You get to learn a lot from their simple yet sophisticated lifestyle.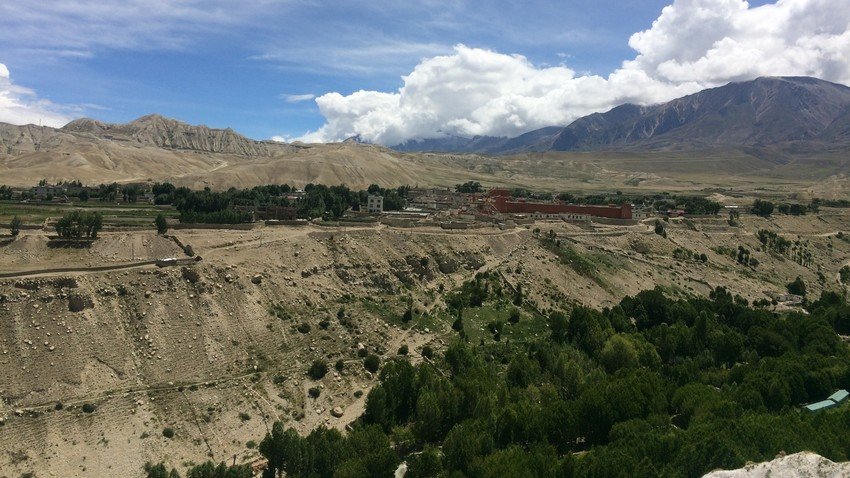 Holy Damodar Kunda and pilgrimage site of Muktinath Temple
Damodar Kunda lies at an altitude of 4890 meters. This holy Kunda is famous among Hindu pilgrims. Many believe that taking a bath in this sacred lake will help to wash away sins of previous and current life. Hindus believe that one should visit Damodar Kunda at least once in their lifetime. You get to enjoy the glistening view of the lake. Also, you will find Saligram (fossilized shell) around.
Situated at 3800m, Muktinath Temple is the real gem of Mustang. You can't miss this site while you visit Upper Mustang. It is one of the world's highest temples. Hindu pilgrims consider this site as "Mukti Kshetra." This means you have to visit this temple for the sake of liberation. Besides its significance, its beauty is captivating. Once you reach Muktinath, you have the unobstructed panoramas of Annapurna & Dhaulagiri surrounding the place.
Mystic landscapes and isolated villages
The mystic landscapes and isolated communities of Mustang deserve to be on the list of places you should visit. Being a remote region, the trails are virgin and unexplored. In the raw lands, nature appears in its best form. You can't get another spot to relish away from crowd & chaos. While you trek in this region, you pass through many settlements.
Some of the famous settlements of Upper Mustang include Kagbeni, Jomsom, Chhusang, and Marpha. Every settlement has its history, and they are unique from one another. You can witness an ideal diversity in their locals and customs. Their geography & scenery also keeps on changing elegantly.
Jomsom, 2720m, is the trading hub of Lower Mustang. Marpha, the apple city, is the treasure of Mustang. You might find yourself lost into some alien yet beautiful lands among these settlements.
Tiji Festival, Yartung Festival, and Horse racing
Tiji and Yartung Festival are the famous festivals of Upper Mustang. Tiji festival is so famous that you can even opt for Tiji Festival Trek. The Tiji Festival takes place in May. It is a three-day festival that centers on a fascinating myth. The history tells that the region of Mustang was in trouble because of a demon who spread diseases. But a hero named Dorje Jono defeated the demon. Thus, this festival marks the victory of good over evil.
Likewise, Yartung commemorates the festivity to send off summer. This time, you observe the traditional values of Tibetan influenced Buddhism. You have to visit in August full moon to celebrate this festival with the locals. With a grand celebration, the locals organize horse races. This is the most exciting race where many men & women take part.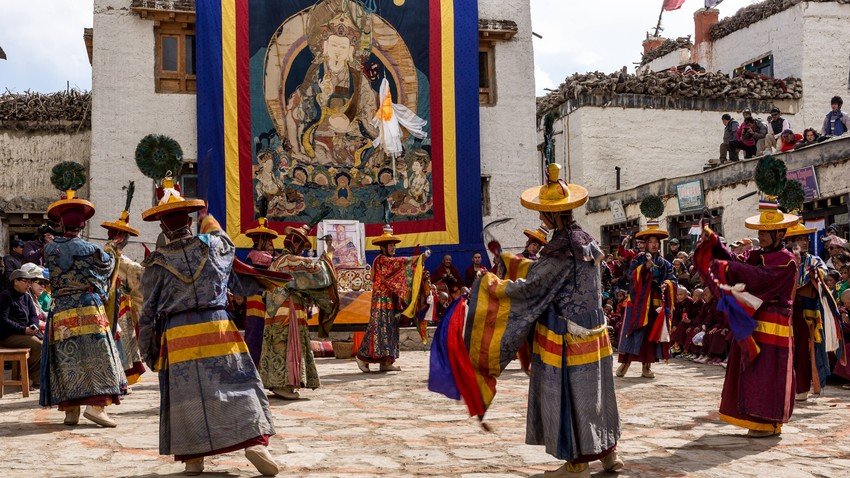 Tibetan horseback ride on Mustang
Tibetan horseback ride on Mustang is another major attraction of Upper Mustang. If you are an adventure enthusiast, you have to do this. Horseback riding in such a landscape will surely serve you an unforgettable memory. Alluring views of Nilgiri, Saribung, and Mt. Manshali makes this ride more scenic.
Your ride begins from Jomsom. If you want to continue the journey to Lo Manthang, you can keep it. You pass through the trails of Kagbeni, Tsaile, Syangboche, and Drakmar. You also get to visit several caves of Chhosar village. The vibrancy of colorful desserts blooms with the horseback ride.
The exhilarating feeling of mountain biking
What if you can feel the exciting excitement of mountain biking in this typical land? This is more fun than you would imagine. The remote Himalayas and barren trails look elegant. The views and refreshing winds will give a thriving experience. You will begin your ride from Jomsom. Riding along the Kali Gandaki Valley, your track heads to flat & rocky paths.
Then, you continue towards Muktinath and villages like Tsaile, Syangboche, and Tsarang. Your final destination is Lo Manthang. You will return through the same track. On the way, you pass through the apple orchards of Marpha. Tatopani also lies on your way. You can relax from your journey in its hot water bath.
Trekking in high plateaus and barren hills
What will give you more thrill than trekking in high altitudes? Upper Mustang is all about marking that adventure. Upper Mustang Trek is a perfect trek in the trans-Himalayan mountain region of Nepal. If you love to trek and have the right level of fitness, don't wait. Tighten up your shoes and start your journey. You will reach Jomsom via flight from Pokhara. The final point of this trek is Lo Manthang (3840m). Upper Mustang Trek is an exploration of the fascinating medieval landscapes, culture, and lifestyle.
Upper Mustang Region lies amongst the restricted trekking regions, so you have to follow various procedures before your visit. You need a special trekking permit. Likewise, you can't trek to this region alone. You must travel with an official trekking guide.
Conclusion
We all wish to take a break from our regular life every now & then. Seldom do we get out of our imagination and get ready to embark on an adventuresome journey. Upper Mustang will give you that ultimate feat. For sure, after you visit, you will find ten more reasons to revisit this destination. This is why the Upper Mustang is becoming one of the most favorite travel options for Nepali and foreign tourists.
Back To Overview