Nepal through the Eyes of Masterchef
Nepal through the Eyes of Masterchef
Swiss Family Treks Blog Posting
The Swiss Hong Kong group has been making name recently in Nepal because of their need for traveling and adventures along with their love towards the breathtaking beauty that is Nepal. Having their roots in Switzerland, they have made an identity for themselves in Hong Kong as a huge part of the Hong Kong hotel and service industry. The group is a coming together of Swiss men leading their life as Masterchef and Hoteliers who love to travel and seek thrill on their travels. Heinz Egli, Urs Besmer, Fritz Gross, Marko Foehn, Joanny Mathis, Stefan Herzog, and Heinz Fischer all are from Switzerland and have made a way for themselves into the Hong Kong hotel industry. Their love for food and travel is what binds them together every year to continue their journey in the steep Himalayas of Nepal.
These illustrious tycoons of the hotel industry have been visiting Nepal almost yearly for seven years already and every time they have left with nothing but unforgettable memories and thrilling adventures. All in all, they have visited Nepal not once but whooping seven times already despite their busy schedule and still plan on visiting more.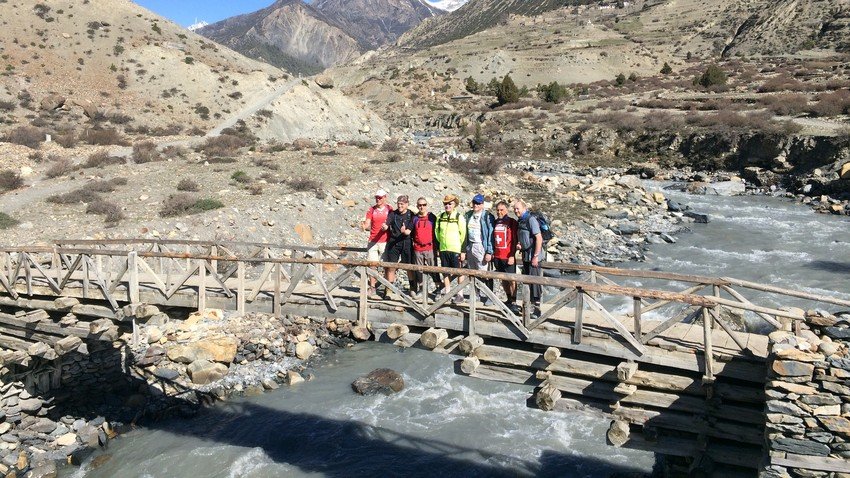 Photo: Crossing wooden bridge in Manang, during the Annapurna Circuit trek
Travel Journey of the Masterchef
The first visit of this remarkable group of chefs to Nepal was during the second National Tourism Year in 2011 with us at Swiss Family Treks & Expedition. We were the first to organize the whole trekking trip for them and have been ever since. Since starting their journey with us in 2011, they have been coming back for more, entrusting us with making sure that they are provided the best trekking and hiking experience in the Himalayas. As such, they are satisfied and content with our services which we promise to provide in the future as well.
Since their first venture in Nepal, their admiration towards the magnificent Himalayas has only increased. Maybe the fact that they are avid hikers has something to do with their love towards the varying topography of Nepal. They have already trekked in the Annapurna region 4 times and once each in the Langtang and Everest regions.
As of 2019, a team of Heinz Egli, Urs Besmer, Fritz Gross, Marko Foehn, Joanny Mathis, Stefan Herzog, and Heinz Fischer got together and completed the Trekking and Mountain Biking Trip to Annapurna Circuit. They have nothing but admiration and memories of the trip. As such, Mr. Mathis remembers of the culture and hospitality in the Himalayas. Likewise, Mr. Urs raves about the warm camaraderie of the locals on the trekking trail. Mr. Marco, on the other hand, reminisces of the differences between Jomsom and Pokhara during the 1980s when roads and other infrastructures were pretty primitive. Finally, Heinz is still in awe of the glorious mountains in the Dhaulagiri and Annapurna ranges.
As a force of habit and allure of the food culture in Nepal, none of them could stay away from tasting the local cuisines. As such, all of them could only find unique tastes, flavors, and hints of endearing hospitality. Thus, they have offered great reviews regarding the food in the Himalayas. Similarly, they were also quite surprised to find a few western cuisines on the trail. Mr. Marco, in particular, became fond of the Danish pastry in Manang. Likewise, all of them appreciated the quality of food and service at the hotels and restaurants in Pokhara and Kathmandu. All in all, the entire group have their favorite moments of their own.
When sharing their experience, the group poured their heart out regarding various adventures treks during the days and exciting nights. And, a common theme reoccurred on each of their stories. The Himalayas, ethnic culture, and local hospitality were matched by the expertise and friendly company of the trekking and biking guides. While a limited number of days is never enough to explore the outstanding riches of Nepal, they too longed to explore a few other destinations for a longer period. Thus, they have still kept their schedules open in the year 2020 for a mountain biking and trekking trip on the Manaslu Circuit. Some would say that their thirst for traveling to new destinations and experiencing the culture of Nepal at different places has yet to be quenched.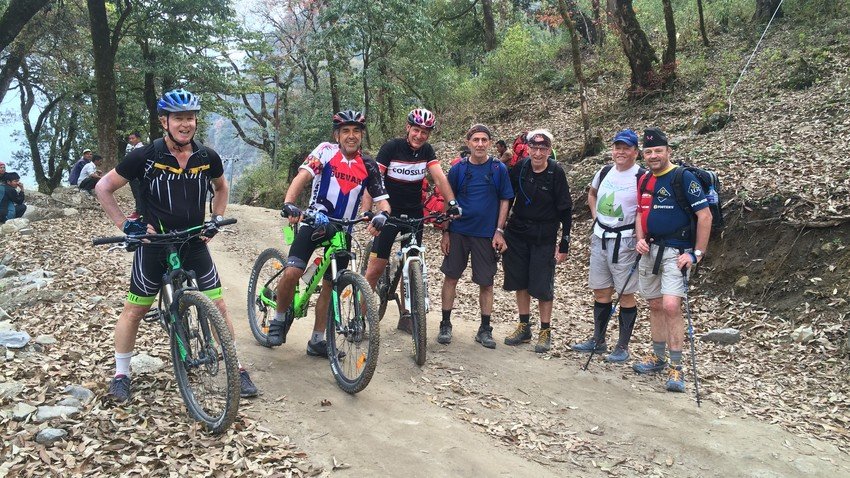 Photo: Annapurna Circuit Mountain biking
Traveling With Social Cause with Masterchef
Apart from their adventures in the Himalayas, these master chefs are also renowned in Nepal for their support to the earthquake victims from the devastating earthquake in 2015. Heinz Egli, Urs Besmer, Fritz Gross, Marko Foehn, Johnny Mathis, Stefan Herzog, and Heinz Fischer have all been donating large amounts of funds as well as other supplies for the earthquake victims. They have also helped a lot for the reconstruction of new houses in Sindhupalchowk which was damaged badly, courtesy of the earthquake.
Speaking of Heinz Egli, his social work has its chains back in Hong Kong as well. He is also the founding president of the Hong Kong Chefs Association (HKCA), a non-profit organization dating back to 1991. Since its formal opening, HKCA has been organizing many charity fundraisings, local culinary competitions, social and educational events and so much more. HKCA is also a member of Word Association of Cooks Society (WACS), encouraging its members to learn not only about local foods but also international cuisines. It has been one of his strengths to keep up his hotels with the mindset of corporate social responsibility and spreading the knowledge of environment-friendly management skills in the business world. This is one of the contributing reasons for his hotels being one of the best in Hong Kong.
About Heinz Egli
Among the seven participants, Masterchef Heinz Egli is an important influencer for Nepal and its tourism industry. Popular for his restaurant chains and his works as a Masterchef in Hong Kong, he has also left a great mark in Hong Kong's hotel sector. Back when being a chef was considered as a passport to the world and Swiss Chefs were taking up the world by storm, Heinz first started his journey in Hong Kong. A person of curiosity with a drive for challenges, he first left home to Hong Kong as he wanted to see and do more things than he could back home. Now, having lived in Hong Kong for more than 40 years, he has had achievements that have made him respected in Hong Kong and also known all around the world.
In 1991, he founded the Hong Kong Chef's association and is also one of the youngest executive chefs in Asia, opening the first international hotel in China i.e. The Holiday Inn. The turning point for him was when he joined the Accor group of hotels at the Novotel Citygate Hong Kong. Then, he single-handedly contributed to making it one of the most successful Novotel Hotels in the world. Later on, he managed the same branch of the hotel in India as well, adding on to his achievements.
Although being in the hotel business, he still has a pull towards physical fitness. An avid runner, Egli has maintained his physical drive from his twenties still. He has, at his age, managed to keep an active exercise schedule, making sure he runs at least once a day. He is also a musician, who prides himself for knowing his way around a guitar, harmonica, and even sitar. His travel log in Nepal has also been surprising for many as he and his friends have visited many Himalayan regions in Nepal. Only on their last visit to Nepal in April 2019, where they went on grueling biking and trekking trip on the Annapurna Circuit. As they put it, there were times they rode the bikes and there were times the bikes rode them, but they had the best times nonetheless.
"Tourism Goodwill Ambassador" for "Visit Nepal Year 2020"
In Nepal, Heinz was honored as the "Tourism Goodwill Ambassador" for the upcoming "Visit Nepal 2020" as an attempt by the Tourism Board to bring in key influencers all around the world to help promote tourism in Nepal. His continued support towards Nepal's tourism and his love towards the culture, traditions, and the natural diversity of Nepal was what got him the honor.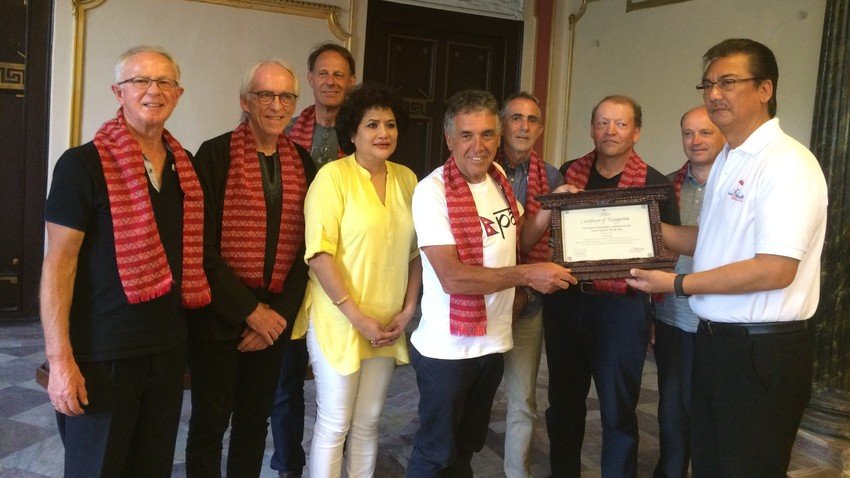 Photo: Heinz was honored as the "Tourism Goodwill Ambassador" for the upcoming "Visit Nepal 2020"
Rapid-fire with Heinz Egli
1. How would you rate your trips to Nepal out of 5?
I would give it a solid 5 since I had one of the best times on the trip. The guides and porters on the trip offered great company and provided the best guidance and support we could have wished for. The natural beauty and cultural aspect of the trek were great as well.
2. The one thing not to be missed on this trip is ……
My friends and I made many memories on our last trip. While the Annapurna region gave us moments that I cannot even count, I also had fun in Kathmandu and Pokhara. I especially enjoyed shopping in Kathmandu and visiting the local hotel school for orphans in Pokhara.
3. If I had more time, I would love to......
I wish I had more time to explore Pokhara. We visited many attractions here but we could not visit some other destinations. So, if I had more time, I would love to fully explore Pokhara.
4. My hot travel tip is...
As a food enthusiast and Masterchef myself, I recommend the Pavilion Hotel in Pokhara to all the travelers. The hotel has great ambiance along with the finest quality of food as well.
5. My favorite meal was...
We had a lot of fun visiting numerous hotels and restaurants in our stay in Nepal. But what I loved was the German Bakery items at the villages on the trekking trail.
6. I never travel without…
The one thing I never travel without is a lip balm.
7. The best part of the company and service…
The Swiss Family that Astha provides is what I love when traveling in Nepal. He is a remarkable trekking guide and even better human being. We have known him since he was a young boy and I am amazed by his growth as an influential figure in Nepalese tourism.
8. What is your next destination in Nepal for your next holiday?
The next destination for my next holiday in Nepal is the Manaslu region. I have heard many great reviews of travelers and my friends as well.
9. The best thing about Nepal?
The Himalayas and the charming people of the country are surely the best things that I love about Nepal.
10. Some final thoughts about traveling in Nepal…
Come back every year! Nepal is so full of wonders that I recommend all travelers to visit Nepal every year.
A man with talent, skill, and a hunger for adventure, Heinz Egli has certainly made Nepal proud as Nepal's "Tourism Goodwill Ambassador". He and his friends have taught us a lesson that you are never too old for new adventures. Their hiking and trekking adventures have given us a lesson to pursue the things you enjoy the most and that age is just a number.
The breathtaking Himalayan ranges of Nepal welcome many like Heinz and his friends to enjoy the natural rendezvous, a chance to capture the best memories of your lifetime.
Back To Overview