7 Tips for Family Trekking and Hiking Holiday with Children in Nepal
7 Tips for Family Trekking and Hiking Holiday with Children in Nepal
Swiss Family Treks Blog Posting
Trekking & Hiking Holidays with the whole family are becoming more popular also here in Nepal. It's this wonderful option of spending quality time with your beloved ones. We will help you to organise a trekking holiday with your children and provide porters, 3/4 horses on request, dokos (nepali basket) and western child carriers. We recommend Nepal as the destination for a holiday with your family, with the possibilities of seeing remote villages and regions that you would not be able to visit by other means. It has this great potential for learning and discover and is wonderfully family bonding. Here below the 7 Tips for families who is looking for trekking and hiking holiday in Nepal.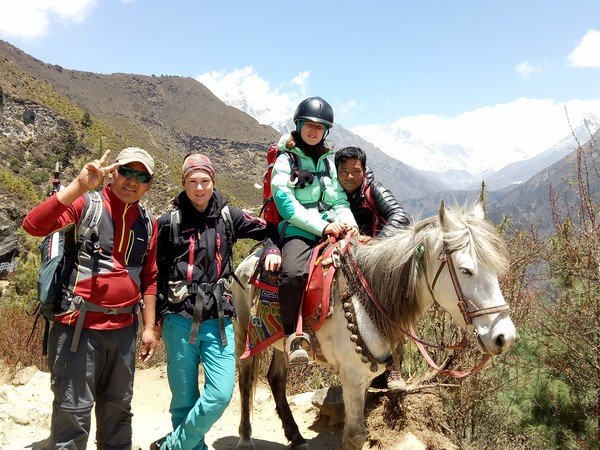 First of all, we will plan for your family where you are going, work out the distances. If you are planning to take your family up a mountain, it is essential that you book a guide and porters.
Take extra snacks (favourite chips and biscuits etc.) and some candies/chewing gum with you. It is a nice treat for your kids on the way for motivating them to walk and/or picnic every now and then. Take plenty of water with you. Young children get dehydrated very quickly in warm weather.
Ensure that the whole family is well equipped. If the children get blistered feet from poor fitting boots, then they will make sure that this is your last family walking holiday!
With younger children in child carriers, make sure that they are protected from the sun with a sunhat and lotion. On cooler days, the wind can chill them very quickly, so use layers of clothing with a wind resistant top layer. Make sure that you take regular breaks.
Walk together as a close group. Always walk at the pace of the slowest walker.
Plan to make regular stops, stop and look at the view, let them play with the animals, paddle in the river or have lunch.
Bring playing cards and colourful pens & paper with you, for the afternoons and/or evenings at the lodges. Don't forget your kids favourite cuddly toy for the nights!

Since we have done all the family treks with our own children, we can really give you all the information/suggestions you need and help to make it an unforgetable holiday experience! A Journey with kids can be amazingly interesting beyond your expectation. Take Nepal, it is totally worth 'holidaying' here with children. In Nepal, traveling with children promises a fascinating trip of a lifetime. Numerous thrilling outdoor activities to enjoy like; tibetan horse riding, cultural/handicraft tour, village tour, Jungle Safari, easy grade Hill station trek and much more. Nevertheless, especially for trekking enthusiasts, proper preparation beforehand and a wise selection of a trekking route, which we have a lot of suggestions, plays an important role to a successfully accomplished trip with children. Some higher grade trekking trips are not advised for children below 15 years. Normally, traveling with small children is not advisable at the higher elevation above 4500m(see options under section; family trekking & walking holidays). But, especially for children, we have designed some wonderful trips. The trips package we have planned are relatively short and don't go too high. We encourage you to set your own leisure pace while trekking and we don't let your children getting fed up while on trek. High altitude sickness is fatal problem, but can be controlled by doing proper acclimatization. A large fluid intake is a factor that greatly helps in acclimatization. Great care, nutritious food will be provided. Our Team is always ready to support you and make arrangements to shoulder them on whenever they feel exhausted during the trekking period. One of our companies special program is riding on Tibetan horses in the Langtang national park and some other regions. Click for further and choose the most suitable Tour for your family! Your kids will love it: Visit our Family Trekking & Hiking Holiday with Children
Back To Overview