COVID-19 Status Update on Trekking Areas in Nepal
COVID-19 Status Update on Trekking Areas in Nepal
Swiss Family Treks Blog Posting
COVID-19 Status Update on Trekking Areas in Nepal
In the wake of the global pandemic, Nepal had decided to restrict all entries into the country. For a small Himalayan nation, the blow has been catastrophic as tourism is one of Nepal's main economic activity. According to the annual World Travel and Tourism Council research report, tourism had contributed 7.9% of GDP and had supported more than 1.05 million jobs directly and indirectly in Nepal in 2018. The ambitious "Visit Nepal Year 2020" had to be canceled to bring about 2 million tourists to Nepal. But Nepal has now opened its doors for tourism.
The first mountaineering expedition of the autumn season of 2020 was conducted for an eighteen-member expedition team, including a member of the Kingdom of Bahrain's royal family, to climb Mt Lobuche (6,619m) and Mt Manaslu (8163 m). Since then, a steady stream of trekking and climbing has been operating in Nepal.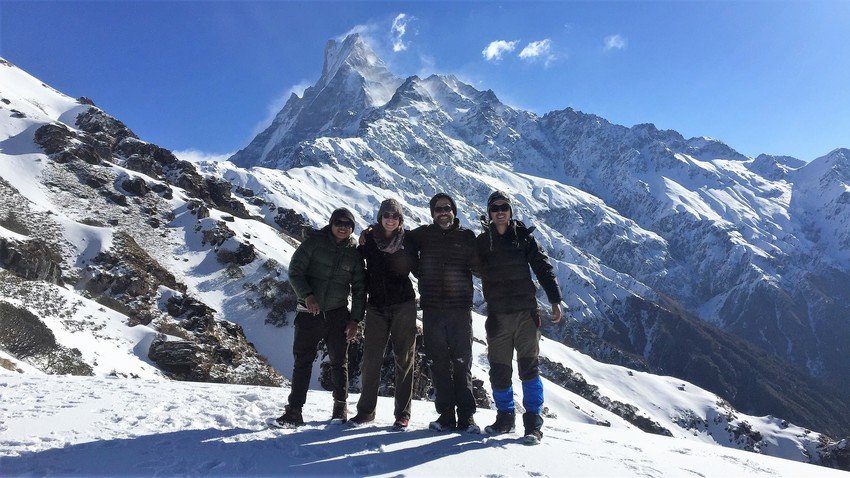 Entry Protocol for Trekking and Mountaineering
The Ministry of Culture, Tourism, and Civil Aviation have issued a protocol for the safety and protection against the risk of COVID-19 for foreign tourists visiting Nepal for mountaineering expeditions and trekking. Foreign visitors are free to fly into the country, but the land borders are still closed.
• All tourists coming to Nepal for mountaineering and trekking must acquire a visa before arriving in Nepal. If visa provisions are not available, expedition teams or trekkers can coordinate with travel and trekking agencies based in Nepal to arrange prior approval to enter Nepal. For prior Visa approval, the Nepal-based agencies must submit all prescribed details of the client/s, relevant information to the Department of Tourism (DOT) for Expedition teams, and the Nepal Tourism Board for Trekkers of Visa to the Department of Immigration.
• Tourists entering Nepal must present an RT (Polymerase Chain Reaction: PCR) negative taken within 72 hours before departing their home country along with a visa or prior approval document.
• Likewise, hotel booking for at least seven days' quarantine in Nepal has to be presented along with insurance against COVID-19 of at least USD 5,000 per person. The tourists have to stay in a hotel quarantine for at least seven days after entry. On the fifth day of hotel quarantine, the tourists need to take PCR tests at their own expense and only be allowed to proceed for expeditions or trekking on obtaining RT PCR negative. The tests show RT PCR positive quarantine will be extended until a negative PCR test report has been presented.
• The expedition teams must also provide insurance coverage against COVID-19 of a minimum NPR 100,000 (~ USD 850) to Nepal's team members before obtaining permission for expedition or trekking. During expedition or trekking in Nepal, health guidelines issued by the Ministry of Health and Population of Nepal's Government must be duly followed.
Opened Trekking Areas in Nepal
However, not all trekking areas have opened in Nepal. Certain areas of the Annapurna region remain close but opening very soon. The areas that have opened also have some entry protocol, which needs to be heeded. The Government has authorized local authorities to impose lockdowns within their jurisdictions. Hence, please inquire about local conditions before traveling. Likewise, rural municipalities, lodges, teahouses, and homestays also require a PCR negative report from trekkers. So, it is advisable to carry PCR negative report for entry to the region in addition to other permits required for trekking. Some of the areas that have opened for tourism are:
Everest/Khumbu Valley: The passengers need a negative RT PCR to report not older than 72 hours to enter in Everest. But the test results from government hospitals, HAMS Hospital Dhumbarahi, Star Hospital Sanepa, and B and B hospitals are only considered valid. The municipality is very cautious amid the pandemic as the trail was closed following an elderly local man testing positive for COVID-19 in Namche.
Daily flights from Kathmandu to Lukla are available, and visitors have to wear masks, visors, and latex gloves during the flight. In the trekking trail itself, one can either walk or rent ponies. Various teahouses are available along the trails, providing accommodation and food from traditional Nepali food - Dal Bhat Tarkari and many Western cuisines.
Apart from the Mt Lobuche (6,619m) expedition of the Bahrain team, five other expeditions in this region have been conducted. Four permits in autumn and one permit in winter have been provided to climb Mt. Ama Dablam (6814 m), while one permit has been provided to climb Mt Baruntse in autumn. One of these was led by Briton Kenton Cool and included a member of the Qatar royal family.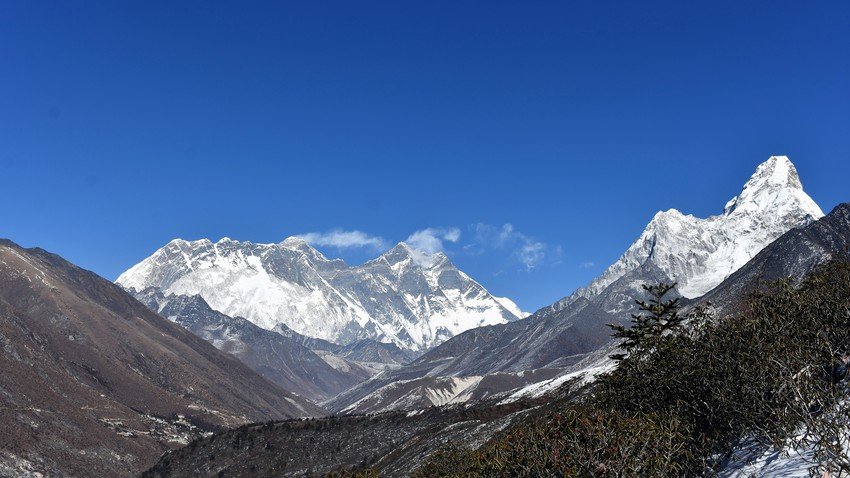 Tsho Rolpa/ Rolwaling Valley: Trekking in Tsho Rolpa / Rolwaling Valley requires a Gaurishankar Conservation Area entry permit and TIMS card. To access the valley and the mountains, one will first need to take either a 7-8 hour drive from Kathmandu to Dolakha or approx. Ten hours' drive to Jagat. From there, one will be on foot. The trek mostly has a teahouse providing local food and accommodation all along the way expect in the Tsho Rolpa Lake. There, one will either have to camp or get back to nearby village Na.
Manang/ Tilicho Lake: Trekking in Manang/Tilicho Lake requires Annapurna Conservation Area Project Entry Permit (ACAP) and TIMS card. The passengers also need a negative RT PCR to report not older than 72 hours. Additionally, strangers entering the district must provide a negative RT PCR report not older than 72 hours. The journey starts from a drive from Kathmandu to Chame. The trekking takes the trail along Upper Pisang, Manang Village, Siri Kharka, and then to Tilicho Base Camp.
Langtang Valley and Gosainkunda Lake: Trekking in Langtang Valley and Gosainkunda Lake requires a Langtang National Park entry permit and TIMS. In the Langtang region, the hotels are closed, but camp trekking is allowed. The journey starts from a drive to Syabru Besi for Langtang Valley trek and Dhunche for Gosainkunda Lake. Teahouses are available along the trek providing accommodation and serving traditional Nepali food. One expedition permit has been provided in the winter of 2020 to climb Mt. Kyungya Ri 2 (6506 m).
Mardi Himal Base Camp: Trekking in Mardi Himal Base Camp requires ACAP and TIMS card.
A PCR negative report is required to visit here. The journey starts from either a drive or flight to Pokhara. From there, one can either drive to Kande, Landruk, or Siding. Then trekking along the trails ensues. Trekkers can either stay in guest houses or camp. The guesthouses provide traditional food, but most also have options for western food.
Manaslu: Trekking in Manaslu requires Special Restricted Area Permit for Manaslu (Manaslu RAP), Manaslu Conservation Area Project (MCAP Permit), and ACAP Permit. The passengers also need a negative RT PCR to report not older than 72 hours. The journey starts from a drive from Kathmandu to Arughat Bazar. In the autumn of 2020, two teams had been permitted to climb Mt. Manaslu (8163 m), consisting of one Nepalese team and another International team.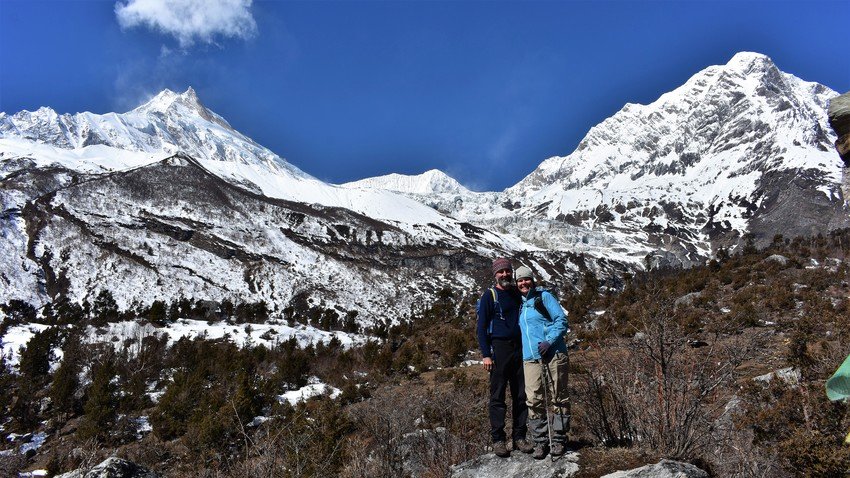 Makalu Barun: Trekking in Makalu Barun requires a Makalu Rural Municipality permit and Makalu Barun National Park permit. The journey starts from a flight to Tumlingtar and drives to Chichila. There are tea houses available along the trail serving both traditional food and Western meals.
Rara Lake and Khaptad National Park: Entry in both these National Parks requires their respective park permits and TIMS card. To get to Rara Lake, one can take a flight from Kathmandu to Nepalgunj and Jumla or Talcha. Flying through Jumla, one has to trek through Sinja Valley; while flying through Talcha, one can either hike to the lake or rent a horse. For the Khaptad National Park, one has to fly from Kathmandu to Nepalgunj and drive to Buditola and Silgadhi.
Kanchenjunga Base Camp: Entry in Kanchenjunga Base Camp requires Kanchenjunga Conservation Area Project Entry Permit (KCAP) and Restricted Area Entry Permit. The passengers also need a negative RT PCR report not older than 72 hours. To get to Kanchenjunga Base Camp, one has to fly from Kathmandu to Bhadrapur or Biratnagar and then drive to Taplejung. Tea houses are available for accommodation serving mostly traditional Nepali food.
Chitwan and Bardia National Park: Entry in both these national parks requires a respective national park entry permit. To get to Chitwan National Park, one can either fly from Kathmandu to Bharatpur, Chitwan, or drive there. To get to Bardia National Park, one can fly from Kathmandu to Nepalgunj and then drive to the national park. In both these National Parks, hotels and resorts are available for accommodation. A range of food options is available, from traditional Nepalese food to many Western dishes.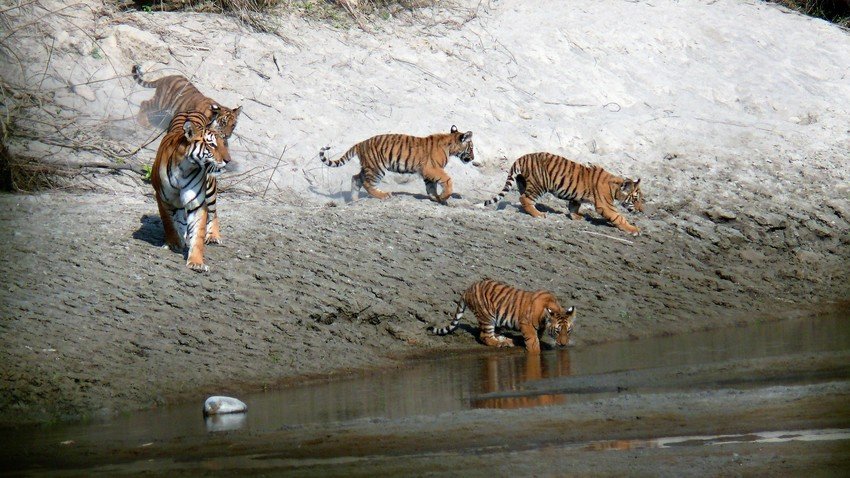 Dhorpatan Hunting Reserve: Entry in Dhorpatan Hunting Reserve requires Dhorpatan National Park Permit. A special permit also needs to be acquired for hunting. To get to Dhorpatan Hunting Reserve, one can drive from Kathmandu to Beni and then to Darbang. The accommodation here is in lodges and camps, and a full board meal is provided during the trek.
Humla-Limi Valley: Entry to Humla-Limi Valley requires a special Humla trekking permit. The passengers also need a negative RT PCR report not older than 72 hours. To get to Humla-Limi Valley, one needs to fly from Kathmandu to Nepalgunj and then to Simikot. Accommodation is mostly on teahouse, a homestay as well as camping with full board meal provided.
Helambu and Panch Pokhari: Entry to Helambu requires Langtang National Park Entry Permit, Shivapuri National Park Entrance Permit, and TIMS card, while entry to Panch Pokhari requires Langtang National Park Permit and TIMS card. The passengers also need a negative RT PCR report not older than 72 hours for trekking in Helambu. To get to Helambu, one can drive to Sundarijal and trek through Chisapani, while to get to Panch Pokhari, one has to drive from Kathmandu to Chautara. In Panch Pokhari, tea house and camping (the only option in some areas) are available for accommodation. The tea house provides a variety of meal options.
Conclusion
Nepal is trying to revive its tourism industry that has been badly hit by the pandemic. With restrictions and protocols to follow, Nepal is trying to make it safer for both the tourists and the locals against the risks and gradually revive the shattered industry. Adhering to such precautions, trekking, and climbing should be fairly safe in Nepal.
Back To Overview